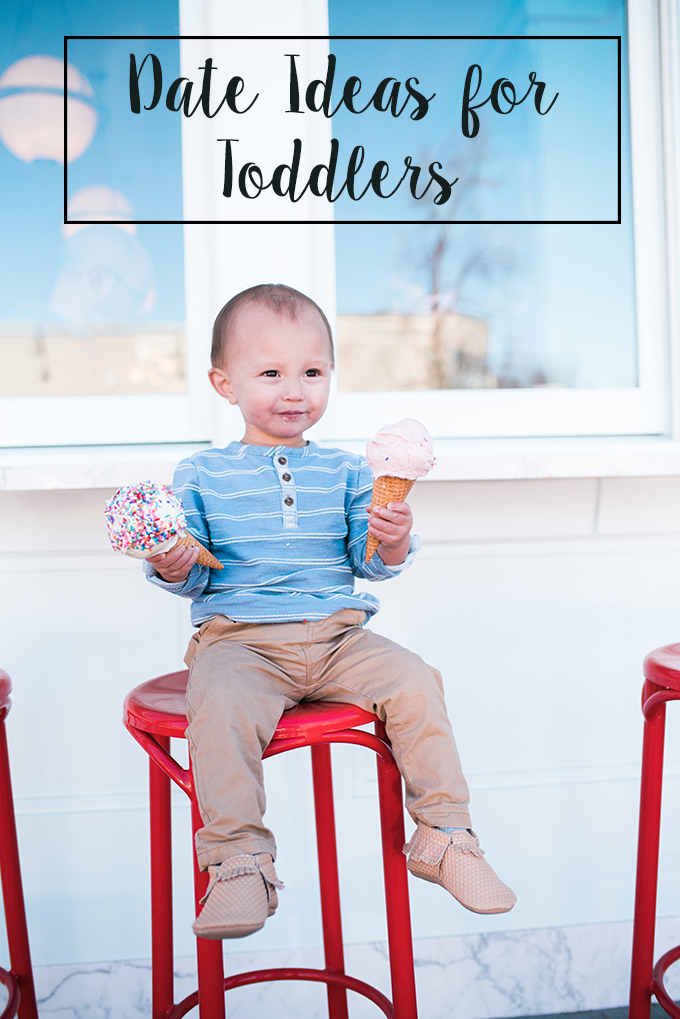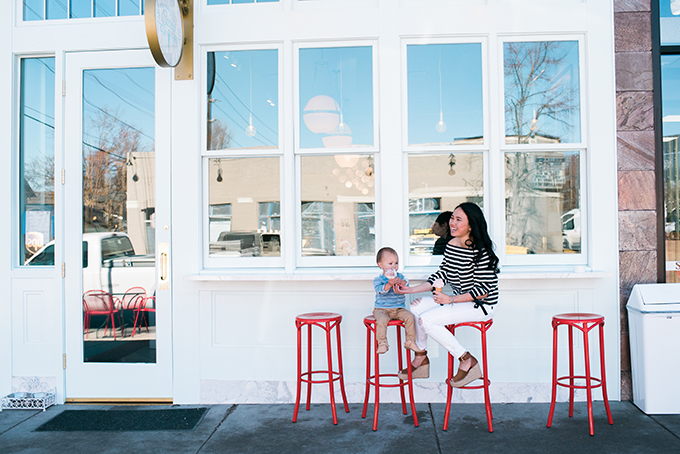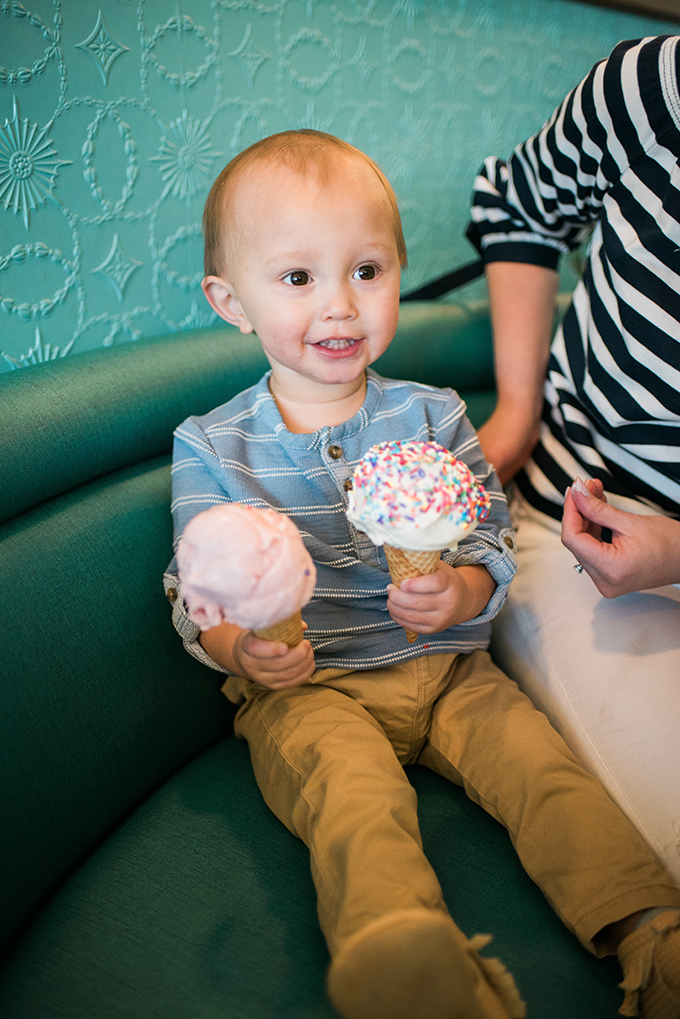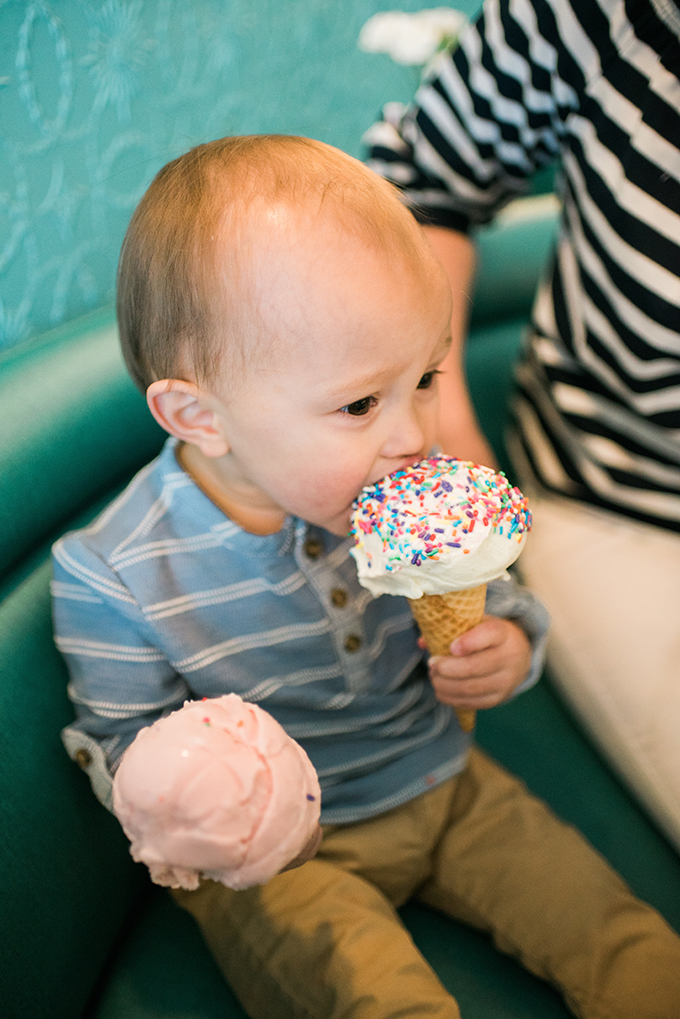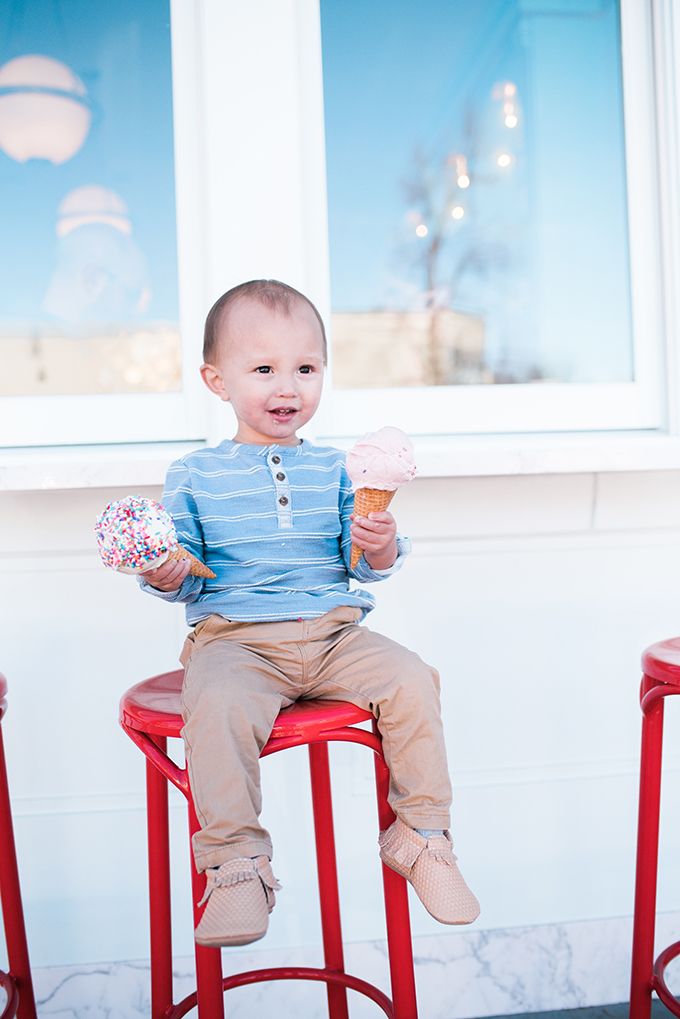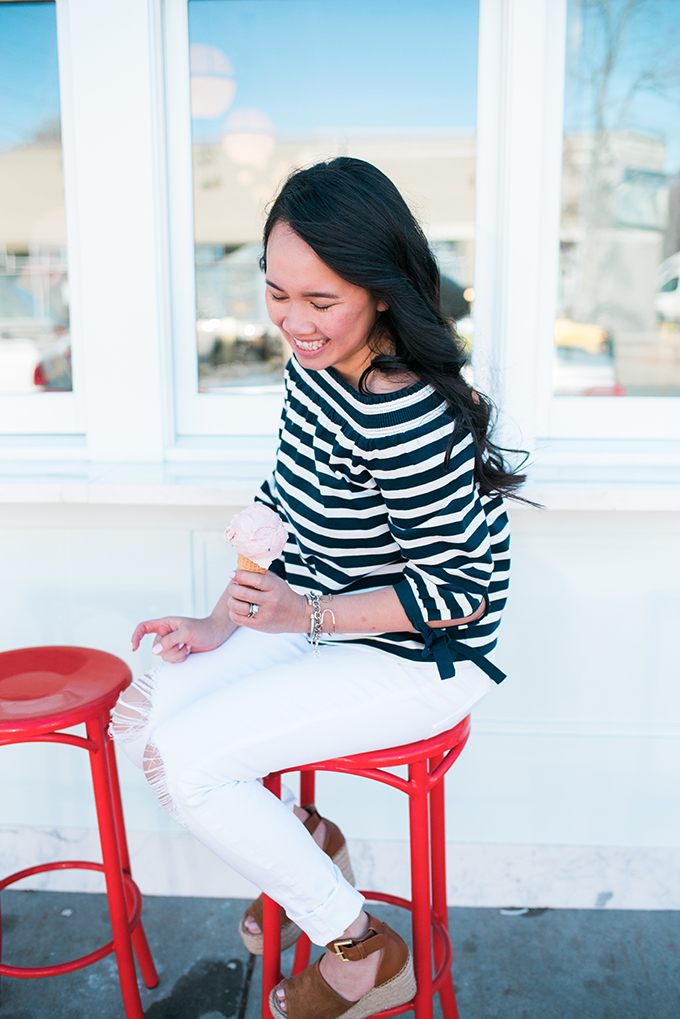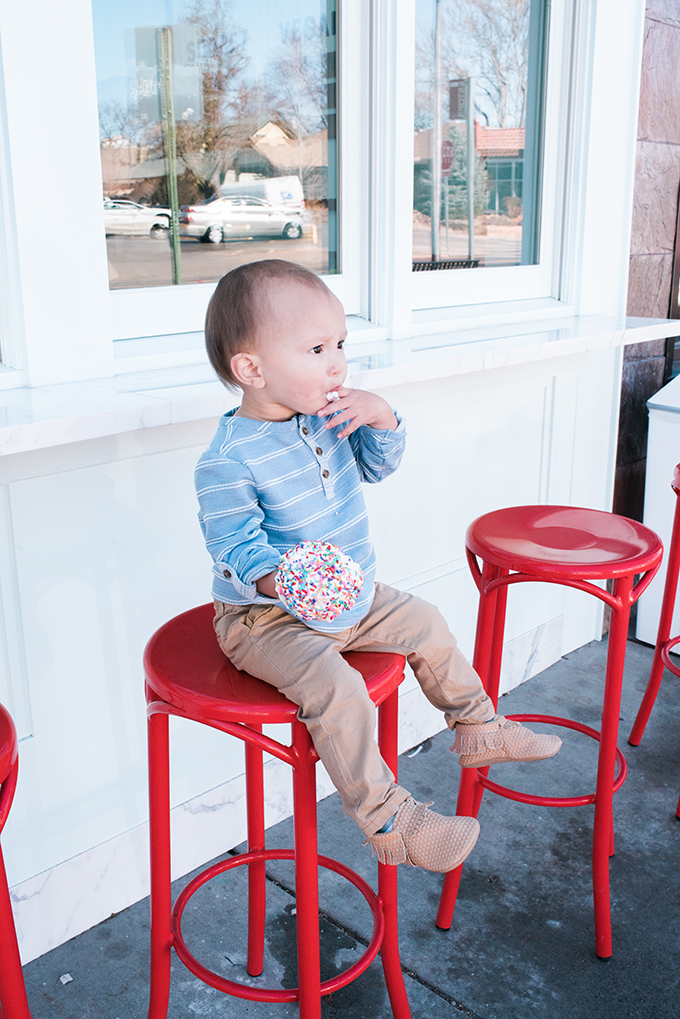 Date Nights are always something that I look forward to! Whether it's with Tommy, Liam, or both of them, it's exciting to get out of the house and be adventurous. Being a stay at home mom/wife, it's easy to get caught up in all the work and time you spend at home. Now that Liam is a toddler, I can take full advantage of taking him out. It's important that I spend quality time with Liam outside of the house…going to the park everyday just doesn't cut it because he's too busy playing with all the other children, lol. Before we continue, can we talk about Liam's shoes?! They're my favorite pair of mocs from the
Freshly Picked Gelato Shop collection
. Liam's is wearing the "sugar cone" print and it's fitting! It's a neutral color with texture to it. (He's also wearing a size 5 and is 19 months).
To today's post!… I'm going to be sharing five date ideas with for precious, overly excited toddler(s). As you can see from the overload of pictures, ice-cream/gelato dates/froyo are ones that we go on repeatedly. When Tommy and I were dating in college, he shared his love for ice-cream with me, and now, it has carried onto Liam. (We use to go to Coldstone or Marble Slab every weekend that we visited each other). I love watching Liam's face light up as soon as he sees the ice cream flavors, sugar cones, and sprinkles. It's fun to let him have the freedom to choose what he wants. He could get the most colorful ice-cream with sprinkles and hot fudge, and as long as he was happy with it, I'll be perfectly content.
DATE IDEAS WITH YOUR TODDLER:
1. Ice-cream & Gelato Date: Letting your child indulge in an ice-cream cone is probably the happiest you'll ever see him/her. I think letting them make their own choices with something even as simple as a ice-cream flavor is important. They're able to think for themselves. It's relaxing to go on a simple dessert date and actually letting your toddler(s) be s toddler(s). If there aren't any ice-cream shops near you, have a build your sundae night at home. Buy your favorite flavors, sprinkles, whipped cream, cones, and you're set.
2. Make an album/scrapbook: Toddler(s) are fascinated with pictures! When I was putting Liam's birthday album together, he kept trying to "help" me. I didn't want him to ruin the photos or spill glue on my album so I thought it would be a great idea for him to make his own. Making their own scrapbook isn't as stressful because you don't have to worry about it looking "perfect". Grab some scrapbook paper, ribbon, glue, stickers, and spare/duplicate photos. Punch three binder holes, bind the papers together with ribbon or string, and start glueing photos. Your toddler may give you a happy face sticker on one of your favorite photos but it's your toddlers scrapbook. It can look as creative and colorful as it wants. Let them go crazy with the stickers and places pictures upside down and sideways.
3. Fort movie night: Building forts with your blankets, lamps, and sofa are one of my favorite memories. Instead of putting a movie on and sitting on the sofa, make it more fun. You could also bring in your tent (if you have one) inside and set it up in front of the TV. Liam has a large tent that he is constantly playing in. Toddlers and children love forts, tunnels, caves, and tents…add a Disney movie and you have the perfect movie date. (P.S. Moana is one of the best Disney movies ever. I highly recommend it!)
4. Bake cookies:
This past Christmas, I decided that making cookies from scratch was going to be one of our traditions. I had never made cookies before and it ended up being a lot easier than I thought. Liam was my taste tester and cookie designer. I bought cookie cutters and chocolate chips for him to use. Liam really enjoyed cutting the cookies into shapes he recognized and pouring way too many chocolate sprinkles on the cookies.
Here is the recipe
that I found on pinterest that I ended up using and loved.
5. Go to local events and places: This date idea consists of many activities and depends on what is available in your area. Look up the nearest museum, zoo, waterpark, amusement park, hiking area (children friendly), town history buildings, landmarks, farmers market, and state park. Take advantage of the town and city that you live in/near. After you have found all of the possible places you can take your toddler, write each place on a piece of paper, put them in a jar, and randomly select one on date night.
Let me know any date ideas that you and your toddler(s) enjoy! You can never have too many date nights.
xo,
Annie

*Thank you
Freshly Picked
for sponsoring this post, as always all opinion are my own