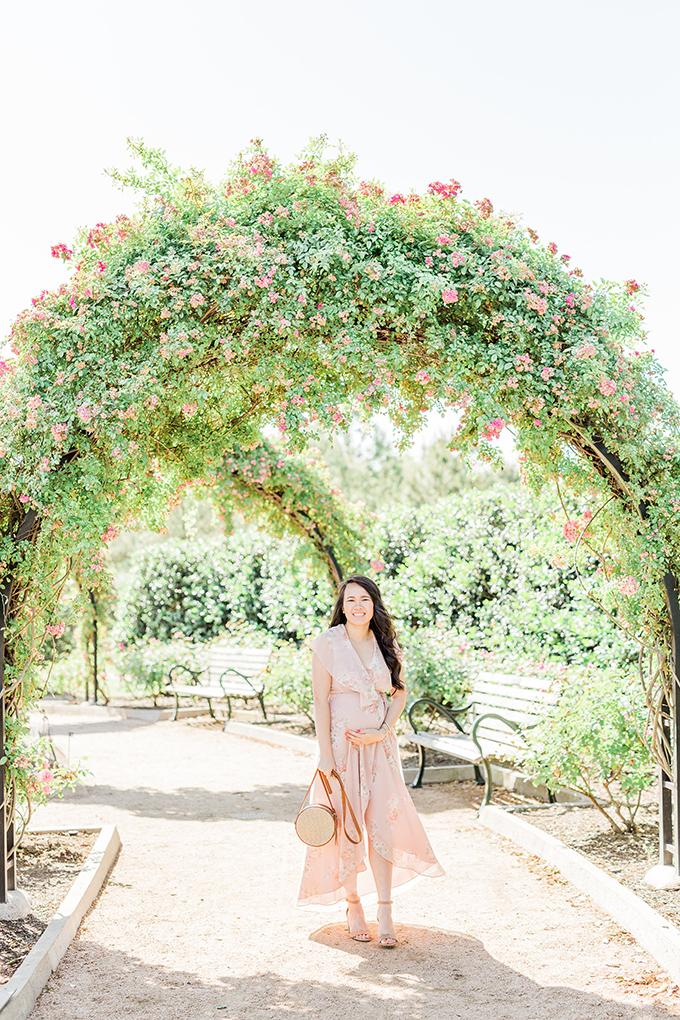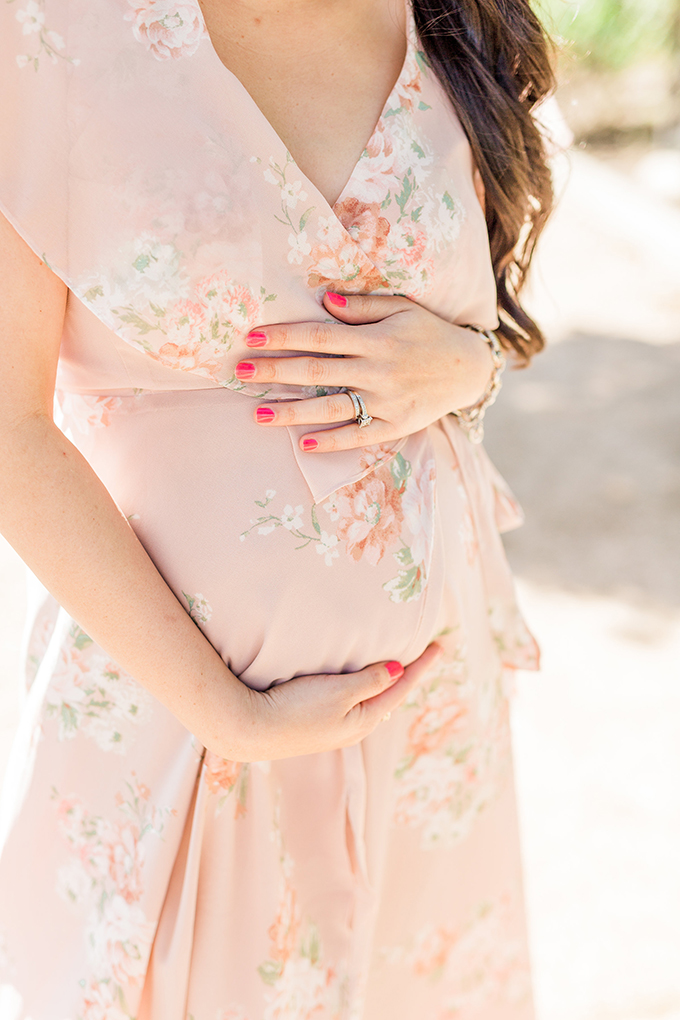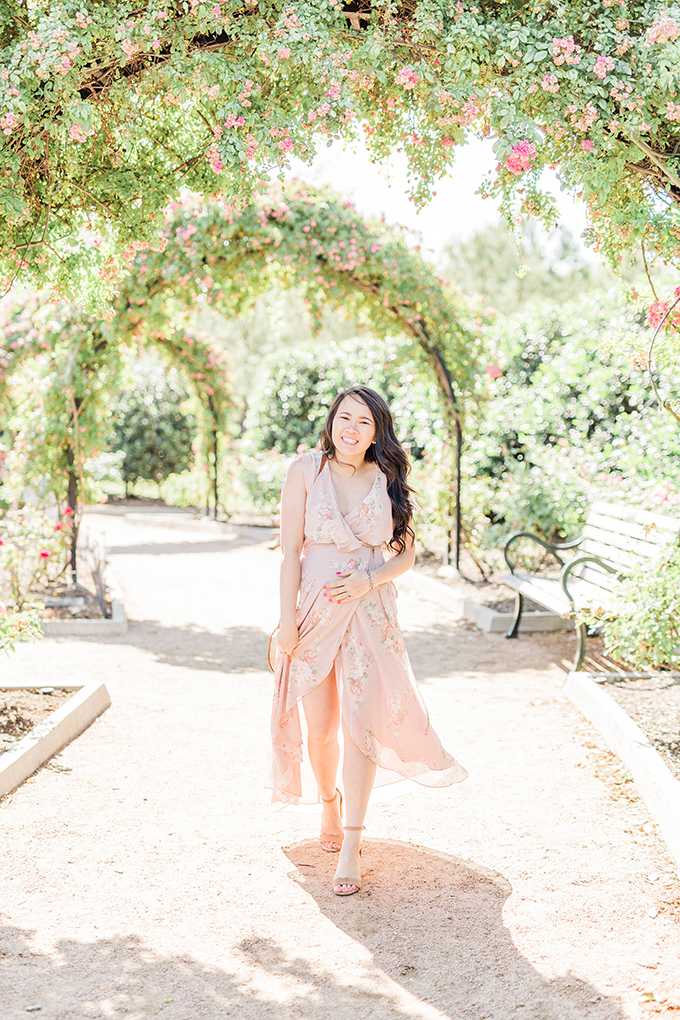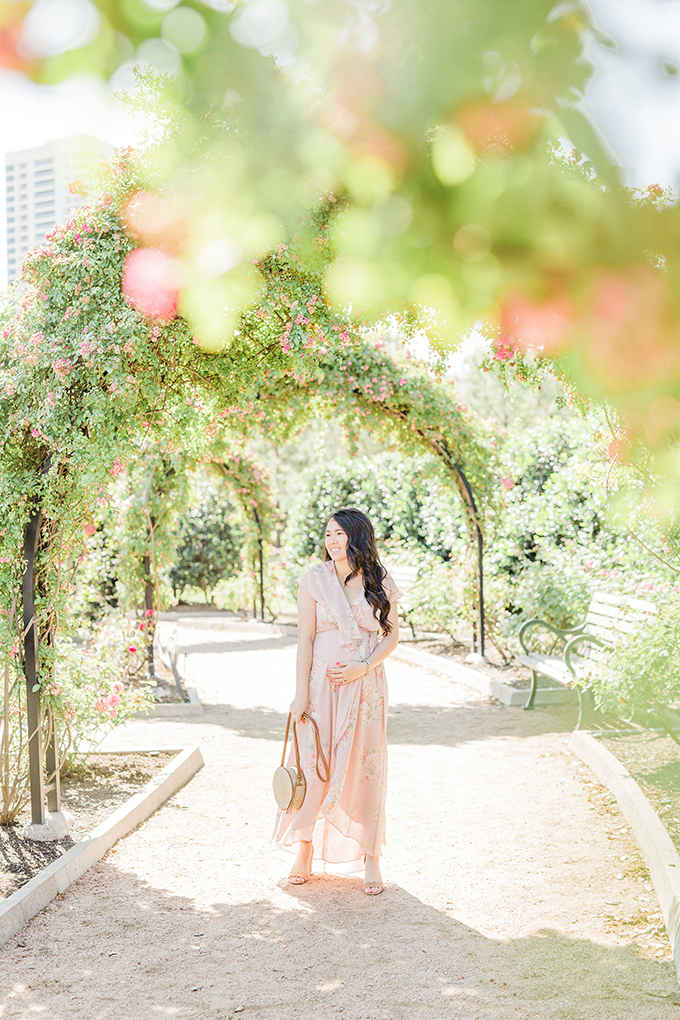 Isn't this garden one of the dreamiest places you've ever seen? The rose arches are just beyond beautiful. My garden better be at least half as beautiful as this place. If you live in Houston or ever visit Houston, these rose arches are in the McGovern Centennial Garden. When I got these images back I was in obsessed. Arzu and I were joking that we were taking mini maternity shoot. I have more baby bump photos now! I'll be trying to get as many bump photos as I can until this baby is due.
This pink floral wrap dress
was the perfect dress to showcase my pregnancy journey.
I've been meaning to write a 20 week bump update post but haven't had the time to, so today we have a 20's week pregnancy update. (Weeks 20-23 to be exact). I had my 20 week appointment a few weeks ago and there were tons of mix feelings. I started off with my anatomy ultrasound appointment and I was able to see all of my daughters toes, fingers, and her strong heart. Every time I go in for an appointment and the doctor listens for the heart beat, I get that nervous feeling that something might go wrong. Is that a feeling all pregnant Moms get? Or is it just me? Today, she continues to have an extremely strong heartbeat and is very active. God is with us and continues to keep our daughter healthy and strong. It's incredible that you can see your baby's features so early on. As the ultrasound session went on, the Ultrasound Tech saw that I had a low case of
Placenta Previa
. Basically, my placenta partially covers my uterus. My doctor explained to me that they will have to closely monitor the placenta for the next two months. If my placenta moves away from my uterus then we're in the safe zone. If not, I'm looking at getting a C-section at 36/37 weeks. My doctor suggested me to take it slow until our next Ultrasound in 2 June. At that ultrasound, we will be able to confirm if I'll indeed be having a C section or not. Immediately, I felt guilt. My doctor clarified that there was absolutely nothing I could have done or even anything I can do now to prevent it. It's one of those things that just happens. How could I not feel guilt, I'm the sole person growing this baby. I feel that a lot of women feel this way and it's important to understand that some things aren't in our control. Since that appointment I've stopped working out, stopped being on the constant go, and basically been on a light bed rest. I'm really hoping I will be able to deliver naturally because I want my baby to be full term and the risk of complications for the both of us during a C-Section. My husband has been by my side since we heard the news and we're both dealing with it together. I might not be able to travel to see him this summer but that's something we'd be more than willing to give up to keep Baby C healthy. At the end of the day, as long as our children are safe and healthy, that's all that matters.
If any Moms out there has gone through Placenta Previa, or scares, I'd love to share stories and experiences!
Thank you so much for reading!
xo,
Annie