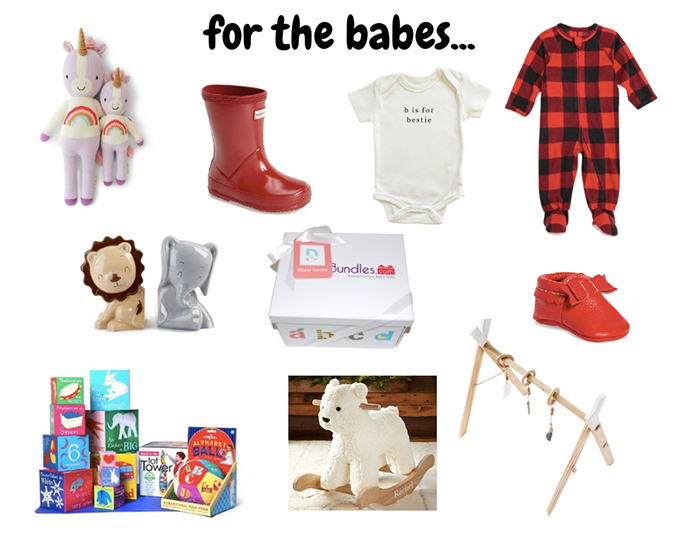 My first gift guide of the season is live and is made specifically for the little babies in your life. This Christmas will be Chloe's first Christmas, so I had to share a couple of things that I had in mind for her. This gift guide is perfect for baby boys and baby girls (the
plush
and
moccasins
have more colors and styles). I'm going to start with a couple of items that I already own or have ordered.
Play & Activity Set
: I ordered this for Chloe last week and can't wait for her to start using it. I love how modern and simple it is. (Liam had a huge colorful plastic one and it was so bulky and kind of crazy). This gym set is is made from natural wood therefore it's safer for Chloe.
Incredibundles
: You might recognize
Incredibundles
from
this
previous blog post. They offer
diaper
, wipe, and book subscriptions. Gifting a diaper subscription is probably one of the most helpful and useful gifts of all. You can customize your subscription by choosing 3,6,9, or 12 months and by choosing your preferred diaper brand.
Incredibundles
carries a good variety of diapers so it's suitable for everyone. I'll take a huge box of diapers being delivered to my door monthly than running into a store with a baby any day.
Freshly Picked Moccasins
: These are my favorite baby/toddler shoes ever!! Liam practically lived in them up until a few weeks ago when he grew out of the biggest size. The are adorable, come in a huge variety of style and colors, and are great for walkers.
Hunter Boots:
Rainbows have saved me from cleaning off mud and wet shoes numerous times. These shoes are great because you don't have to worry about your babies getting their feet/shoes dirty or wet.
Toy Set
: I personally think this is a great baby toy set because it has a little bit of everything. All the pieces are educational and makes shopping so much easier.
Rocker
: I will never know why I never bought Liam a
rocker
. He always love it when we go into the store. Rockers can be used for several years and the babies love the motion of them.
This
one is adorable but it also comes in tons of other animal options.
I hope you were able to find a gift or two that you would like to give to that precious baby in your life. When it comes to fun gifts, the toy set and shoes are my top picks. When it comes to functional and important gifts the
diaper subscription
and
gym set
have to be at the top for me.
Thank you so much for stopping by!
xo,
Annie