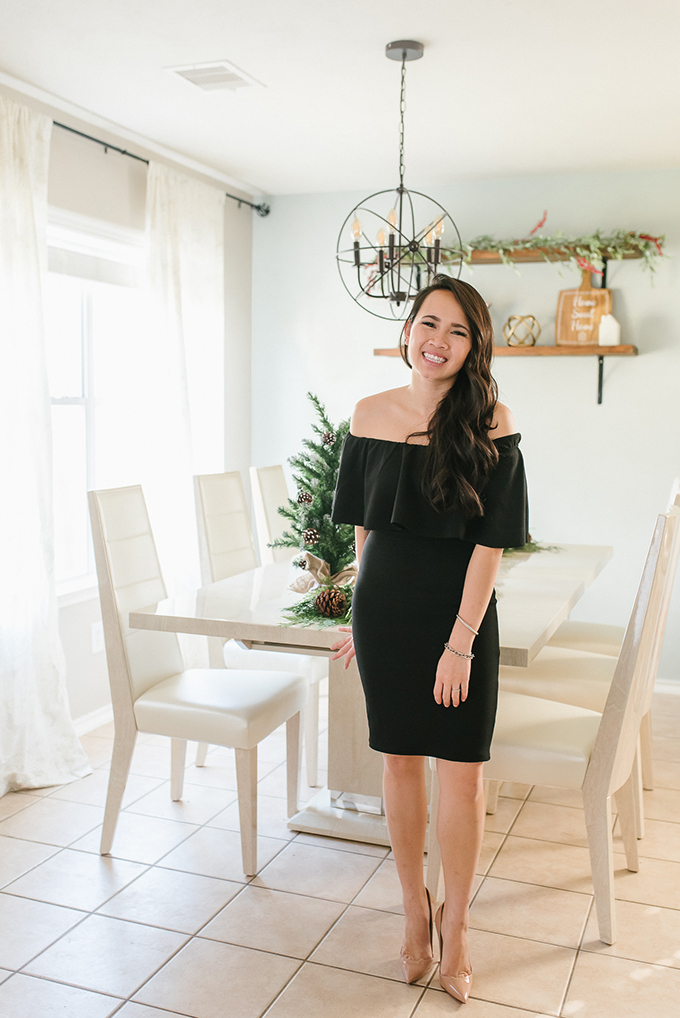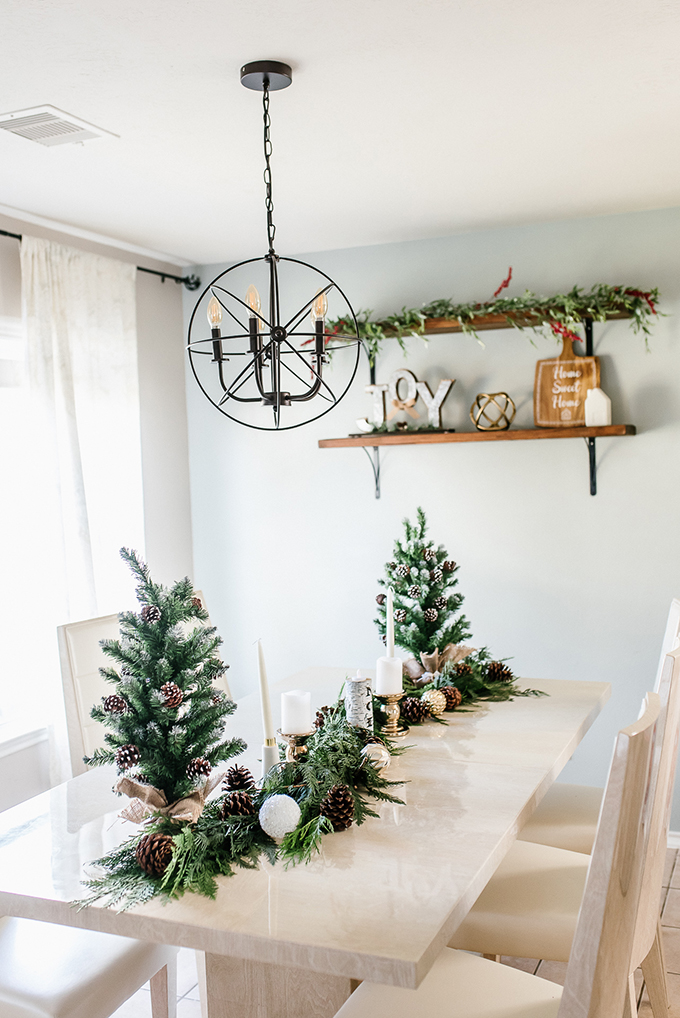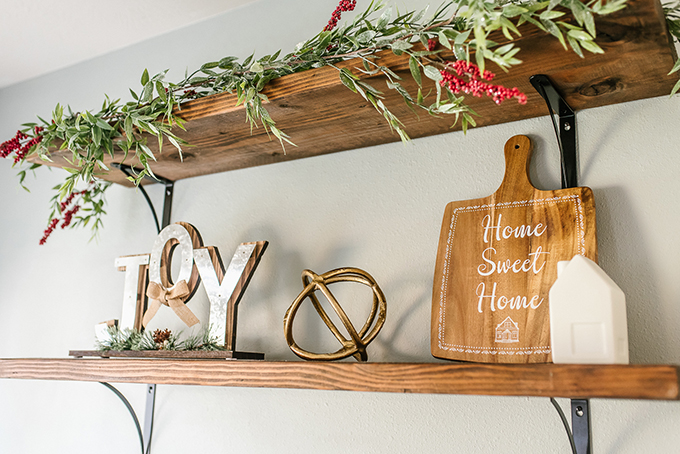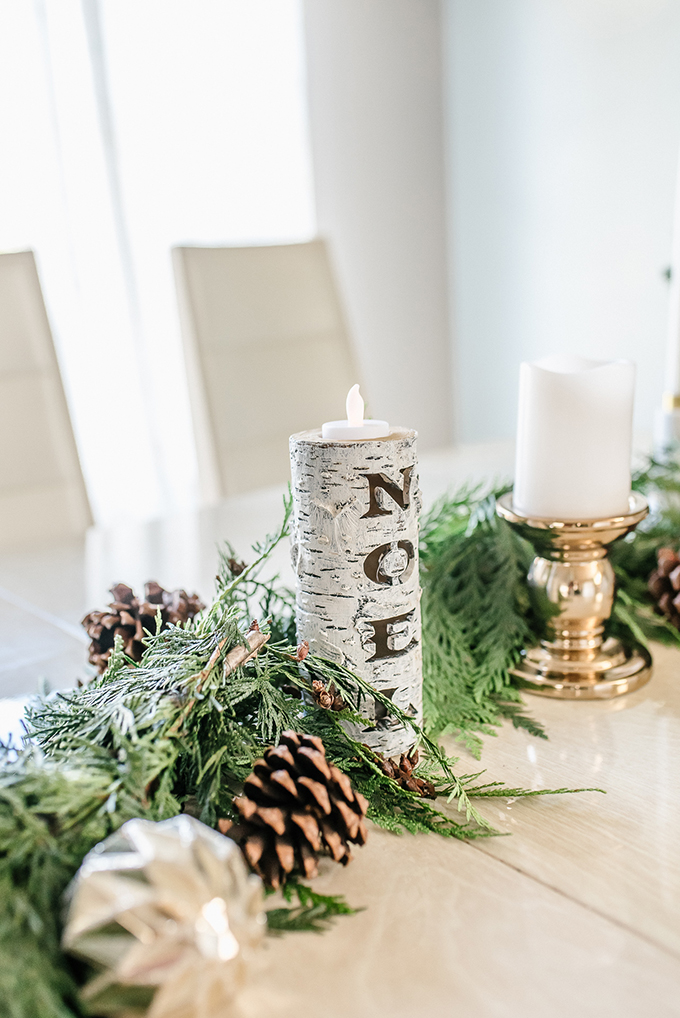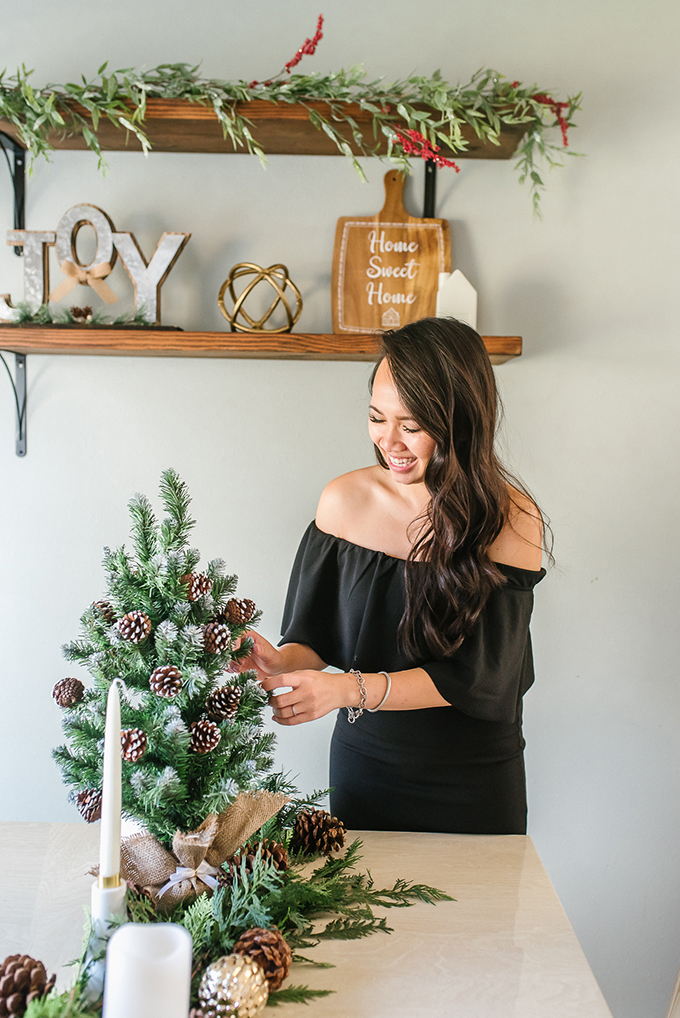 Christmas is in 8 days! I can't tell if I'm exciting for the big day to come or sad that the holiday season will be over soon. Christmas is my favorite time of the year and also my favorite season to decorate. Coming home to a room that smells like roasted marshmallows and seeing Christmas decorations makes my heart so happy. I moved into our home a few months ago so I've been going all out with making our home feel like home. We hosted our first Thanksgiving dinner ever this year and will be hosting Christmas dinner too!
I'm teaming up with
Stage
to share how I prepared our home for the holidays and a classic hostess outfit. I ordered 
my dress
 and tons of decorations from
Stage online
. They carry a huge selection of holiday decor. I spent hours picking out items. I wanted so many things! The decorations were festive and the prices were honestly unbeatable. I was able to get most of my items for 50% off! This is my very first time decorating the dining table for Christmas and I love how it turned out. I believe that candles are essential for decorating a dining table. I ordered these battery
LED
ones to put on top of the
gold candle holders
. I was once told that it's bad luck to have unlit candles while eating at the table, have yall heard that as well? My home is filled with Christmas trees and I wouldn't have it any other way. These artificial trees can really be placed anywhere in your home. I've even let Liam put mini lights and ornaments on them. I bought this garland at our local nursery to tie everything together.
The shelves came with the house when we bought it and I love that it's another place that I can decorate. I bought pieces that could be used year round. That way, when the season changes, I can add a little touch versus starting all over.
Lets not forget about an outfit idea as a hostess. As a hostess, we all know that between getting your house ready and cooking dinner, there's little to no time to get ready. Throwing on a simple but dressy LBD and heels saves you time and you look effortlessly chic. Black dresses are classic and timeless. I snagged
this black dress
and threw on a pair of nude pumps. I just saw
this lace one
and it's beautiful!
We have over 15 family members getting together this Christmas! I love being around all of my family members during this time. It may be loud, crazy, and hectic but it's so nice seeing everyone together.
Thank you so much for reading!
xo,
Annie
*Photos by Banavenue

*Thank you
Stage
for sponsoring this post. As always, all opinions are my own