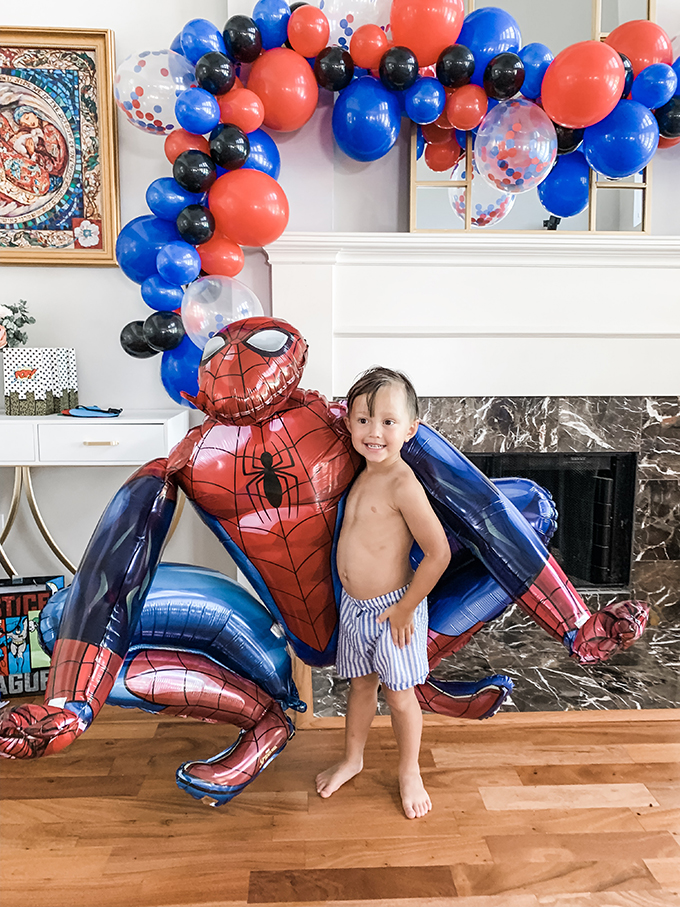 It's surreal to think that I now have a 4-year-old. Liam is an actual "kid" now. He's out of that toddler stage. He corrects me all the time when I call him my baby. Liam is at that stage where he's independent and eager to explore new things. Liam is super energetic, friendly, and wild. He has so much energy and I have no idea where he gets it from. One thing I love about Liam is that he's loving. He loves on me, his sister, his friends, and anyone that he meets. I know he's only 4 but I already have a good idea of how his personality is going to be when he's older.
This year, Liam asked for a Spider-Man birthday party again. We knew we wanted to keep it low-key and not go all crazy for his party because at the end of the day, all we wanted was for him to enjoy the day with his friends and family. My life was so busy that everything was planned last minute. I ran into HEB 30 minutes before the party to pick up a birthday cake, that's how last minute it was! There were so many things that went wrong that morning on top of not having a cake. I placed my food order at the wrong Chick Fil A, his water moonwalk wasn't blowing up, and the party wasn't ready at the correct time. Despite all the things that went wrong, everything turned out so well. Everyone enjoyed their time and it was exactly what Liam wanted. My friend Tiffany from Glamfetti Co made Liam his Spider-Man color balloon garland and it was what made his Spider-Man party come to life! Liam was all over the balloons and it's currently hanging in our living room. My friend Dawn also helped tremendously, not only did she let us use her new beautiful home, she helped put up majority of the baby pools, decorations, and food trays. I can't thank her enough for all that she did for us. We spend the entire party watching Liam interact with his friends and just seeing him laugh throughout the day was worth all the stress and craziness. After planning so many birthday parties, one thing that I've learned is to not overdo it (except maybe for your baby's 1stbirthday party). If you have family and friends over, set out a few activities, and have food, you're set.
We're looking forward to this year with Liam and I'm ready to continue to be by his side through all of his accomplishments, hopes, dreams, fails, and to create more memories together.
Thank you so much for reading!