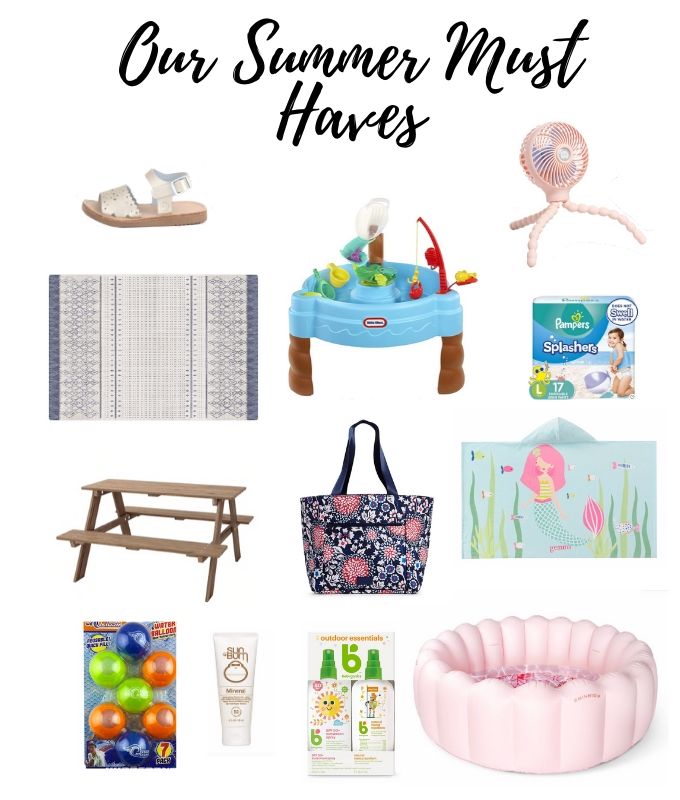 Our summer has been nothing but fun and lots and lots of hours spent outside. When it comes to keeping children entertained and making long summer days easier on moms, I 100% understand the struggle. Being stuck at home during this time doesn't make it easier too. For us, we've kinda forgot that everything has been closed off because we're enjoying so much of our time at home with family. All of these items have been essential for my children and I. It makes summer life more joyful at home and doesn't break the bank. I've been using majority of these items daily and wanted to share more details with yall.
SANDALS
: This is my 4th year buying sandals from Freshly Picked. When it comes to finding boy sandals, there aren't a lot out there that are cute and functional. I love that these sandals are durable in water, are non slip, and are affordable. We always size one size up on these.
MAT:
I got this mat in from House of NOA last month and O.M.G where has this mat been my entire life. We use it every single day for lunch, craft time, picnics, beach trips, and just about anything. When it comes to getting messy, it's not my thing. My children on the other hand love to get messy with paint, food, and anything you can think of. I place this mat on the ground, on the table, and just about anywhere and it makes me feel so at ease. Their Everly Mat collection is made for packing, is water proof, and so soft. There are also
petite options
.
WATER TABLE:
If you not up to pull out the big inflatable pool but the kiddos need a way to cool down, water buckets are a great option. This was a huge hit with Chloe and the boys (who are 4 and 6) are even up for it too. I found it on sale at Target for around $50.
PORTABLE FAN:
This is currently in my cart. My cousin showed me this fan last week and I was sold. There are multiple speed levels, lightweight, wraps around anything, and is able to be charged in your car (USB). Texas is HOT and I feel so bad when Chloe is sweating in the car or even on the patio so I know this is a great way to help cool her down.
SWIM DIAPERS:
We've been using these swim diapers and love them. After Chloe used them, we can throw them away and I love that it doesn't soak up water and make the diaper heavy on her.
PICNIC TABLE
 I randomly saw this at IKEA for $50 and had to have it! When we have pool days and it comes time for lunch, instead of going inside the house wet and sweaty, they're able to sit at the table outside and enjoy lunch. My children are still a bit small for normal dining table so this was a really great option to have.
BEACH TOTE
: I've been staying at my mom for a month now and we're living out of so many Vera Bradley bags. Their bags are seriously so functional and durable. I got this beach tote in last month and have used it for our little trips to the beach and to store summer essentials (sunscreen, towels, ect). The lining is waterproof and the bag is durable and light. The size is great because it's not too little nor too big.
HOODED TOWEL
: I've been buying towels from PBK for over 4 years and they're the only towels my children use. I got them each a monogram hooded towel for baths, beach days, and pool days. They soak up tons of water and hood is a big hit with the kids. Our oldest towel is about to be 5 years (Liam's elephant towel) and still going strong. They're currently on sale too!
RESUABLE WATER BALLOONS
: Yes! These are reusable water balloons. I bought them at Target on a whim and Liam and Easton have been loving them! I bought another packet and they go crazy. I grew up having water balloon fights but hate the messy pick ups after. These water balloon are a great option and are eco friendly!
SUNSCREEN
: I use this on all of our faces and bodies and love how easily it blends into our skin. It smells so good and is water resistant.
DUO SUNSCREEN AND INSECT REPELLER
: Mosquitos are horrible in Houston and I wanted to get an organic insect repeller and have loved this one. I can't say that it works as well as "OFF" but it works really well for an organic spray. This sunscreen is a great spray (without aerosol) option. Tommy is actually allergic to aerosol spray. I use the spray on the children's back when we're on the go.
POOL
: I saw this pool all over instagram and thought I'd check out the hype. Yall, it's the real deal. I've bought tons of inflatable pools that only end up in the back of the garage 1 month later. I love to big this pool is in width, height, and thickness. We use a hairdryer to blow it up and it inflates easily. Plus, it super cute! I would definitely sign up for restock alerts. Minnidip offers tons of pool options but I only have this one.
Thank you so much for reading!
xo,
Annie