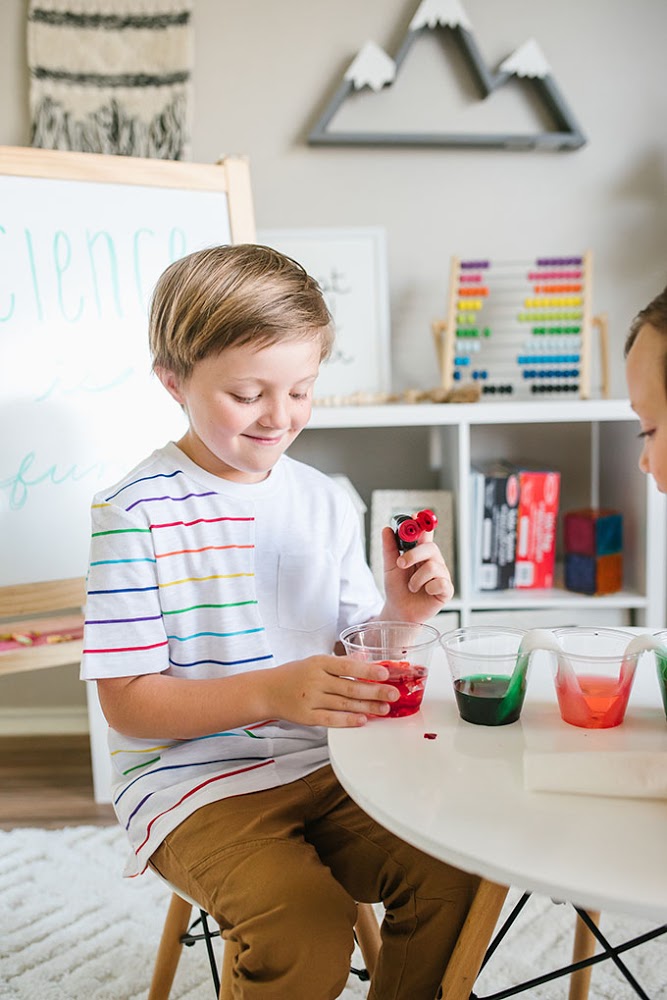 School starts for us in just 3 short weeks! The fall school year is really approaching fast and as everyone may know, we've decided to spend the first couple of months homeschooling. When it comes to figuring out what the lessons look like this fall for Liam and Easton, math, writing, and reading immediately come to mind. Our focus is heavily on those subjects, but I know that my boys enjoy the creative side of school. 
The boys' favorite subject is science and that means adding in tons of hands on children friendly science experiments. A lot of times, I forget that children need to explore that creative side. Working together on hands on experiments are exactly what they ask for and need. I'm putting together 4 easy experiments that you can also do at home with your children! 
The boys have been wanting to do the "walking water" science experiment so I went to Walmart to get all of the supplies. We've been shopping at Walmart for tons of our back to school essentials; clothes, shoes, supplies, etc. With the items I picked up for our experiment, I was able to grab fresh tops, shorts, shoes, and backpack for Liam and Easton. Walmart offers a huge variety of clothes for children and what's amazing is that it's affordable. Every single item I bought was under $18! When you're shopping for 3, great quality and affordability is a must. 
The "walking water" experiment is super easy to do. Our supplies included clear cups, paper towels, and food coloring. We add a different dye to each cup and put half of the napkin on the cups. You'll see quickly how the color travels up to the napkin and creates a fun rainbow effect. This is really fun with a bigger variety of colors. Here are 3 experiments that I grabbed from Pinterest that we're going to be working on! 
SHOP THE POST:

*Thank you
Walmart
for sponsoring this post. As always, all opinions are my own.