If my children could live in their Incredible costumes all year long they would. Since it is the month of Halloween, our family's favorite holiday, they just might get their wish granted. 
For the past 5 years, the kiddos have gone as their current favorite Disney character. Woody , Buzz, Spiderman, you name it. We shop for our Halloween costumes and décor at shopDisney every year because they have a great selection of matching family costumes and the quality of the costumes are the best. From October 8th– October 10th, selected costumes are 40% off! Liam still has his Spiderman costume from two years ago that he wears around the house to this day. These costumes will be worn for months and month because these boys love superheroes. Chloe also refused to take off her Jack Jack costume, so I know she'll be running around with her brothers all day and night
We decided as a family to go as the powerful Incredibles Family this year! shopDisney has costumes for the entire family and they even have little Edna! Liam is forever running fast like Dash. He zooms right past us and seeing the children's imaginations run wild is such a beautiful thing. I think we should all spend more time being creative and imagining. 
I made a sweets board on this The Nightmare Before Christmas Chopping Board and it was devoured in .5 seconds. It was fairly easy to create too! I grabbed a couple of chocolates, nuts, and cookies and made little circle piles around the board. I also grabbed a Mickey pumpkin for treats and a Mickey Mouse bubble wand for Chloe from their Halloween section.
This is Tommy's first year spending Halloween with us so it's going to be a very special day. The boys are excited for him to be Mr. Incredible! Even though Halloween looks a bit different this year, there are still many ways to celebrate at home. We still want to celebrate big and we thought the best way to do that was to have a fun Halloween party with games, contest, and of course sweets! We narrowed down our must have Halloween activities and wanted to share them with yall!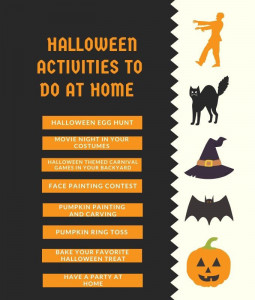 *This post was sponsored by shopDisney, all thoughts and opinions are my own.