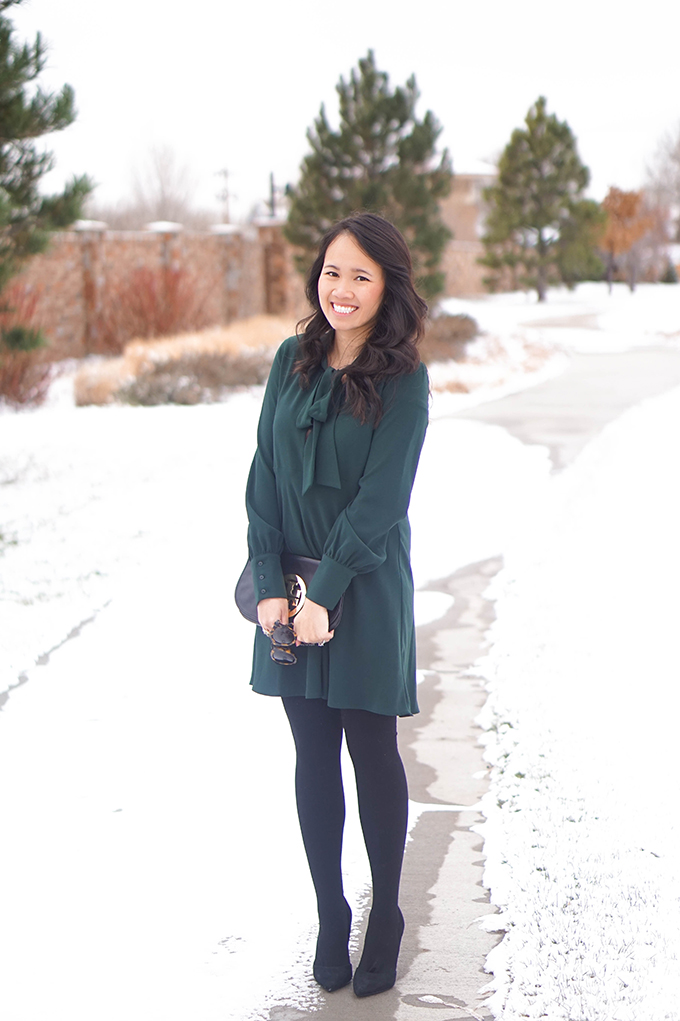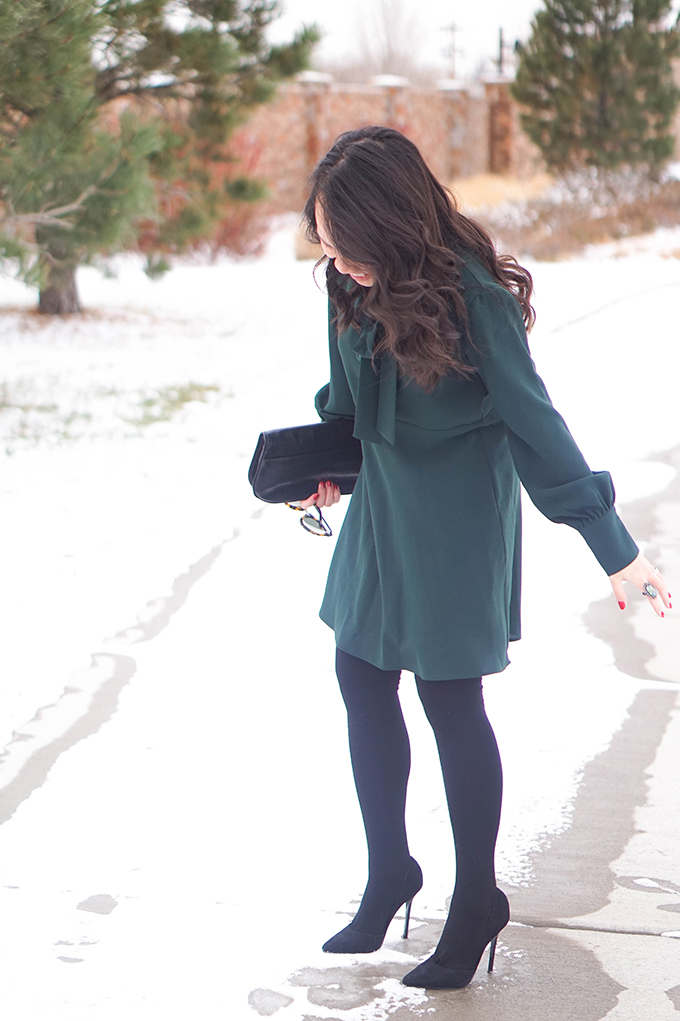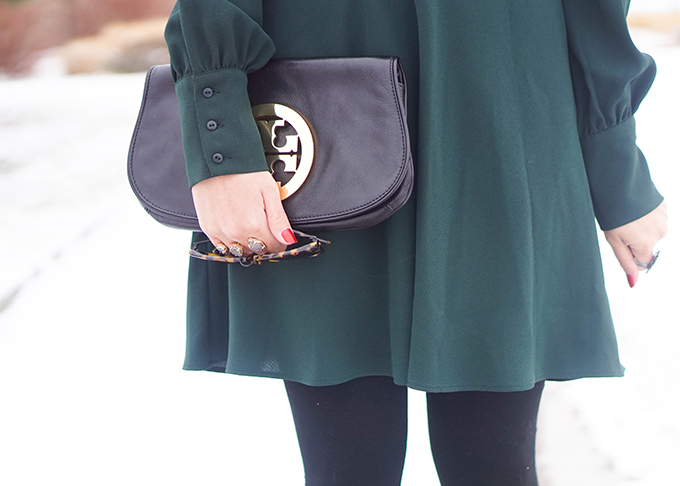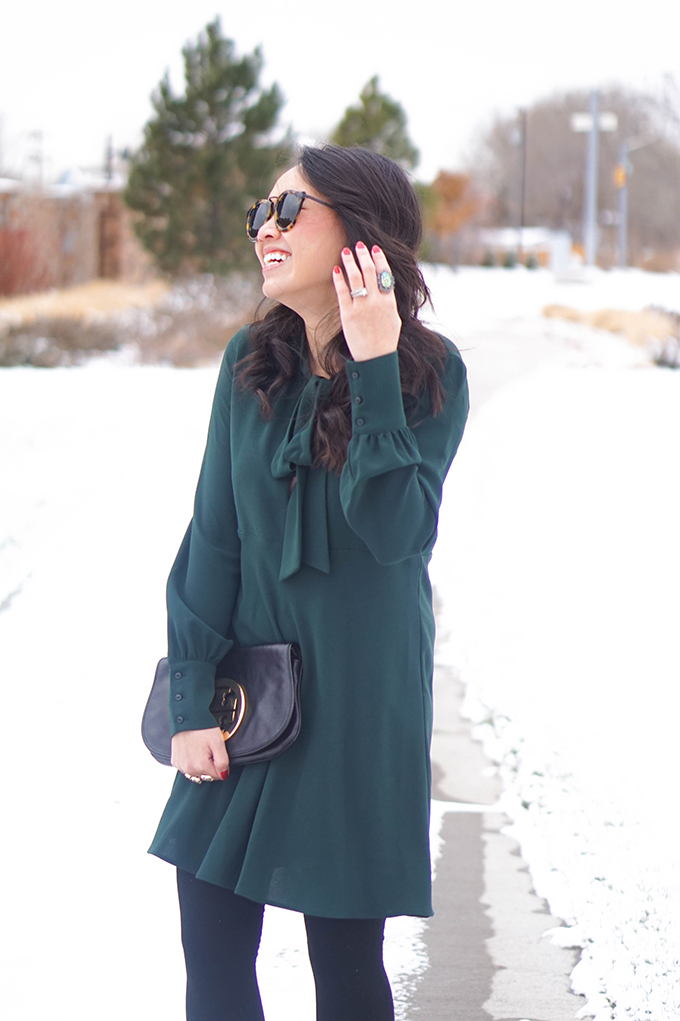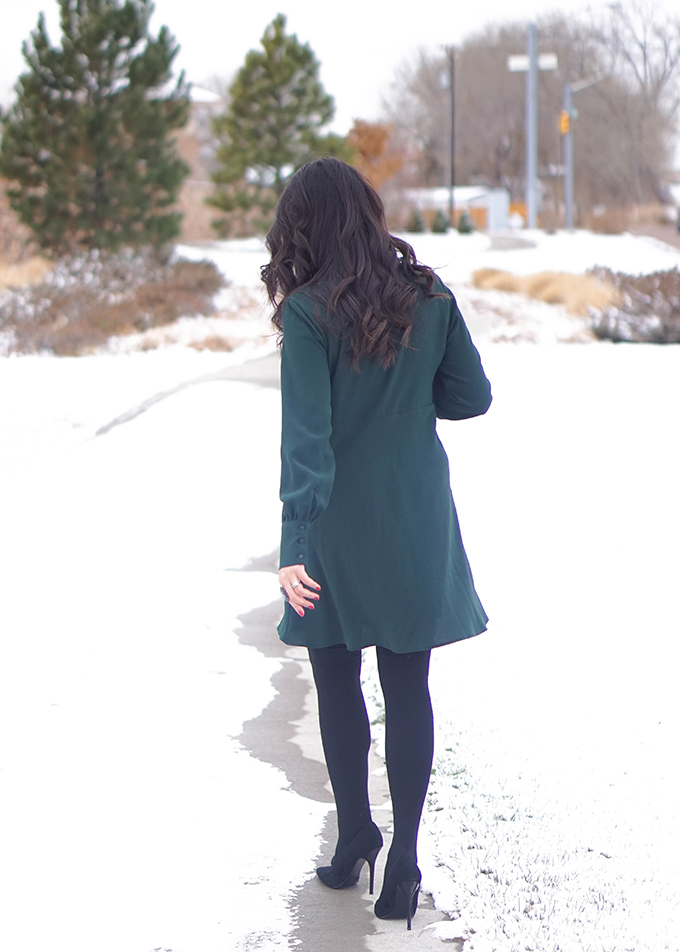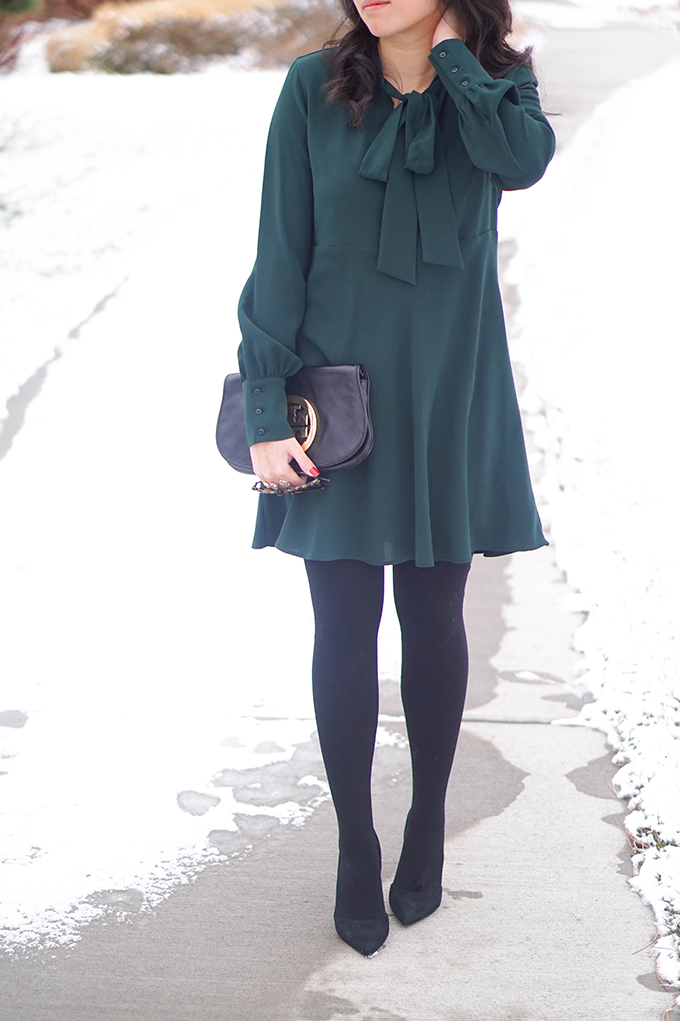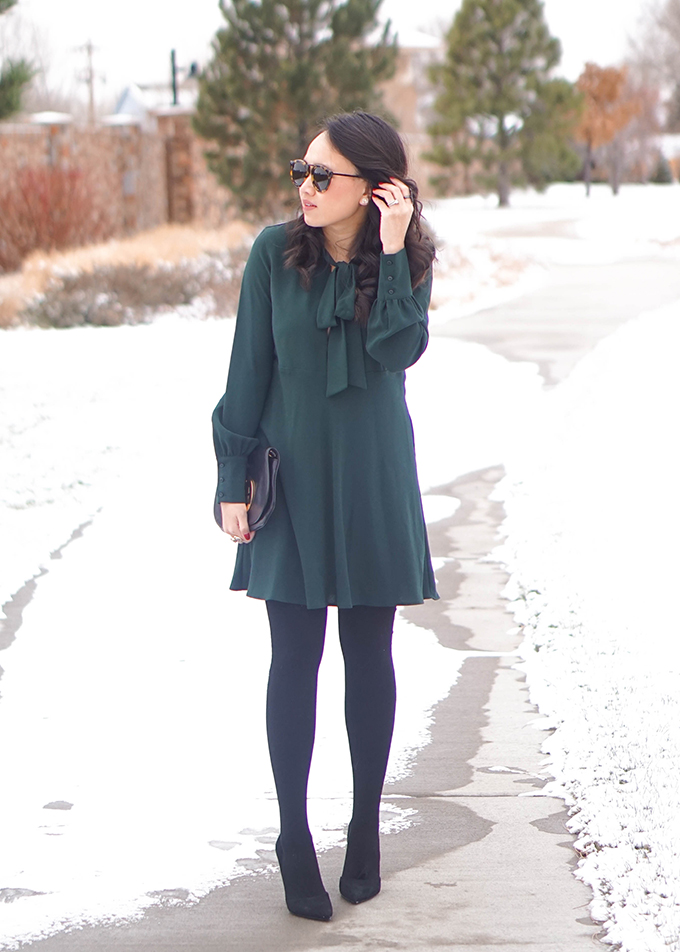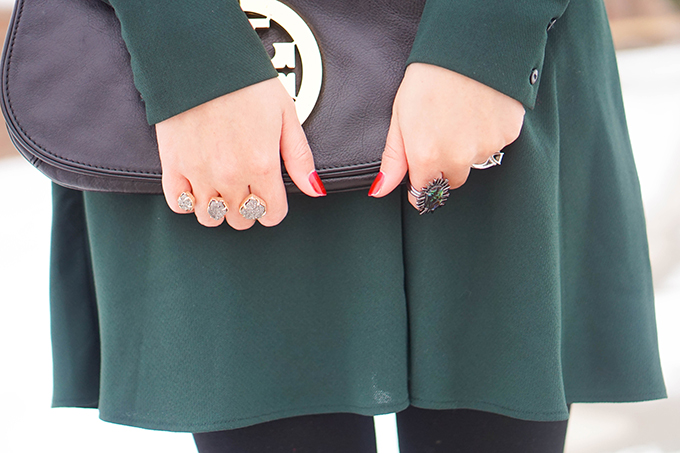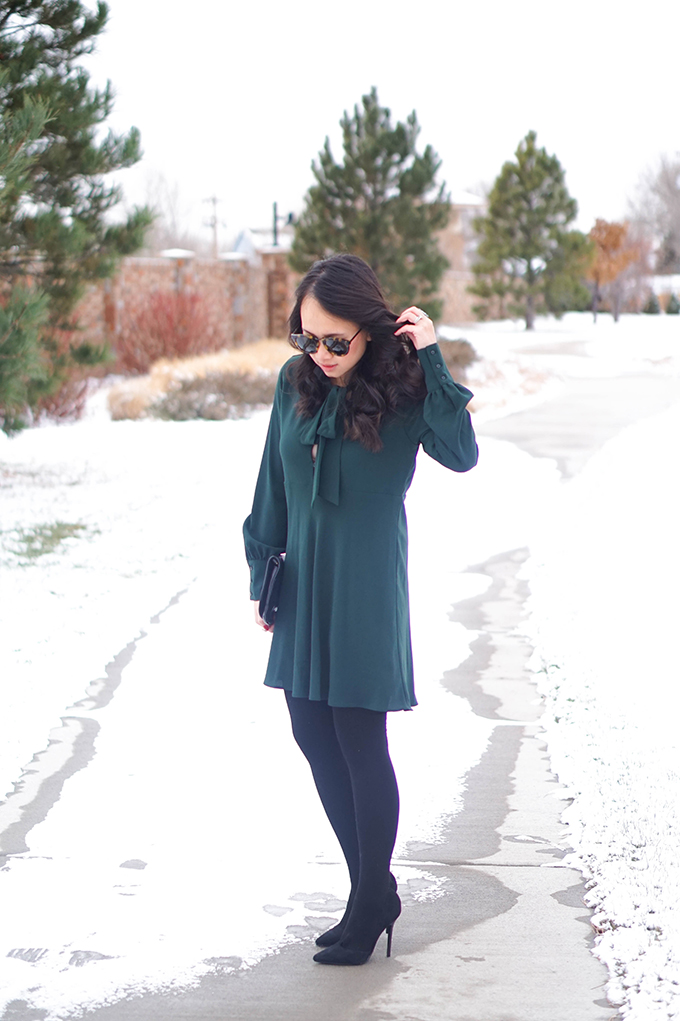 DRESS: Zara (not online, similar here and here) // TIGHTS: Nordstrom // SHOES: Steve Madden // CLUTCH: Tory Burch // SUNGLASSES: Karen Walker // EARRINGS: Kendra Scott // RINGS: Kendra Scott (single) & Kendra Scott (double)
Hi everyone! Welcome to The Annie Issue! My name is Annie and I'm an army wife, mother, and a fashion enthusiast (learn more about me here!). If you follow me on any of my social media accounts, you'd know that my blog has been in the works for a few months now. I can't believe that this day has finally come! I'm beyond excited to start sharing my love for fashion, life, travel, health, and everything in between with y'all.
For my first blog post, I wanted to share one of my favorite holiday outfits inspired by my favorite Queen, Blair Waldorf. Blair's signature accessories in the winter are neck bow ties and tights. I found my dress at a Zara in Houston (it's not online, but I linked some similar ones) and as soon as I saw it, I instantly thought "this is SOO Blair Waldorf!" The emerald green color makes it the perfect dress for holiday parties or dinners. Neck bow are back this season and I love how you can achieve that girly and sophisticated look by adding something as simple as a bow. I also added black tights and a pair of black pointy toe pumps to give it that classic and polished, Blair Waldorf look. When I lived in Texas, I could get by in the wintertime with wearing thin tights, but not here in Colorado. I knew I would freeze to death if I didn't get something more suitable. The tights that I'm wearing are amazing, super comfy and thick, and perfect for cold Colorado winters.
Last Friday, Tommy (my hubby) and I went Black Friday shopping. It was his first "Black Friday" experience and it was also the first time that I've seen "real" snow. (I say "real" snow because when I lived in Texas, it snowed maybe once, but it didn't really stick to the ground, which was depressing.) So, when I saw huge piles of snow, I played and kicked it around like a little girl (haha). Anyway, Cyber Monday is here and I, for one, prefer shopping from the comfort of my bed!
I rounded up some sales from my favorite retailers below.
Happy Monday and thank you for reading!
xo,
Annie

Cyber Monday Sales!!
ASOS: 30% off everything // Code: CYBER
BCBG: Save up to $200 of your purchase
Dolce Vita: Extra 20% off sale // Code: CYBER20
Gap: 40% off everything // Code: BESTCYBER
H&M: Up to 30% off your purchase & 40% off sale items
Hunter: 30% off select styles
ILY Couture: 25% off everything // Code: ILYGIFT
J Crew: 40% off select styles & 30% off everything else
Kendra Scott: 15% off everything // Code: SALE15
Loft: 50% off everything + free shipping // Code: CYBER50
Nordstrom: Extra 25% off select sale items
Old Navy: 40% off everything // Code: BESTCYBER
Rebecca Minkoff: 25% off everything
Tory Burch: 30% off select styles over $250 orders // Code: THANKS