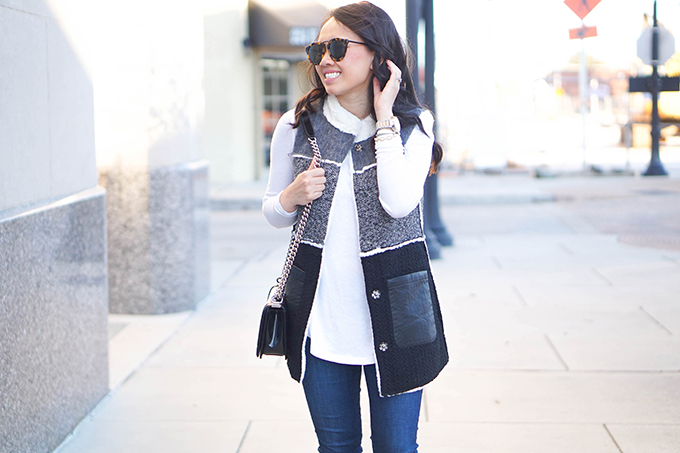 December is finally here! This is my first winter in Colorado (I know it's not winter yet but with this freezing weather, it totally feels like it!) and I'm going to take advantage of everything that this place has to offer. My bucket list for this winter includes, putting up a Christmas tree, driving around looking at Christmas lights, drinking hot chocolate, baking with my mini, building our first snowman, learning how to ski, going ice skating, and so much more. My favorite thing to do so far is blasting holiday music around the house and dancing with Liam (he's the only person that doesn't laugh at my uncoordinated moves, haha).
Staying warm in the winter is so important. I've been wanting a vest that is not only cute, but cozy as well. This
vest
has the whole package! I love that this faux fur vest is color-blocked; the grey and black tones make it easy to style. I also adore the leather pockets and wool textures. For a pop of color, I turned to my all time favorite fall color…
burgundy
. (My booties are old, but I linked some similar ones.) If you're looking for a pair of colored boots that aren't overwhelming, I highly suggest getting burgundy ones.
I have such a busy week ahead of me (the holidays can do that to you). I would love to know what's on your winter bucket list!
Thank you for reading!
xo,
Annie