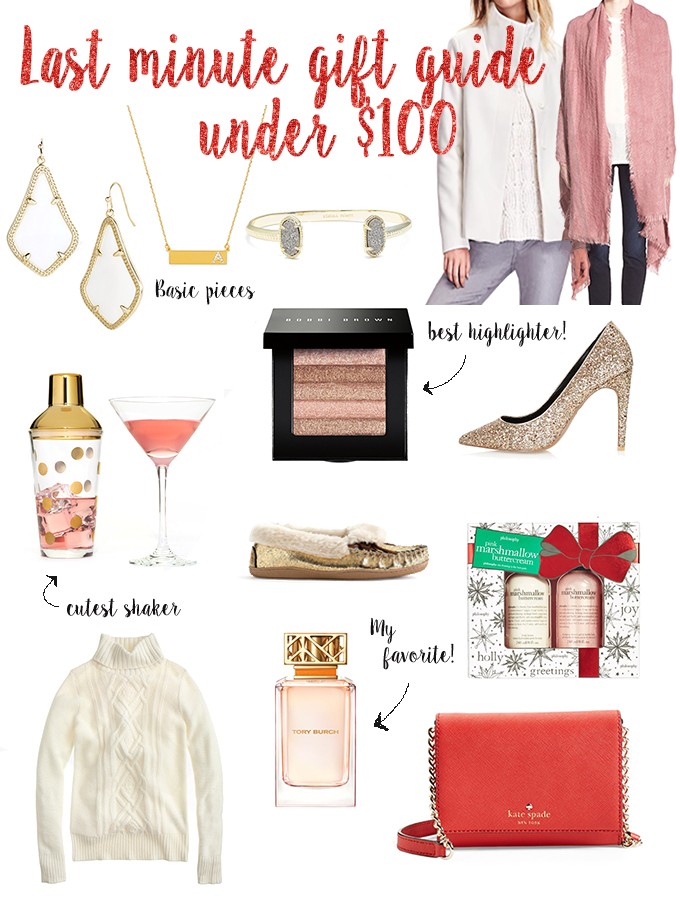 Christmas is approaching and if you're anything like me, you're probably at the mall on Christmas Eve buying last minute gifts. I try every year not to do this, but procrastination gets the best of me. I rounded up a couple of my favorite pieces on this gift guide that I believe anyone would love to unwrap. The best part is that they are all under $100 (yes, even the
Kate Spade cross body
!).
If you're kind of iffy about what to get, one of my favorite items on this list are the
Kendra Scott earrings
, definitely a staple piece. When I worked at Kendra, everyone loved this style… moms, sisters, best friends, cousins, girlfriends, and grandmothers (if they already have white, I would go with
cobalt blue
, so pretty). Some other ones that I love are the
Kate Spade shaker
(it's so cute!) and the
gold house slippers
(the comfiest shoes).
My hubby is off for the next 20 something days and I'm so excited! He always works long hours on base, so it's rare that we spend morning and afternoons together. We can't wait to spend time with our families and friends these next 9 days in Texas.
I hope yall are having a wonderful time with your loved ones this holiday.
xo,
Annie