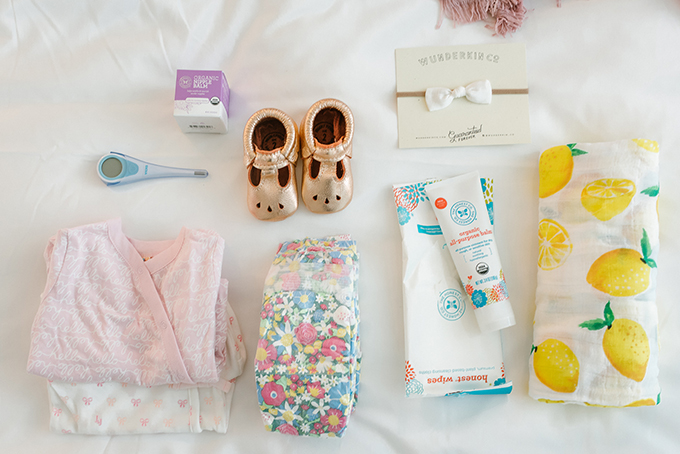 I'm not sure if this post is too early or too late but August is right around the corner and I figured I'd share what I packed for Baby C.
This is my second time packing a hospital bag and I've learned from my mistakes the first time around. The first mistake I made was over packing (some things)! My second mistake was not realizing that the hospital will literally have everything provided for you, you just might want to bring your own stuff.
Unless you're going to be in the hospital for 3+ nights, you do not need a hundred adorable onesies, lol. Just one or two cute ones for pictures and for his or her "first" outfit. Liam's first pair of shoes were Freshly Picked so my daughter had to be the same. Their moccasins are SO CUTE! I absolutely love the rose gold color. Oh, and also pack some soft baby hats. Liam came out bald and cotton beanies was all that he wore for months. I'd also bring both newborn and 0-3 month sized ones because you never know how big or small your little one is going to come out. Yes, the sizes do make a big difference, in my opinion.
You won't need to bring your own swaddle because the hospital provides them but the baby will probably be in a swaddle majority of the time if you'd like to have your own. When baby is out of the swaddle, opt in for full foot onesies. Hospital's are freezing!
I didn't bring my own thermometer the first time and plan on bringing my own the second time around. The nurses and doctors will, of course have them at the hospital, but it's the ones that take over 1 minute to see results. I was checking Liam's temperature every hour (like a over protective first time mother). This one is super quick!
This nipple balm saved my life!! This might be a little TMI but I was in so much pain from breastfeeding the first two days. My nipples felt like they were being pulled off and on top of that, it hurt even more while Liam and I were both learning to breastfeed/attach. This balm is organic and safe for babies. Even right after applying!
The only thing I under packed was diapers and wipes. I was in the hospital with Liam for 3 nights and there were several occasions where I had family members and even friends pick up more diapers and wipes. First off, you should decide if you want to use the hospitals diapers or your own. I was dedicated on using my own diapers only because I was terrified of my baby getting rashes or outbreaks from diapers that weren't chemical free. Call me crazy, lol. Newborns go through like 10+ diapers a day so be prepared.
I personally don't think you'll need a Boppy Pillow, burp cloth, or bib. It's all provided at the hospital and honestly, it's more dirty spit up cloths for you to put back in your diaper bag. I chose not to use pacifiers because they aren't great for gums or self soothing, but everyone is different. At the end of the day you know what's best for you and your baby.
I'll be doing a Hospital Bag for Mom and Dad soon!
Thank you so much for reading!
xo,
Annie