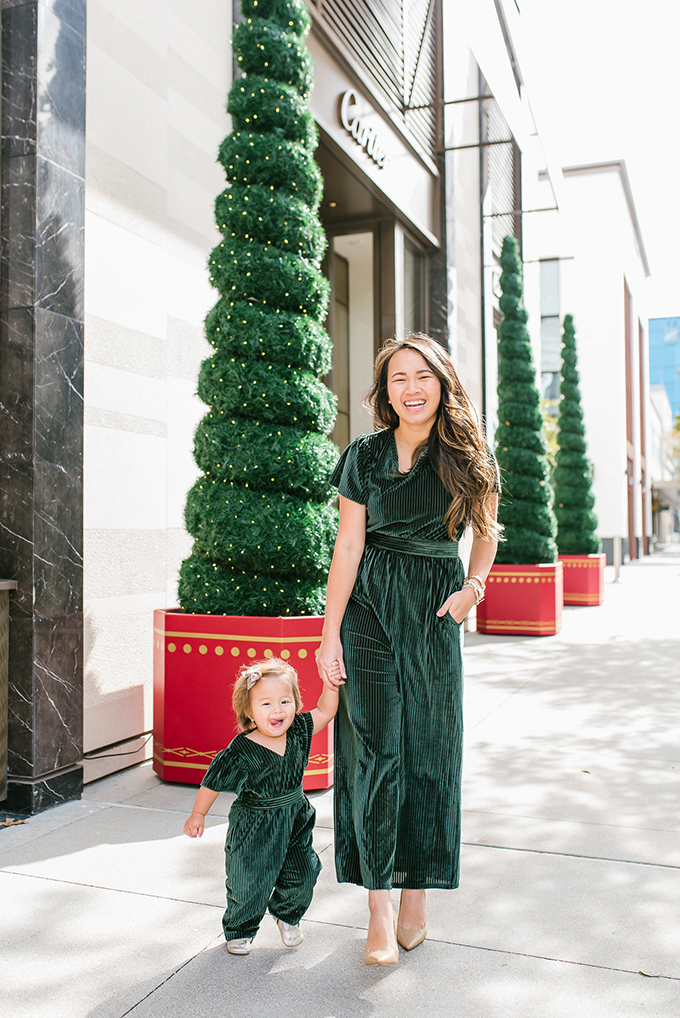 This is by far my favorite twinning outfit with Chloe. I've had my eyes on these for a while but when they released the emerald green color, I submitted an order immediately. These jumpsuits are so versatile. We can wear them for holiday parties or every day. The material is really soft and has a good amount of stretch to it. I've ordered a couple of things from Ivy City Co and it has all been darling.
I haven't done one of these in a while, so I thought I'd share a couple of random facts about Chloe and I. So here we go.
1) Chloe's name was originally going to be Olivia, but because Liam's name is super popular, we didn't want her to also have a very common name. Chloe's full name is Chloe Olivia Mescall.
2) Chloe started walking at 11 months and even though she's in the 50% for her height and weight. We still get tons of people asking if she's under 1. Chloe is 15 months today.
3) She super sassy, dramatic, and 100% a momma girl. She's so attached to me, as yall might know.
4) Chloe is a huge homebody. She doesn't prefer to leave the house like Liam, Easton, and I.
5) Chloe is with me 90% of the time. She's not in school but she does see my parents 1-3x a week.
6) We're 99% sure that Chloe will be our last baby and it makes me sad, but I know that 4 is more than I can handle…. ever!
7) Chloe speaks 95% Vietnamese and 5% English. Because Liam wasn't around my family his first 3 years, Liam only knows some standard/basic Vietnamese words. He can understand most of it but isn't able to speak it so well. Liam is going to be enrolled in Vietnamese school next year. 
8) Chloe is my girl.