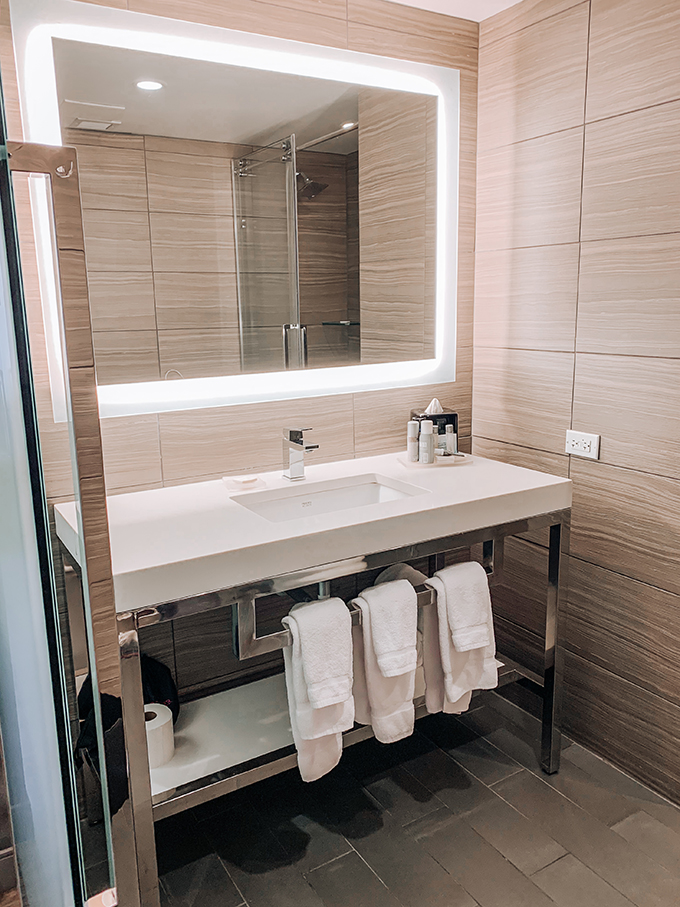 New York City is a city that I will love forever. This was the third time visiting the big apple in 2019 but this time it was different. The last time I was in the city during the holidays was when Tommy proposed to me in 2015. Even though, I had been back numerous of times without him, being there during the holidays brought back so many memories.
Margret and I had been talking about taking a winter trip and New York City was top on our list. The holidays have been crazy so we needed a girls trip. We wanted to stay somewhere that was near all of the attractions we had on our list. We stayed at Cambria Hotel New York in Time Square and it was in a great location. We rarely took an Uber and time square was right downstairs. We had several restaurants and shopping around us too. We stayed on the 20th floor and had a view of the city right outside our window. Our room was VERY spacious and our king size bed was really comfortable. There are 3 things that I always look for in a hotel and that's cleanliness, customer service, and comfy beds, our hotel checked off all of those. There's also a neighbor restaurant on the first floor that serves Italian food so if you're in the mood to stay in for the night, the food is really good!
We kept our trip very relaxed and didn't really plan an itinerary. We had a few things on our list that we had to see like Bryant park and 5th avenue but for the most part, we winged it. Here's what we did and really enjoyed!
WHAT TO DO IN NEW YORK CITY DURING THE HOLIDAYS
If you're looking for tons of Christmas knick knacks, gifts, clothes, or pretty much anything festive, Bryant Park has tons of little shops set up. There are food and drink stands, ice skating, and of course the famous Rockefeller Christmas Tree.
This is very similar to Bryant Park but on a smaller scale. I personally like the shops at Union Park better because there was a bigger variety of things; organic baby clothes, custom made toys, jewelry, and more. It is on the other side of where all the other tourist attractions are but if you're in the area, stop by!
If you go to NYC during Christmas this should be the #1 thing you do/see. The show was truly incredible and gets you in the Christmas spirit. I would go see this show again in a heartbeat. It's children friendly as well.
Window viewing on 5th Avenue and Saks
NYC is known for all of their beautiful storefront window displays, especially the Macy's. Sakes 5th Avenue stepped their game up this year with a beautiful light show right outside of their store. It gets really busy but it's worth it if you're already in the area.
Lillies is a Victorian styled restaurant that is decorated to the nine. NYC is known for their decorations and this restaurant was amazing. We didn't get a chance to eat here because the wait was long but it's a great place to grab a drink at the bar and see the decorations.
The famous Grand Central Terminal has so much more than what some of us may think. There are tons of mini shops and a massive selection of food. There's also a lower level that is filled with grab and go food. This place is such an iconic NYC place, I know we've seen it in tons of movies. It really is a beautiful place.
Lottee Hotel is where the famous massive Christmas Tree is. It's also "Chuck Bass's" hotel. I'm a huge gossip girl fan so going here is a must. It's a great spot to snap a family picture for memories.
The Nordstrom opened up in 2019 and it's MASSIVE! There are over 5+ restaurants and bars inside and truly is shopping experience. They had Santa and his elves come out and sing every few hours and it really did make us feel like we were in a NYC Christmas movie. If you're wanting to avoid the street shopping, Nordstrom has tons of floors and you can get all your shopping done in one place.
We didn't get the chance to go to Central Park but I went a few years ago and if the weather permits, it's nice to walk around, take in the scenery, grab hot chocolate, and skate.
I'm already planning on coming back this Christmas season with Tommy. I think NYC during Christmas is something to add to your travel bucket list for sure!
Thank you so much for reading!
xo,
Annie