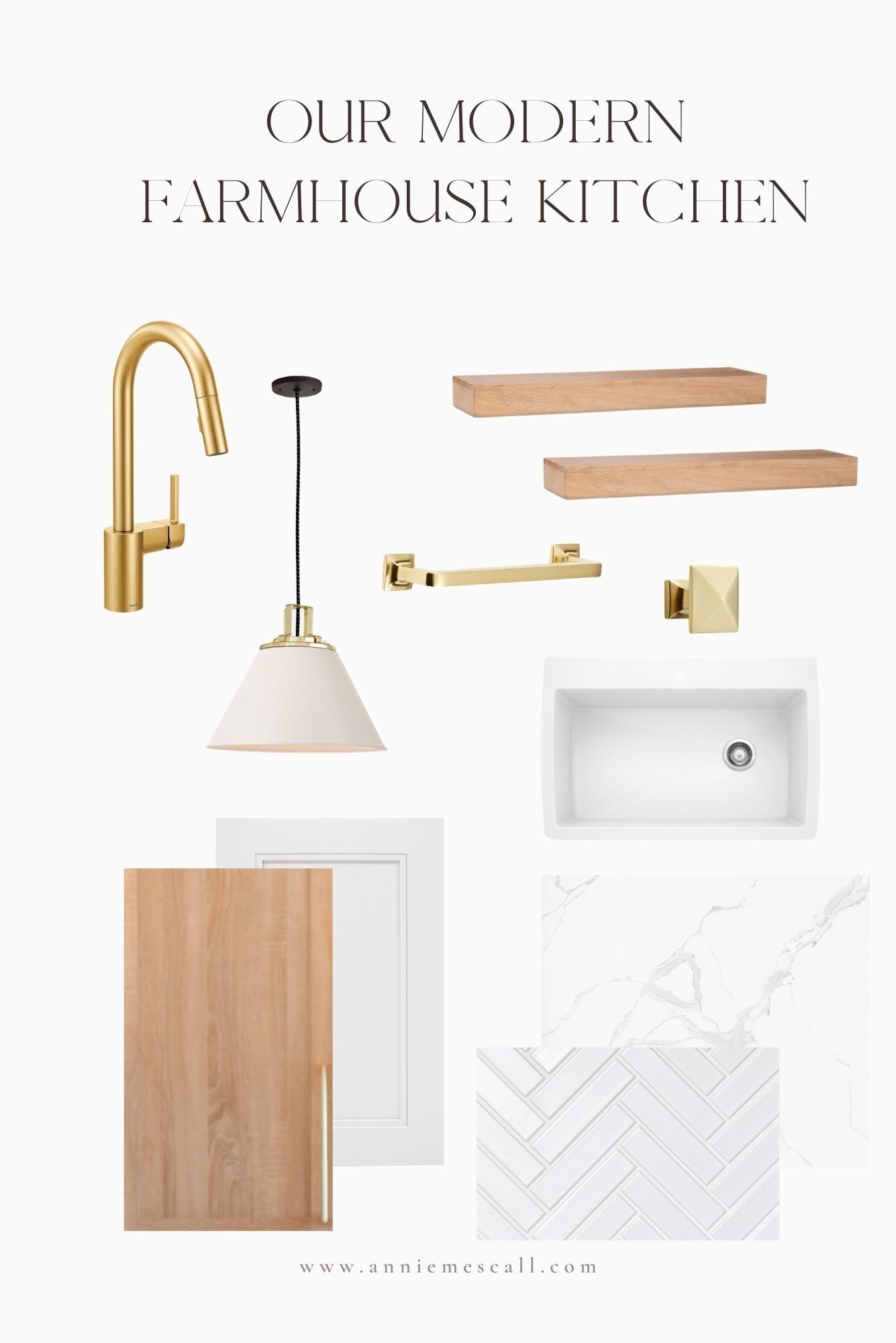 An all white kitchen was something I've always dreamt of; clean, monochromatic, bare. When I was planning out what our home would look like, I immediately thought of modern features. With modern homes, that cozy homey feeling is sometimes lost so I knew that adding touches of natural tones, like wood, would get me that modern farmhouse aesthetic.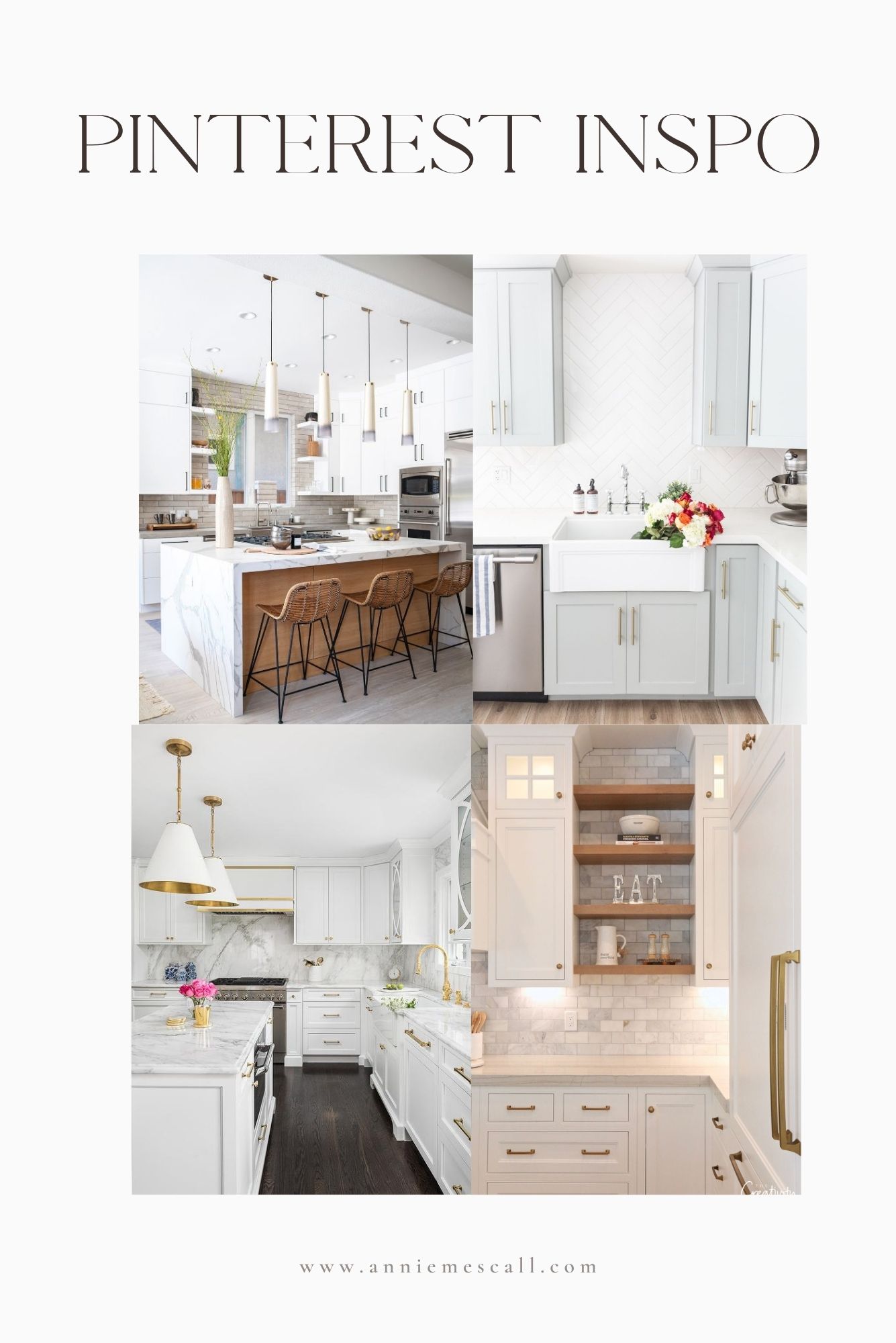 Pinterest is the place to look up inspirations. Our color scheme is white, natural wood, and gold. We also wanted to make our upgrades were not just beautiful but functional. We were really wanting floating shelves but the only place we could do it was in-between two shelves. Thank goodness for Pinterest because I was able to see tons of examples of floating shelves that were in-between cabinets.
My friend Hoang-Kim has been so much help. Her kitchen is absolutely stunning and I've definitely gotten inspirations and ideas from her too.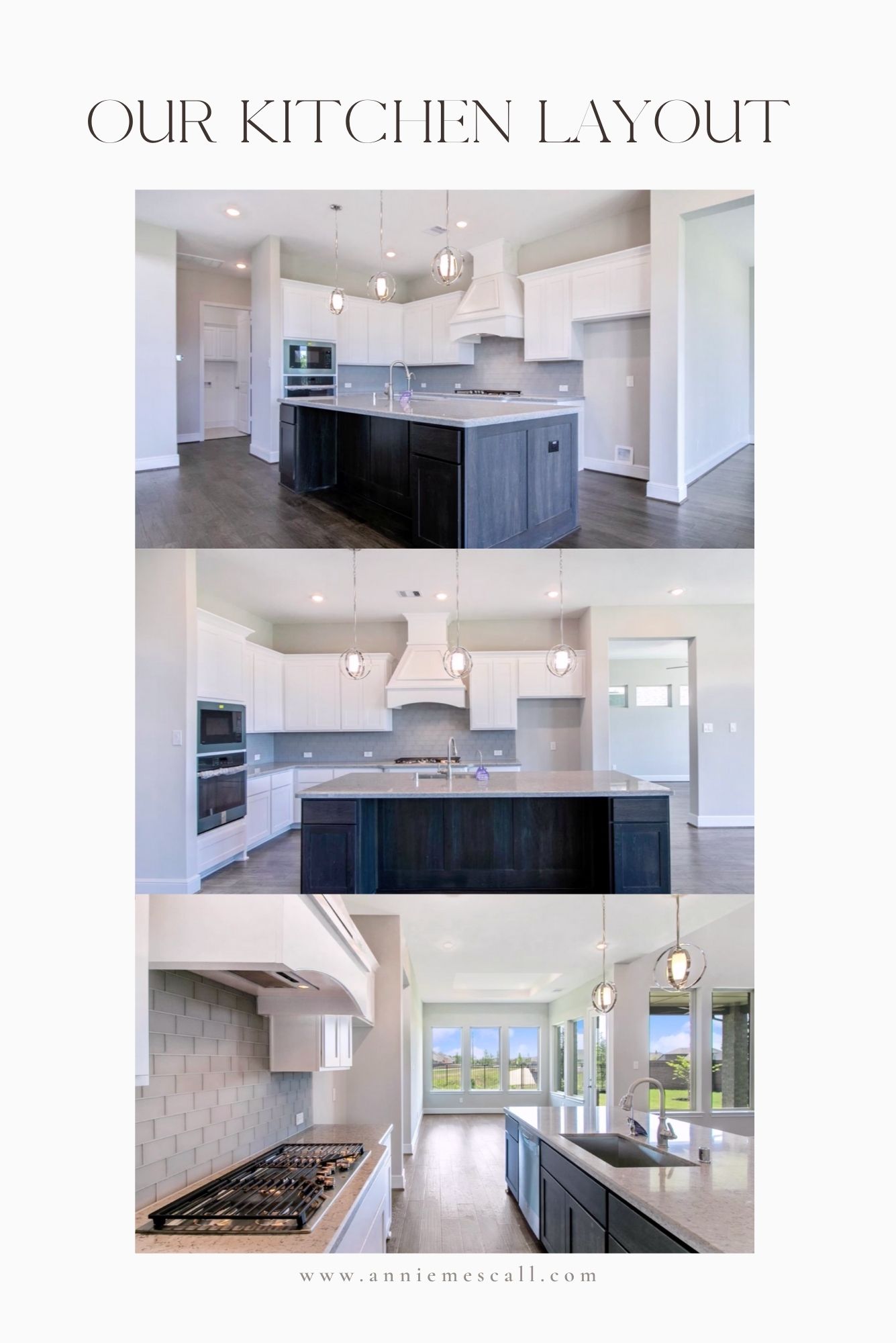 The company that builds our kitchen is Benedettini Cabinetry. With each builder and home, there are certain things you can upgrade and change. Our home is considered a custom home so we were able to get most of the changes and upgrades we hoped for. Here is a breakdown of what we choose for our kitchen! All examples are just google links I found that were similar to give y'all an idea).
WHAT WE UPGRADED
CABINETS: We went with a shaker style cabinet in Glacier White and choose to add hardware in after closing. For our island we did a Frameless cabinet in Natural Rustik in "Lugano style" from Benedettini.
 We added:
-6 additional drawers in replace of four cabinets
-Stacked upper cabinets (cabinets that go to the ceiling)
-Trash drawer (Island Drawer has trash in it, example here)
-Tip out tray (example here)
-2 30" wide Pull Out Trays (example here)
-Soft close drawers and cabinets. Because of the kids, we know this would save us from hearing a lot of cabinets slamming, lol)
-Refrigerator End Panel (example image here)
-3 Floating Shelves
COUNTERTOPS: We decided to upgrade to an Omega Stone called Emilia in the kitchen and Island.
ISLAND: We're going with the same Emilia Stone on the island
-We did a waterfall island where the stone would go from counter to floor
BACK SPLASH: I've always loved the herringbone pattern and decided to go with white shiny subway tiles in herringbone with a white grout
-Where our floating cabinets are, we had to pay extra to have the tile go to the ceiling
OTHERS: 
SINK: We upgraded to a white sink (Blanco Silgranit Diamond Super Single)
FAUCET: Gold Moen Faucet
ISLAND: 
We did a frameless cabinet on the island and also did a cabinet dish washer.
WHAT WE DIDN'T UPGRADE: 
HARDWARE: We plan on sourcing out some gold hardware after closing because the builders didn't have any that we loved. We do need to buy a new fridge but besides that, the dishwater, oven, and microwave are built in.
GLASS DOORS AT THE UPPER CABINET: Tommy and I had a couple of discussions about this. He wanted them, I didn't. We decided that if you have glass all around the top, they would only be used for decor. For example,  you wouldn't put extra ziploc bags up there because it would be aseptically pleasing or functional storage.
HOODED VENT: There were options to upgrade the hooded vent but we personally liked the standard.
APPLIANCES: There were several upgrades for dishwasher, oven, and stove but we realized that if it was something we really wanted, we can switch out later on.
LIGHT FIXTURES: Lighting is something I highly recommend upgrading after you close. There are so many beautiful light fixtures out there that are affordable.
DOUBLE OVEN: For us this wasn't a must because we don't cook every single day. Most of our dishes are typically cooked on a cooktop so for us we didn't see ourselves using a second oven often. If your family cooks a ton I do recommend considering this because it isn't something you can add later on.
The kitchen is probably the one part of our house that we're really looking forward to! It's the center of our entire out and where our family will spend most of their time (aside from the living room). We were told by our realtor, builder, and other people that Kitchens and Master Bathrooms are places of the home we should prioritize in regards to upgrades because they are huge selling points (if and when we choose to resale in the future).