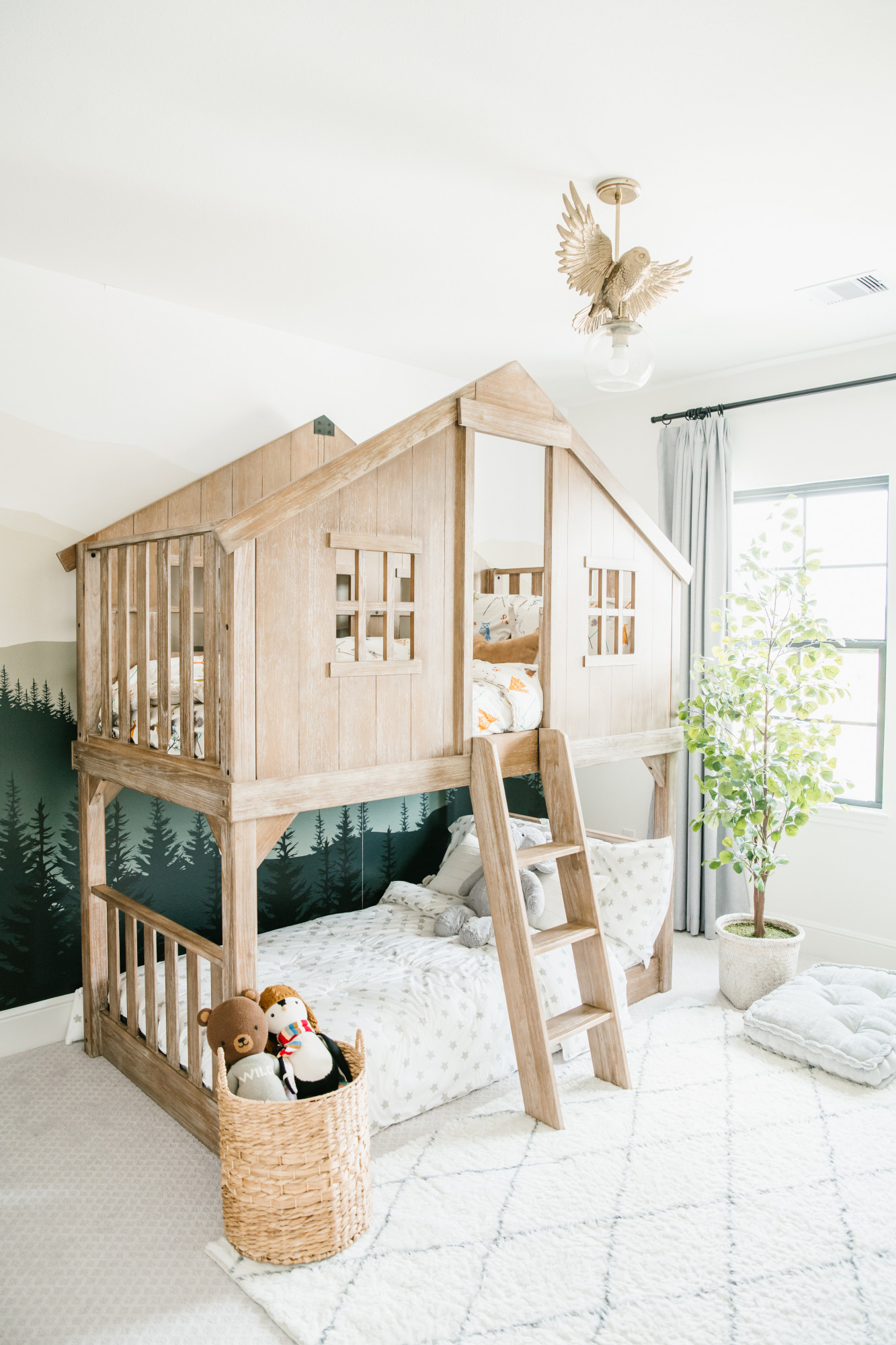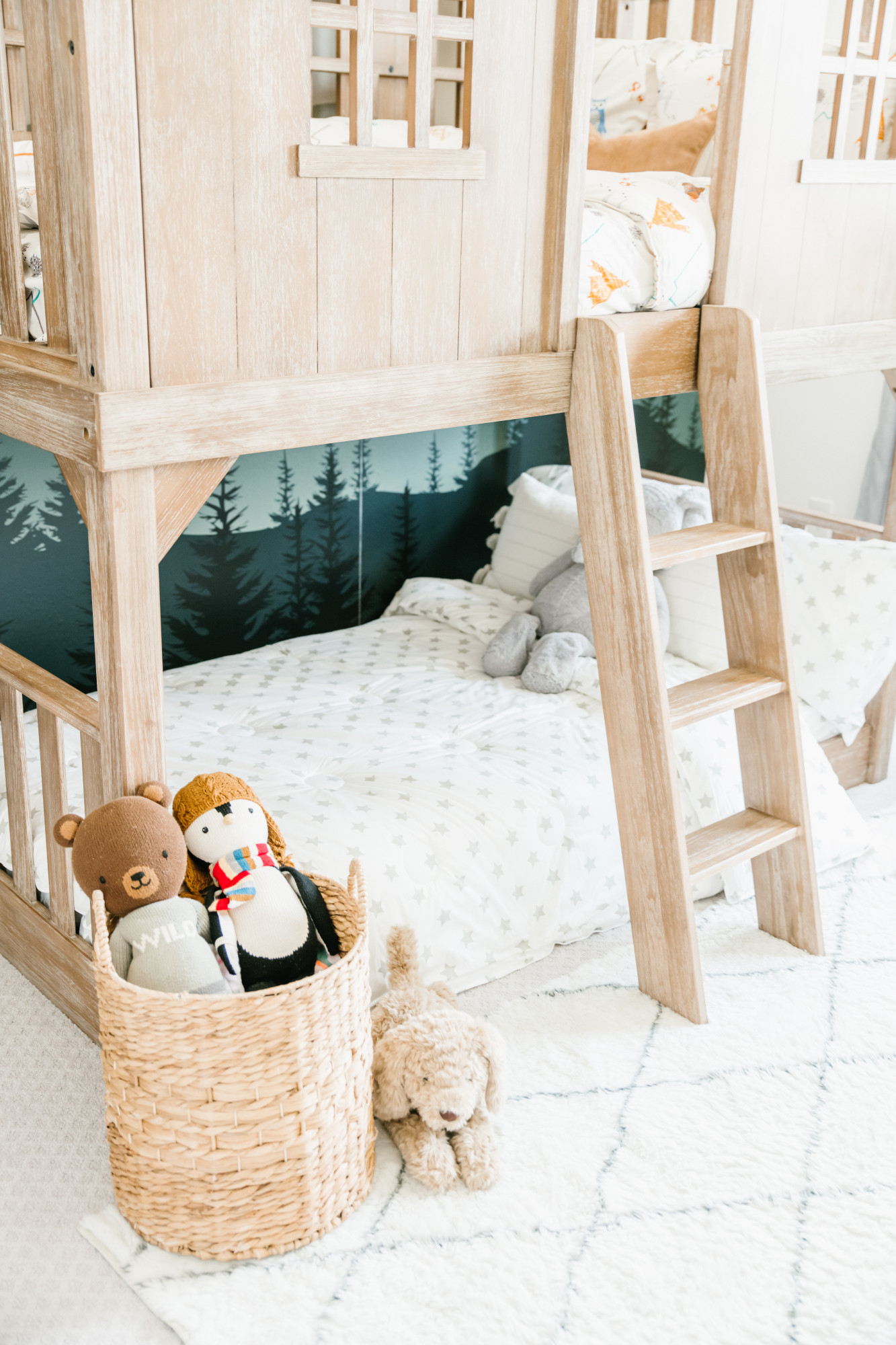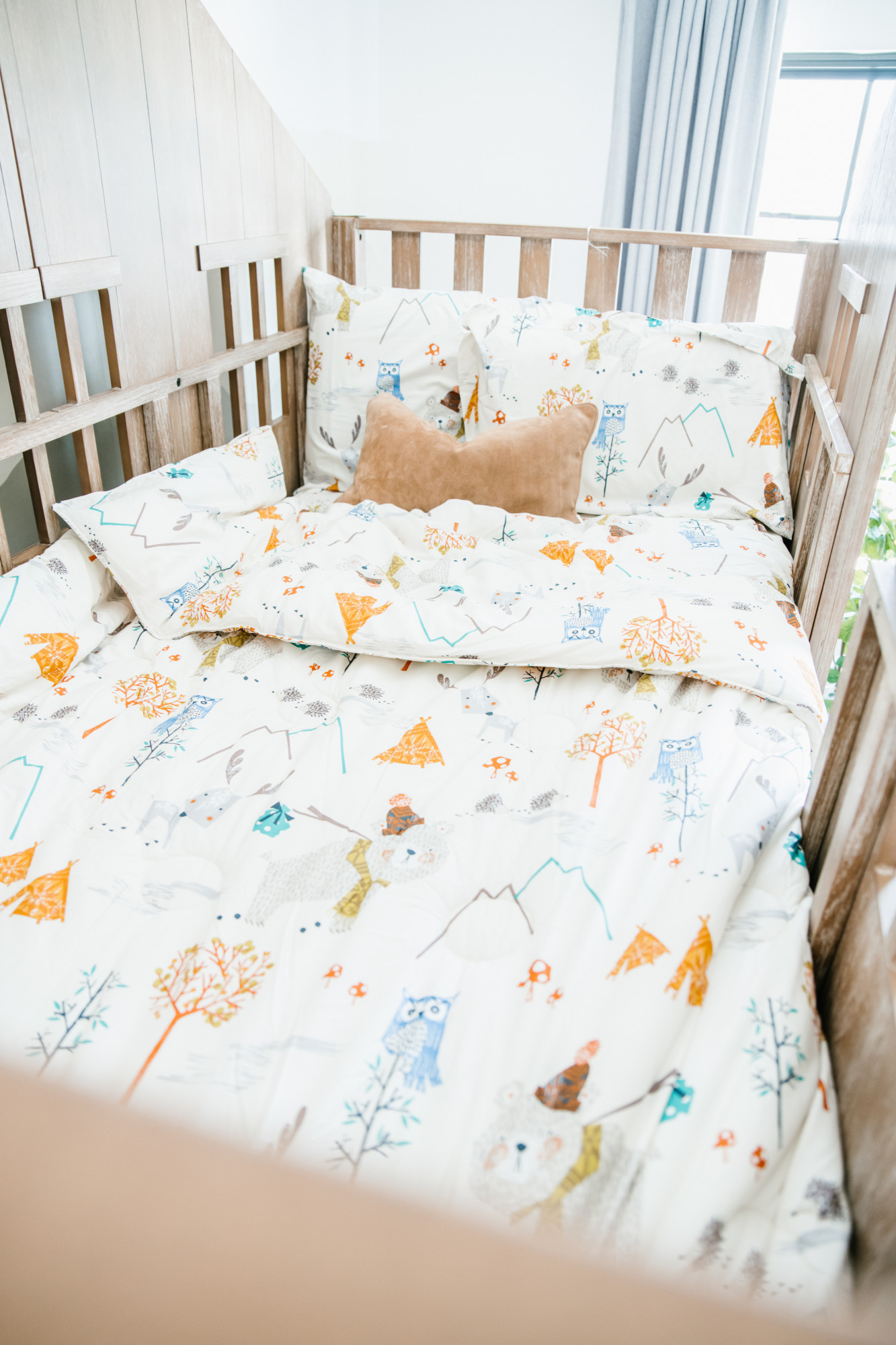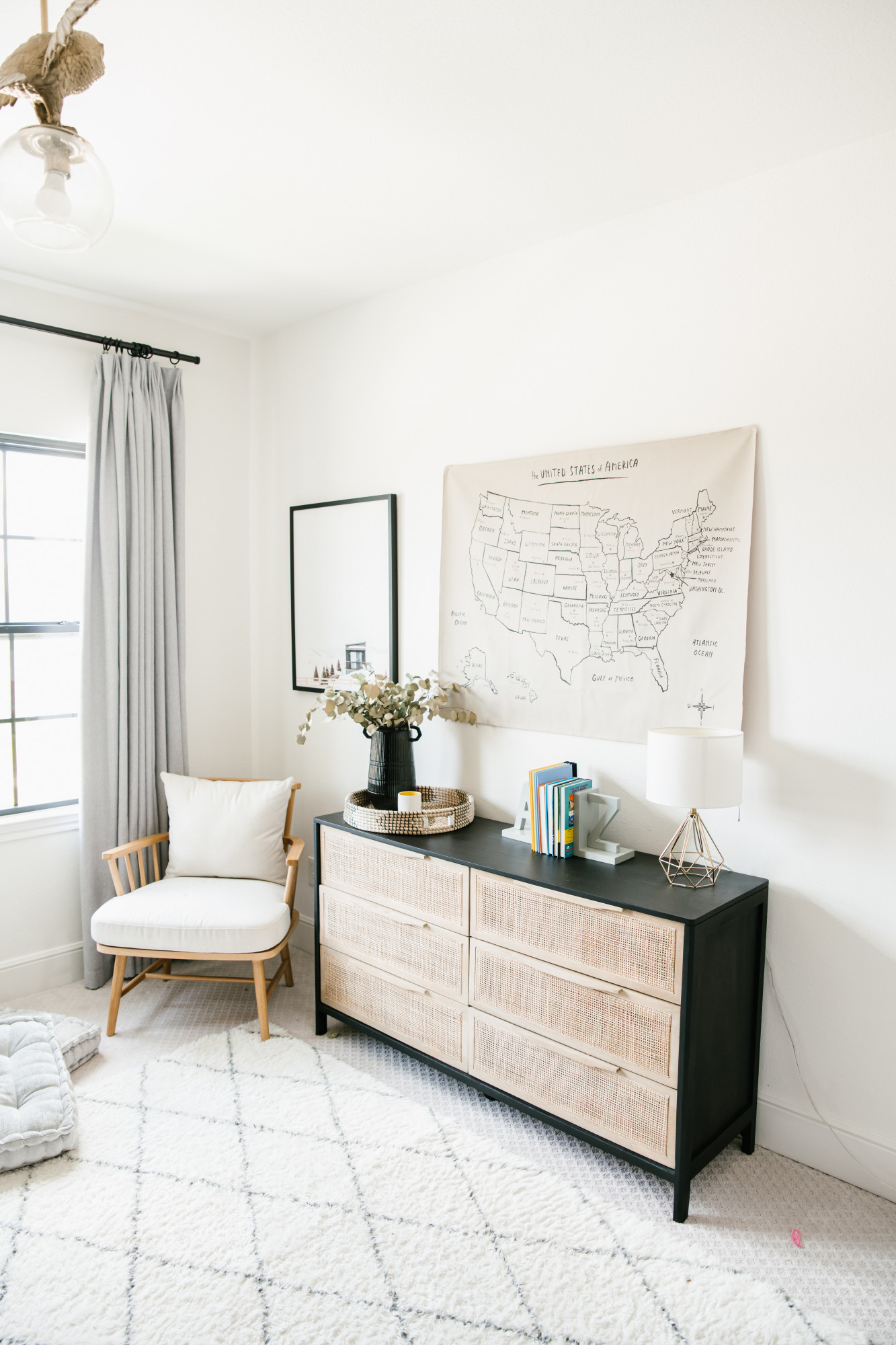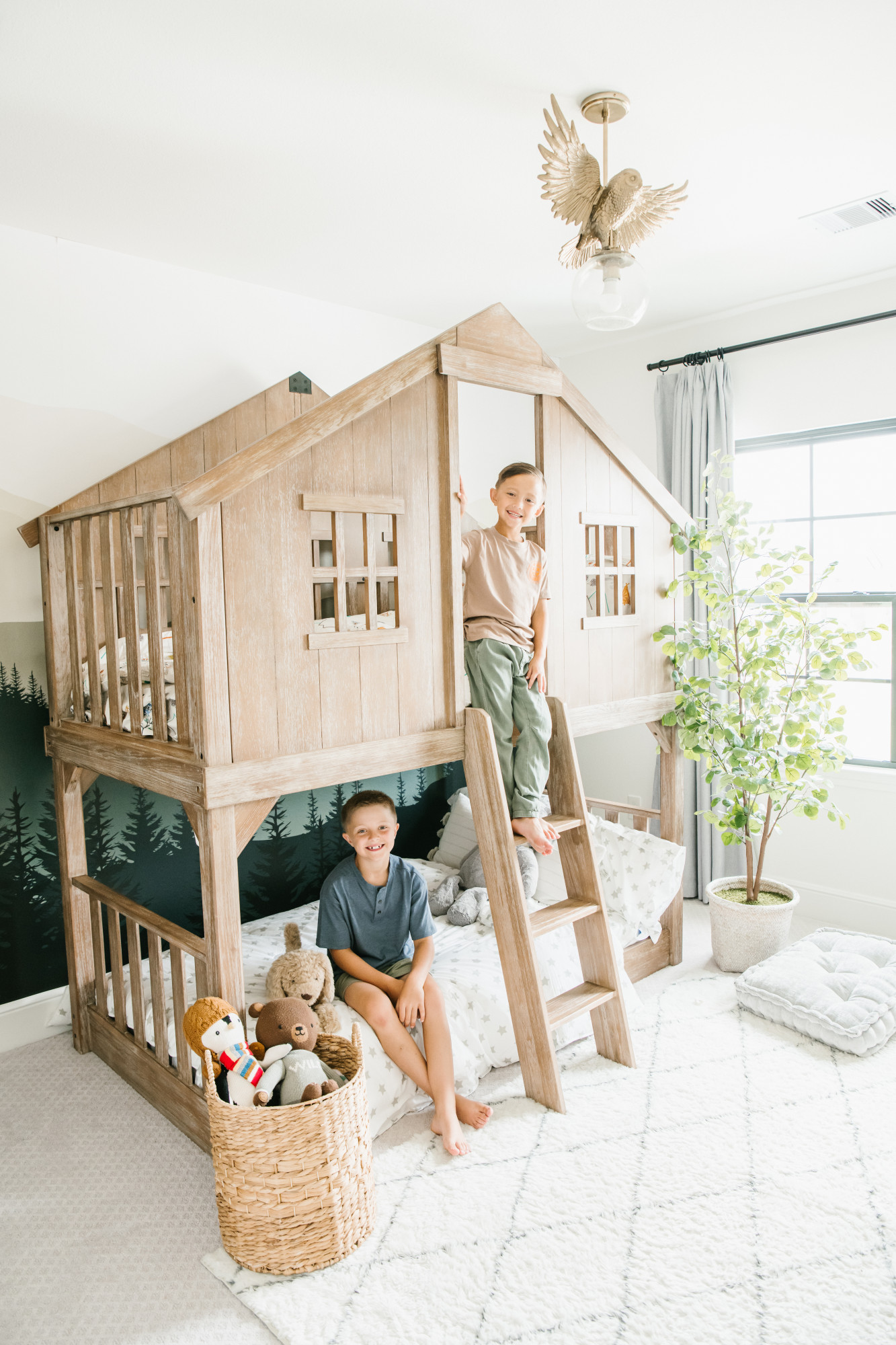 Easton and Liam's bedroom was the very first bedroom that I worked on and it was in need of a little refresh. When it comes to designing any of my children's bedroom, I want the space to be minimal, a bit modern, functional, and of course, fun.
As much as I would love for my entire home to be neutral colored from head to toe, I understand that it's not what my children want. I will typically ask Easton and Liam what they would like in their room, for example, "What color or print do you want for your blanket". Then, I would find a couple of options that I think we would both like and give them 2-3 options to choose from.
FURNITURE: When I designed the furniture portion of the boys bedroom, I stuck to natural tones so we could also switch out bedding and decor whenever we wanted. That's why we got their tree house bunk bed and dresser. Their dresser is the same one I have in my bedroom and it fits perfect in their room. It has a lot of drawers and amazing quality.
I snagged their reading chair from Target for under $150 at the time. Target has tons of affordable accent chair options, like this one or this one.
BEDDING: Liam and Easton's comforters and sheets were in desperate need of a refresh. Home Depot had so many adorable children's bedding. I've heard great things about The Company Store bedding. Easton chose this star print comforter and sheet and Liam choose this woodland one. We had duvets before and it wasn't the easiest to clean and handle for the boys. I love love love their new comforters. They are soft and lightweight.
WALL DECOR: I love a good wallpaper in any room. Ours is from WallBlush. The Map of the U.S. is from Gather and I love the leather material of it. The snow artwork is fitting because Liam loves the snow and it symbolizes his first couple of years living in Colorado.
DECOR: Decor is super minimal in their room. This is where the functional part comes into play. Decoration can be function and aseptically pleasing. This woven tray comes in a set of 2 and is perfect for holding toys, a spot for an alarm, lamp, vase, etc. The boys' rug is also from ruggables plush collection and it's soft and kid friendly.