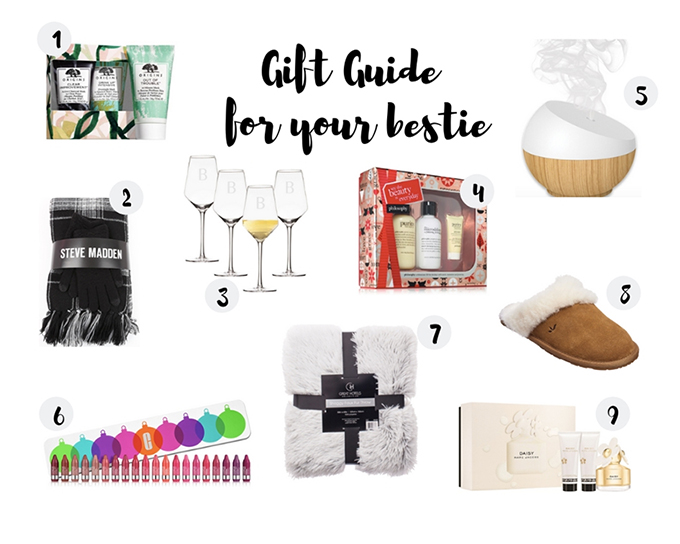 1: MASK SET // 2: SCARF AND GLOVE SET // 3: WINE SET // 4: PHILOSOPHY SET // 5: DIFFUSER // 6: LIP SET // 7: THROW // 8: HOUSE SLIPPERS // 9: MARC JACOB PERFUME
Hi! This is Annie Mescall from The Annie Issue Blog. I've teamed up with Stage this holiday season to share gift ideas for your girl bestie. My family loves shopping at Stage stores because they offer a little something for everyone at all sorts of different price ranges. One of the biggest reasons why I love the holiday season is because it gives us a reason to do something kind for others. I enjoy getting gifts for friends and family much more than receiving them myself. Ever since I started blogging, I've been welcomed into this huge community of bloggers and thankfully half of them are mothers just like me. I've built strong relationships with these beautiful women and so have our children. Next month, we have a gift exchange for us moms and for our children too. I've rounded up 9 things that any girlfriend would love to receive.
Gift sets are always my number one purchases. Who doesn't love a little bit of everything? My girlfriends and I definitely need our wine and face mask nights. This origins set is great because you get to try 3 different masks. If you're anything like me, personalize gifts are the best. This wine set can be personalized with the letter of your friends first or last initial. Beauty sets are also really fun because you don't have to worry about whether or not you chose the right lip color. I've had my eye on this Clinic Chubby stick set for a long while now. If you haven't heard of Clinic's Chubby stick, it's a light tinted lip balm. Something you definitely need during the winter. Philosophy also makes great bath and facial products that every woman should try. This gift set comes with cleanser, exfoliating wash, and moisturizer. I believe that the best time to buy perfume is during the holidays because of all the sets that are available. Most of the time the sets are actually cheaper than the bottle alone! I would describe Marc Jacob's perfume as a light airy floral scent. Their perfumes aren't overwhelming and can be used everyday.
When it comes to buying home products as gifts, I try to find items that are practical and functional. Decorations are hard because you never know what type of decor that person prefers. A faux fur throw is honestly the safest home gift item you can buy. Your bestie can use it for their living room, bedroom, guest room, or even as a decoration in a woven basket. Plus, who doesn't love a super soft blanket? You really can't have to many of them. Diffusers are one of the most popular items right now. This one is portable and easy to use. Diffusing essential oils help with coughs, flu, pain relief, and can smell refreshing. If you haven't tried out diffusers, I'd suggest this one because it's affordable and small.
The last category of gifts I'm going to discuss are going to be accessaries and shoes. When shopping in this section of the store, I suggest trying to find pieces that are neutral and would be considered an essential item. Who is going to turn down a pair of cozy house slippers? Especially during the winter! I've heard so many great things about these Koolaburra by UGG slippers. They are lined with faux fur for comfort and warmth. They come in black too. Winter accessaries are items that I would say are essentials for the winter. I chose this black plaid print because it'll be easy to throw on with most outfits and practical.
If any of my girlfriends gave me any of these gifts I would genuinely be so happy and thankful. Especially the house slippers and mini mask set!
Thank you so much for reading! I hope this has helped make your holiday shopping experience easier.
xo,
Annie