This is a sponsored post written by me on behalf of Pantene. All opinions are my own.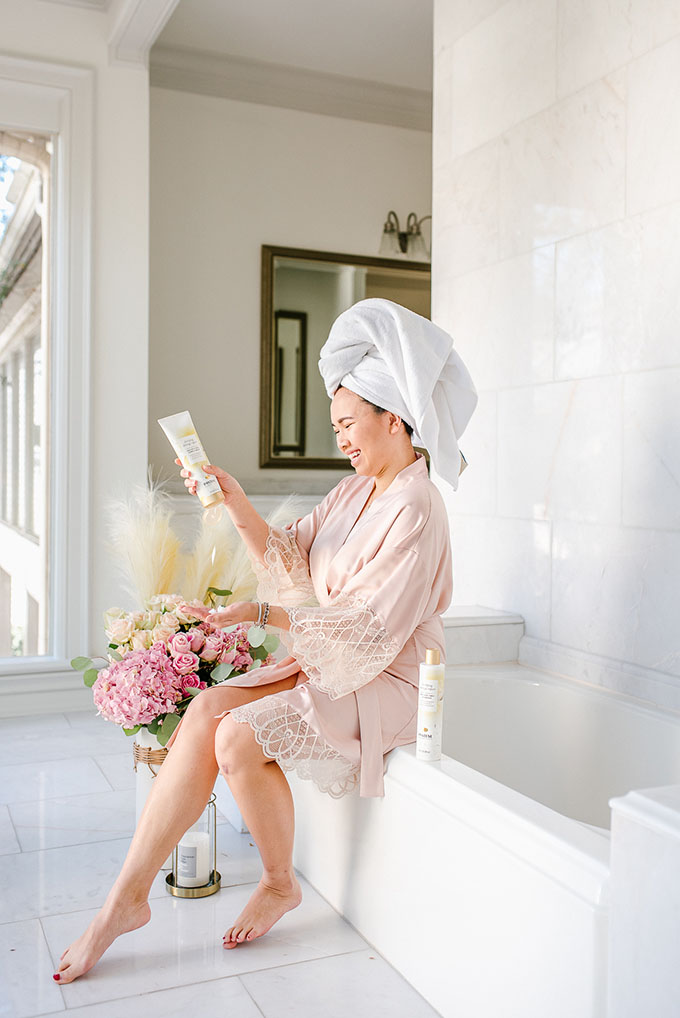 Last year, I truly learned how important it was to set time aside for myself, my husband, and my friends. As a parent, so much of our time is dedicated to our children that we sometimes forget to take care of ourselves. I'm constantly going and going and going. When I became a mom of three, it was the biggest change of my life. Tommy and I live 4 hours away from each other so it's me versus three, 90% of the month. My body and mind were exhausted from juggling everything. I felt like a ticking time bomb every single day. I could tell that I was putting my frustration and exhaustion on the kids and my husband. Imagine working for 10 days straight without having a day off. It's overwhelming and you start to feel like a robot.
"Me" time is extremely important to me. It's good for the mind, body and soul! I feel like a brand-new person after having some time to take care of myself. I dedicate 2 days every week to wind down after all the kids are in bed. The best way that I know how to relieve my stress is to draw a hot bath, throw in some bath salts, a bath bomb, put on a face mask and cleanse. This is a great way to focus on myself and discover what's good in my life.
A few months ago, I added some color to my hair after 10 years of being dye-free. I knew that coloring my hair would take some nutrients away and maintaining it would be crucial to keeping it healthy. I've been using
Pantene's Fortifying Damage Repair Collection with Castor Oil
f
rom their newest Nutrient Blends Collection and have seen my hair come back to life. When I had my big hair transformation, my stylist added a row of sewn-in natural hair extensions. It was important for me to keep the extensions nourished because it wasn't producing any natural oils like my real hair does.
Pantene's
Fortifying Damage Repair Shampoo and Conditioner
 i
s made with Castor Oil to protect, repair and help give back nutrients that hair dyes take away. Castor Oil comes from the seeds of the Ricinus Communis plant grown in India and has amazing benefits. Free of sulfates, parabens, dye and mineral oil, this collection helps restore my hair with a blend of nutrients. My roots don't typically have a problem with producing oils, but the bottom half of my hair struggles with it. My ends become dry and fried really fast with straightening. Big tip! When using Pantene's Fortifying Damage Repair Conditioner, apply from ear length and down. I've been using Pantene's shampoos and conditioners for over a decade and love that this collection focuses on repair and adding nutrients – it makes maintaining my long, colored hair A LOT easier! You can shop this collection
here.
When it comes to bath time, I usually start with cleansing my hair and body first. After that, I throw on a facemask and watch a Netflix show. I personally get bored sitting in still water, so I prop my laptop up on a stool next to the tub for a bit of entertainment. I've been into all the documentaries on Netflix lately. Y'all, I also go crazy with my face masks. I think I have over 10 different face masks and it's life changing. Sugar scrubs, charcoal and honey masks are a few of my current favorites. If it's the weekend, feel free to pour yourself a glass of wine too. Make it a true at-home spa day!
Xo,
Annie