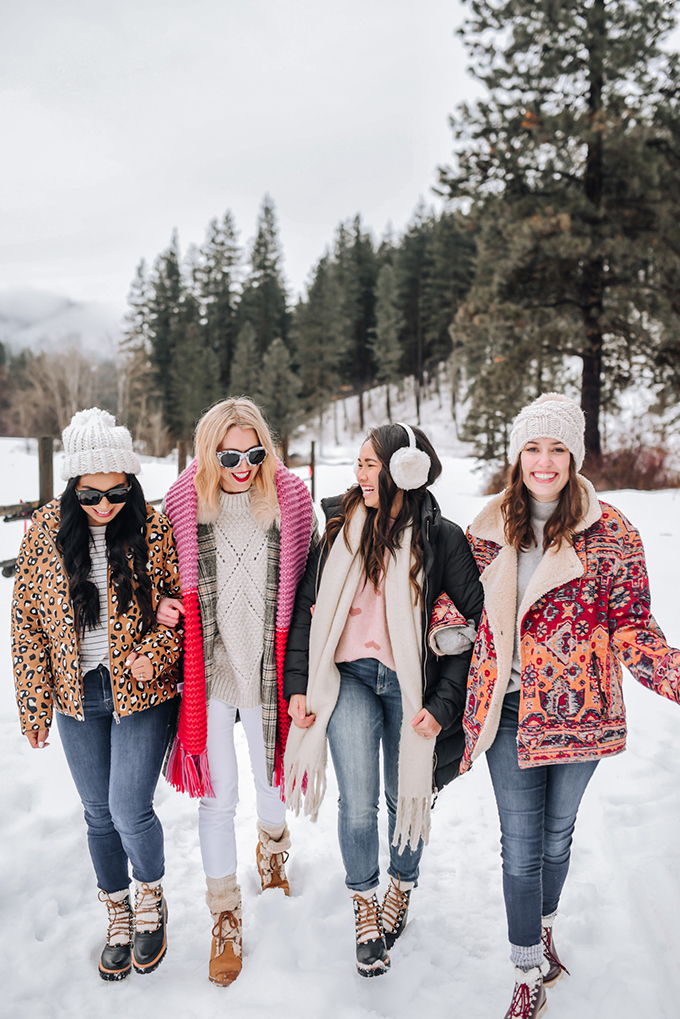 My trip to
Leavenworth
, WA was straight out of a winter holiday movie. My girlfriends and I decided a few months ago to take a trip to this beautiful German inspired town and it was so much more than I expected. Tommy and I actually drove up to Leavenworth in October for a festival and had so much fun eating and drinking. We were only there for a few hours so to be able to experience Leavenworth for 3 days was wonderful. If you're not familiar with Leavenworth, WA it's a Bavarian inspired village in the mountains. Within the village there are tons of cute shops, wineries, and restaurants; the food and drinks are German inspired. The Village is deep in the mountains so the views are just beautiful! Every morning, we were stunned and wished that we were able to wake up to these views back at home. During the 3 days, I created many lasting memories with Alice, Rebekah, and Roselyn. We ate a lot of food, went on fun adventures, and laughed for hours. I'm sharing all the details because Leavenworth, WA should be on your bucket list. I'm already planning to take my family back this winter!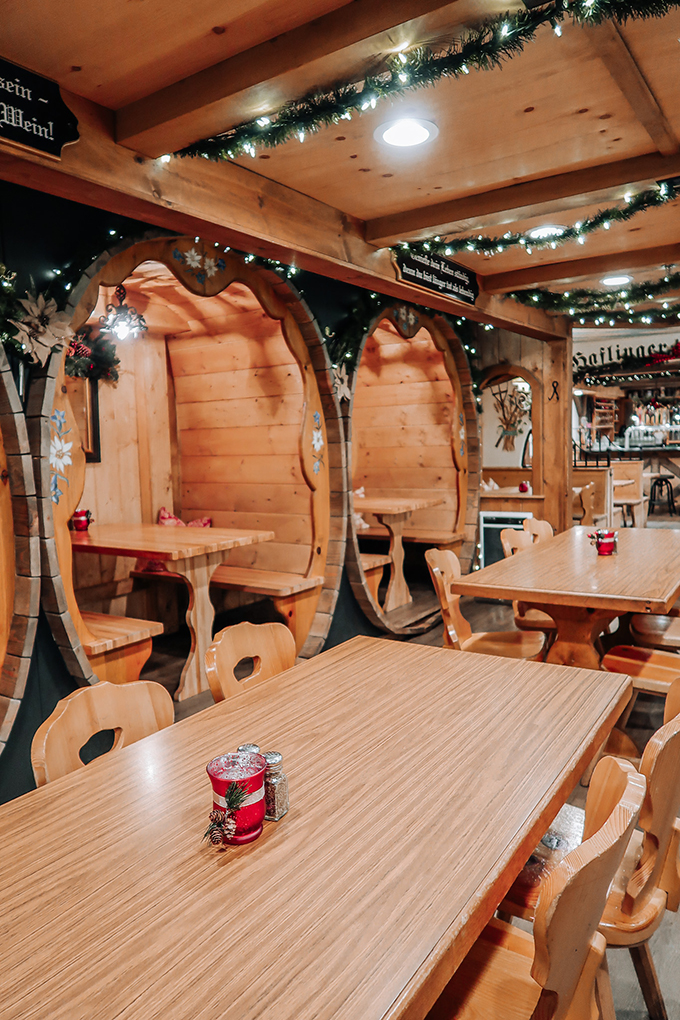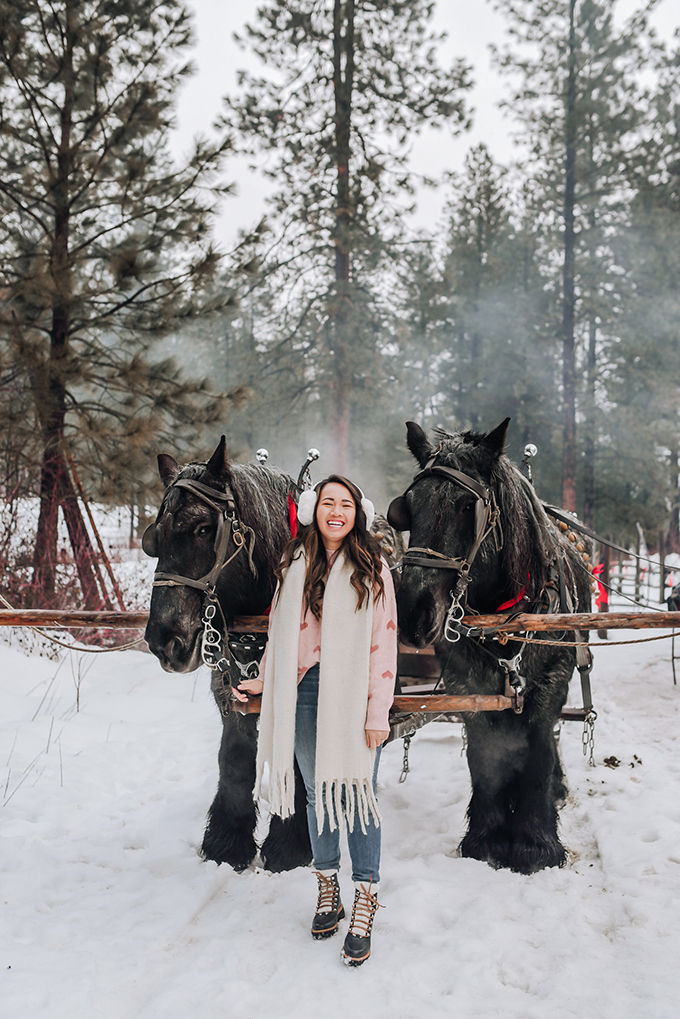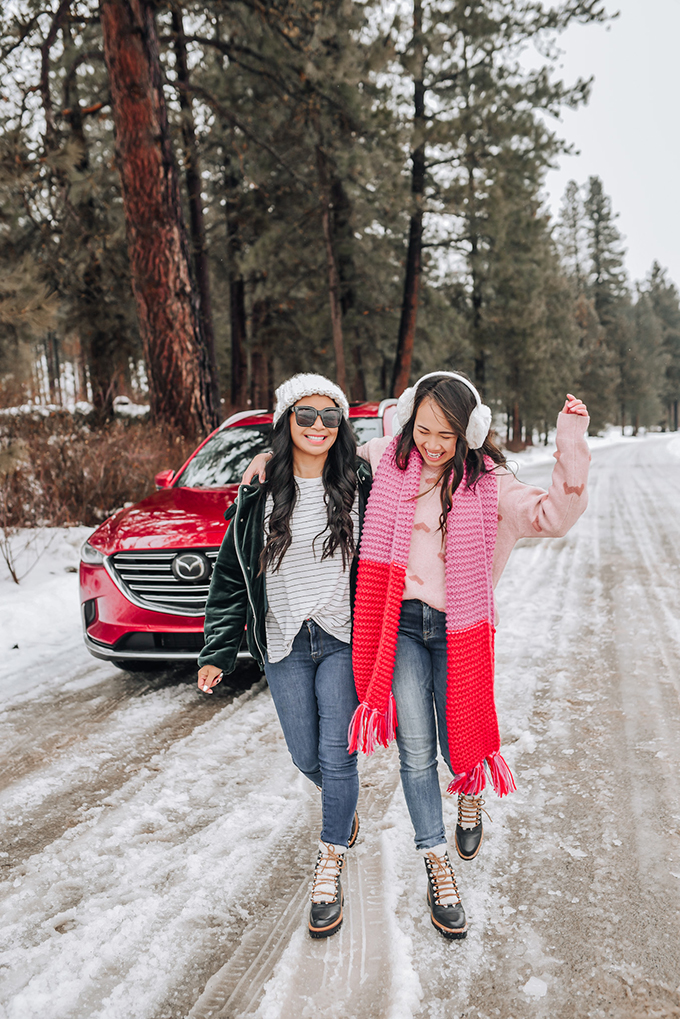 LEAVENWORTH, WASHINGTON TRAVEL GUIDE

WHERE TO STAY:

Enzian Inn: it's located right next to the town (5 minute walking distance). As soon as you walk in it feels warm and cozy. Leavenworth keeps their holiday lights up until February so there were tons of beautiful lit trees. The lobby areas in the hotel are huge! We could grab snacks or drinks and relax in the lobby near the fire. Upstairs, there is an outdoor patio area where you can get a stunning view of the mountains. Our rooms were very spacious and right outside our room, we had the beautiful mountain view. Every morning they served a buffet styled breakfast and we devoured a lot of omelets and ate a lot of cinnamon rolls. Being able to have breakfast in our hotel makes it easier on us and we're able to save time and money. The hotel overall had this home feel to it and had everything we needed.
WHAT TO DO:

Snowshoeing: I've never been snowshoeing before and really enjoyed our tour. We went on a tour with Leavenworth National Fish Hatchery. There are guides that assist you with your gear, show you around the areas, and answer any questions that you may have. The tours are about 2 hours long but there are frequent stops to learn about Leavenworth and to take in the views.
Sleigh Rides: If this isn't on your winter bucket list, add it! When we got to Red Tail Canyon Farm, it felt like we stepped into a winter movie. There were several dogs running around, two beautiful horses, and the family that owned the ranch were so kind. We rode around the farm for about an hour. The sleigh rides are children friendly too!
Cross-country Skiing: We rented skis from our hotel and drove to Icicle River. I've never been skiing or cross-country skiing before and I think cross-country skiing is a great way to learn the basics of skiing. The concept is very similar to skiing but you're not going downhill. You're using your legs to glide through the snow. It was surprisingly a lot of fun and something I'd definitely do again.
Shop around town: There are so many stores throughout the town. There were childrens' clothing stores, home decor shops, souvenir stores, an ornament shop, and more.
WHERE TO EAT:

Sulla Vita: is an italian mediterranean inspired restaurant. The food was delicious! I ordered the Scallop Picatta and the Sulla Vita Platter and I would order it again.
Andreas Keller: This restaurant is downstairs and it immediately felt like we walked into a set of The Hobbit. Thats exactly what it reminded me of. I ordered the Rotisserie Chicken and thought it was delicious.
Bavarian Bistro Bar: The food and drinks here were really good and I appreciate that they had a healthier menu option. I ordered the wedge salad and devoured the entire thing.
The Tumwater Bakery & Pizza: This is my kind of place! It reminded me off all the coffee/bakery shops in Houston. They sold pizza, bakery goods, sandwiches, and really good coffee.
Mozarts Restaurant: This was probably my favorite place to eat. We ordered the fondue as an appetizer and being someone that isn't big on cheese, I thought it was amazing. I ordered the salmon for my entree and it was made really well.
Icicle Brewing Company: On the second night, we had about two hours to spare before dinner so we grabbed a few beers and appetizers here. The beer option in Leavenworth isn't your typical grocery store selection. They're from areas around and so good.
Gooseridge Winery: When you're with your girls, wine is typically a good idea. This was my second winery and I loved the ambiance. There was a great selection of wine, areas for children, and tables to sit and relax.
HOW TO GET AROUND:

To get into Seattle does take a little bit of a drive but the views make it a lot easier. We fly into Seattle and picked up our MAZDA CX9. I've driven the MAZDA CX9 before it's such a smooth ride. It drives well in the snow which is a MUST. Leavenworth is about a 2 hour drive from the airport. I highly recommend flying in early if you're not familiar with driving up the mountains. There are shuttles that run from Seattle to Leavenworth but if you're going to be doing actives on the outer areas of the town, I highly recommend getting a rental. The town is small so there aren't car service options in town.
xo,
Annie