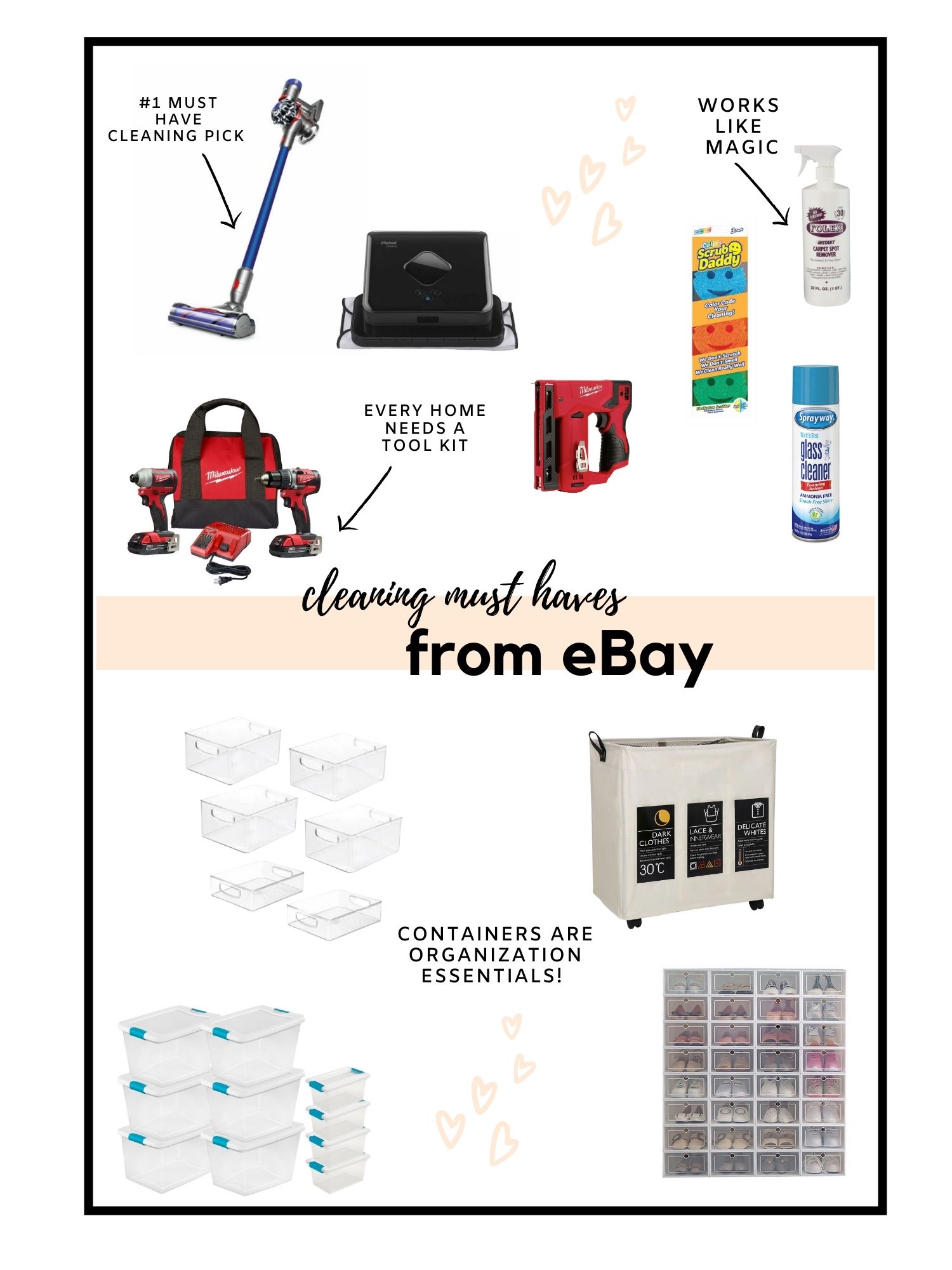 Dyson V8 Animal Pro + Blue Cordless Vacuum // iRobot Braava 380t // Storage Container // Tool Combo Kit // Crown Stapler // Sprayway Glass Cleaner // Scrub Daddy // Hamper Bag // Shoe Storage Organizer // Pantry Bins // Folex Spray
March is here and for our family, that usually means we spend a whole week cleaning our house. We already clean on a daily basis but this is when we organize everything, declutter, and deep clean every inch of the house. This year it's going to be a little different because we will always be cleaning and organizing to move out in April. We're listing our house soon so we're making sure our home is presentable.
We're getting tons of our home cleaning products, organization bins, containers, and tools on eBay because they carry a huge selection and most of it is below retail price. Plus, they have our favorite daily cleaning essentials like Sprayway Glass Cleaner and my favorite dish scrub.  Now through March 7th, eBay is having a Home & Garden Spring Cleaning Sale, with Up to 50% Off Select Items.
I want to share some of my must have home cleaning and organizing favorites. The Dyson V8 Animal Pro is by far my favorite vacuum. I thought it was overhyped but it's the real deal. We probably vacuum 50% more since we've had it. It's lightweight and cordless. Dysons and vacuums in general  can run a bit pricey so that's why I love getting my bigger household products on eBay. eBay has a refurbished Dyson V8 Animal Pro for over $100 off retail price.
For organizing and decluttering everything, clear bins always do the trick. We use clear bins in our pantry, fridge, cabinets, and garage storage.
Over the past 5 years we've moved over 6 times so we know a little something about doing a big deep clean. Living with 3 children, you also learn some tips and tricks on keeping the house tidy on a daily basis. Here are some tips that have helped us!
5 tips that can help keep your home clean, organized, and clutter free. 
Before going to bed, clean all the dishes, put up everything (toys, clothes, etc), and vacuum. Waking up to a clean house is the best feeling in the world. It leaves the morning available to enjoy breakfast together and start our day.
Don't hoard or overbuy. I'll admit that I'm the hoarder in our family. Tommy has been really great at donating and tossing out things we haven't used in months. If you haven't used something in months and it doesn't have sentimental values, donate it.
Clean up something immediately (if you can). If you keep this habit, the house won't pile up with mess at the end of the night.
When doing a big spring clean, start and finish one room before you go to the next. If you start in the living room, clean that up until it's clean and then start on the next room.
Create a daily and weekly cleanup checklist. Weekly clean ups for us include wiping down mirrors, base boards, dusting, and scrubbing toilets, baths, and sinks.
*Thank you eBay for sponsoring this post. As always, all opinions are my own