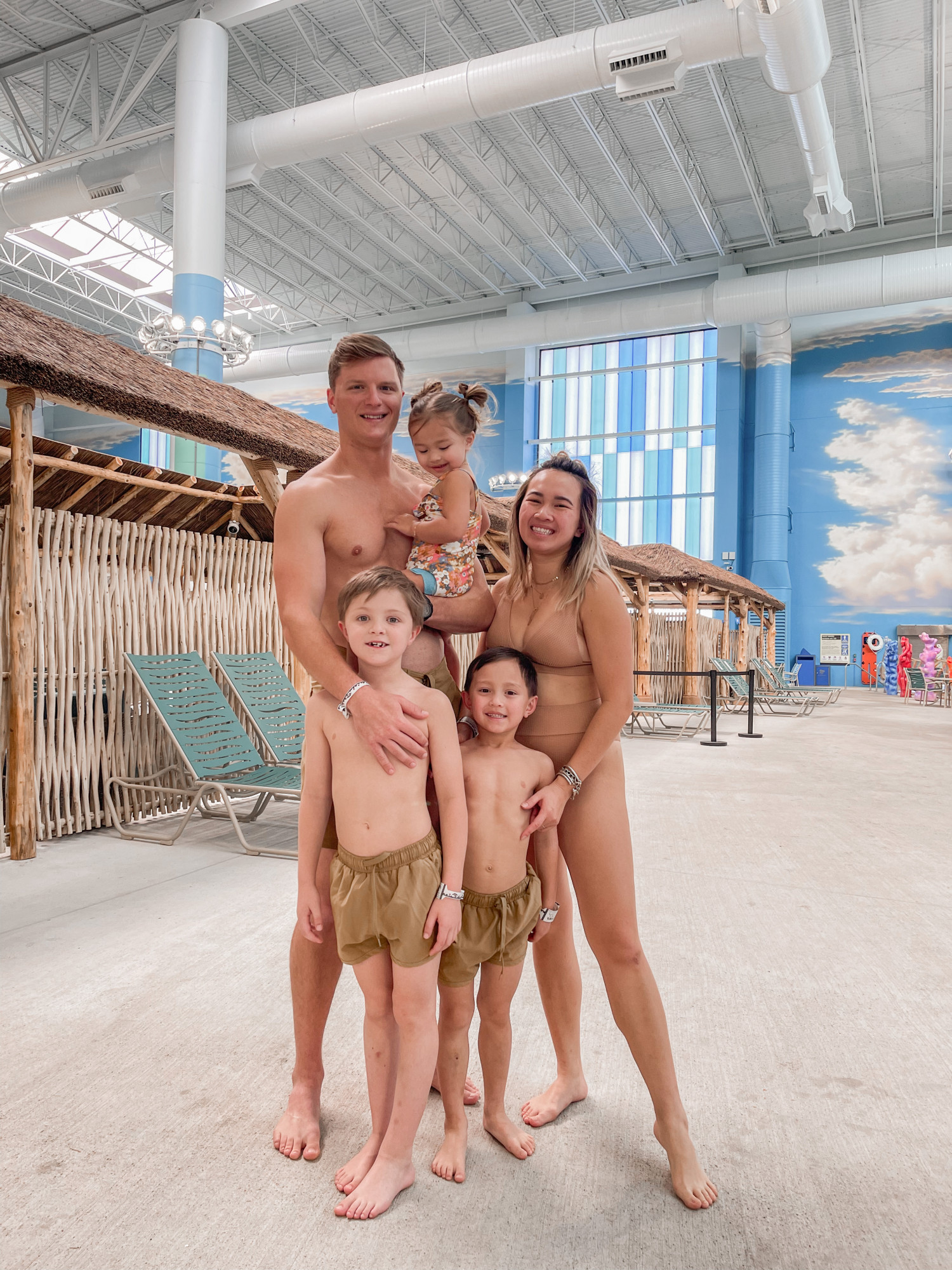 Spring Break has started for some schools and if you're itching to get out of the house and enjoy a break, I couldn't recommend Kalahari even more. Our family went last Monday and Tuesday and LOVED it! This was mine, Liam, and Easton's second time there so we knew our ins and outs. At Kalahari, there is so much to do! At the Round Rock location, there is and indoor waterpark, outdoor pool, arcade, tons of restaurants, spa, bowling, and more. Here is a helpful guide when planing your trip:
Are waterpark passes included with your stay? 
Yes! Depending on what type of room you get, the number of wristbands depends on the max number of people your room allows. If you're not staying at the resort, you are able to purchase wristbands just for the waterpark. The indoor waterpark itself has over 5 large water slides, a wave pool, tons of toddler/little kids areas, a bar, and a restaurant to order food.
Are arcade passes included with your stay? 
No, they are not. In the arcade area there are games and rides (rock climbing, roller coaster, laser tag, obstacle course, etc). Arcade games require credit to play each game and for the rides, there are wristbands for sale. Wristbands do not get you access to arcade games. In the arcade there are so many games and rides. Liam choose to play arcade games while Easton chose to get a wristband and they both had a blast.
How was the spa? 
What I love most about Kalahari is that not only do they have tons of things for children, they have tons of things for adults to do. The spa was absolutely incredible. It's a place where you can relax, get pampered, and really destress. Kalahari offers a variety of services including day passes and Halotherapy treatment that you can reserve, here.
What type of room did you stay in? 
We stayed in the 2 room suite and it fits up to 8 people. The rooms were super clean, there were 2 full bathrooms, and a pull out sofa in the living area. They offer single suites and 3 bedroom suites.
Is it packed? What are the safety regulations? 
We went on a Monday/Tuesday and it wasn't packed at all. We didn't wait in any lines at the arcade or waterpark which was amazing. Shops and restaurants do close earlier on the weekdays but we loved that there weren't too many people.
When I went in November (when they had their grand opening) on a weekend, it can get busy. If you're not comfortable being around a lot of people, I do recommend looking at M-Thursday dates.
Mask are required until March 10 for everyone. After March 10th, all staff members will be required to wear mask while guest are recommended to wear mask.
How far is it from Houston? 
It's about a 3 1/2 hour drive from Houston. It's a great road trip destination. I recommend a minimum of 2 nights there.
Where did you eat? (see entire list, here)
From the past 2 trips, I've ate at so many of the restaurant there and it was all delicious.
Cinco Ninos offers yummy Mexican food and has great drinks. You can eat outside and it's a beautiful area.
Sortino's Italian Kitchen is probably my favorite. They offer really yummy Italian dishes and it's a great spot for dinner.
Great Karoo Marketplace offers breakfast buffets on the weekend and they honestly have EVERYTHING. The food was so good and a great way to fuel the kids up for the day.
Marrakesh Market is a good and easy spot for lunch. They offer quick meals like soups, salads, and sandwiches.
What activities are there?
Indoor waterpark and arcade! The biggest activities!  If you're not staying at the resort you're able to visit both attractions and purchase wristbands.
Grab a drink at BoaBob Social downstairs and lounge outside by the fire.
Outdoor waterpark! The outdoor waterpark is spacious as well and great for adults and children
Grab sweets at Sortino Cafe and Gelato
Have an adult night at Redd's Piano Bar and Lounge
Paint at the Adventures Club. We didn't get to do this but will definitely take the kids next time
Go Bowling
Shop, eat, and listen to music at the Amphitheater. This is right outside Cinco Ninos and it's such a cool spot to shop local gifts, hang out, and listen to music
Have a spa day! The spa there is incredible.
There are so many things to do in Kalahari and I honestly can't wait to go back. Like I mentioned they offer a great variety of things to do for both adults and children, the resort is extremely clean, and it's a perfect spot for a spring break getaway!