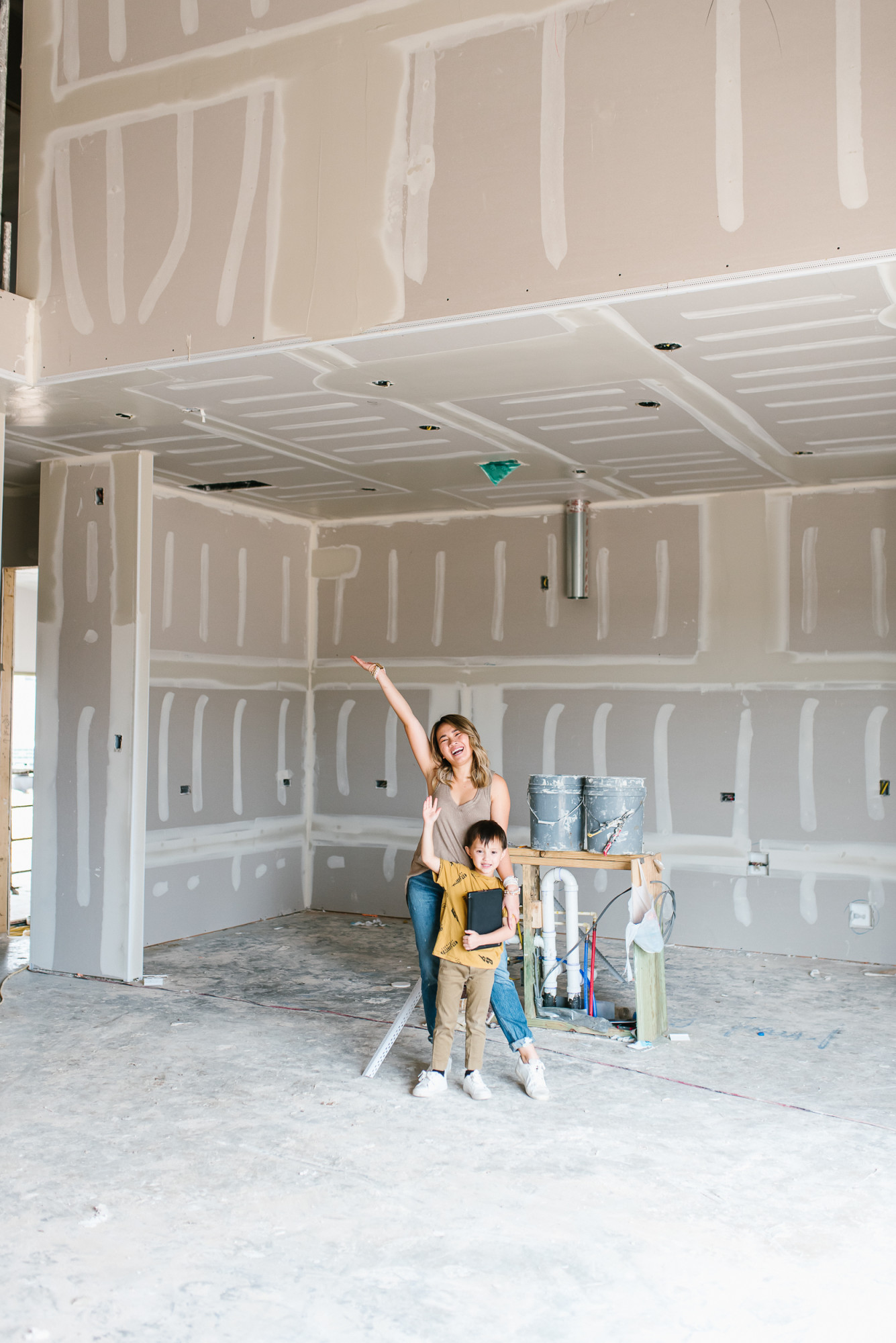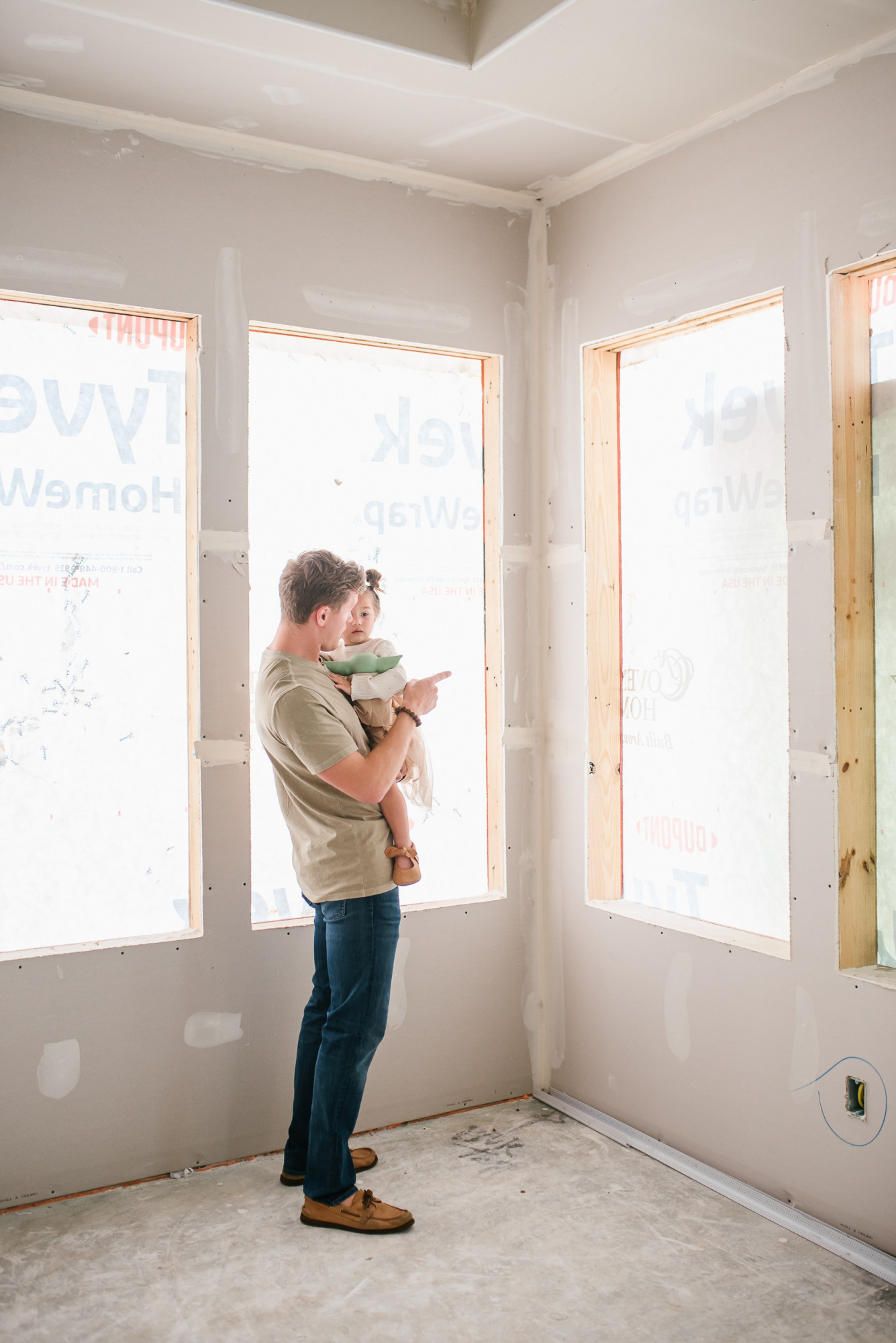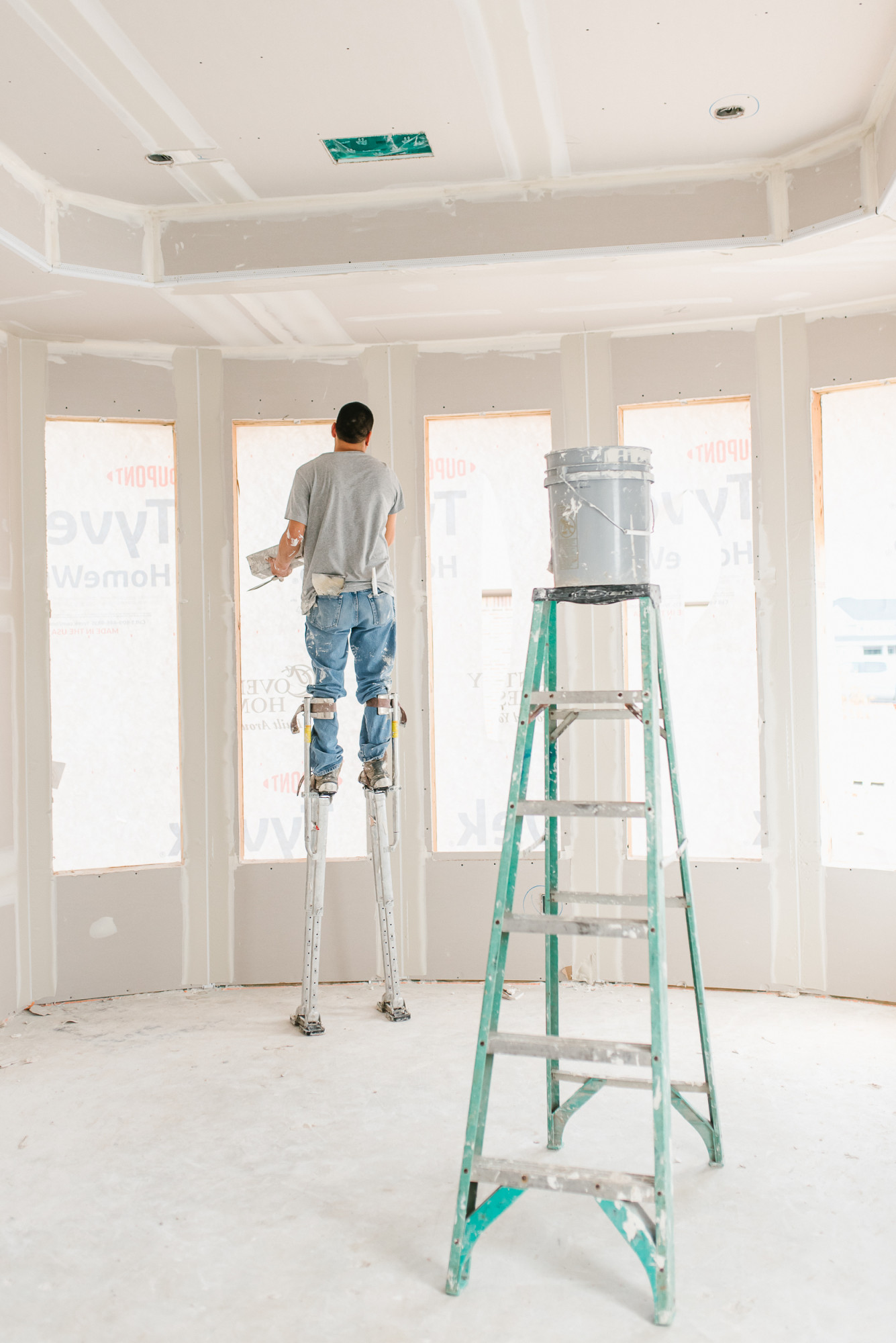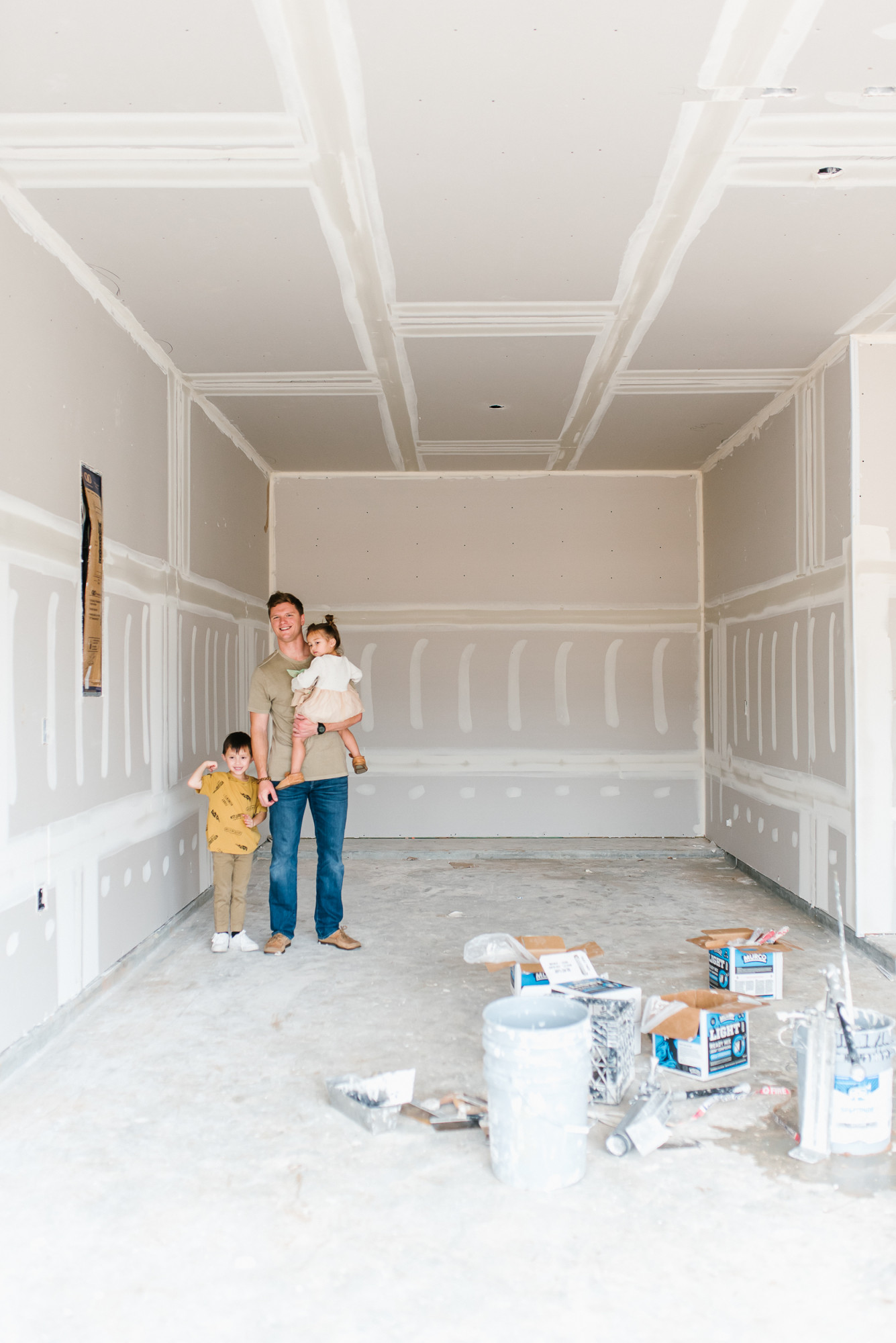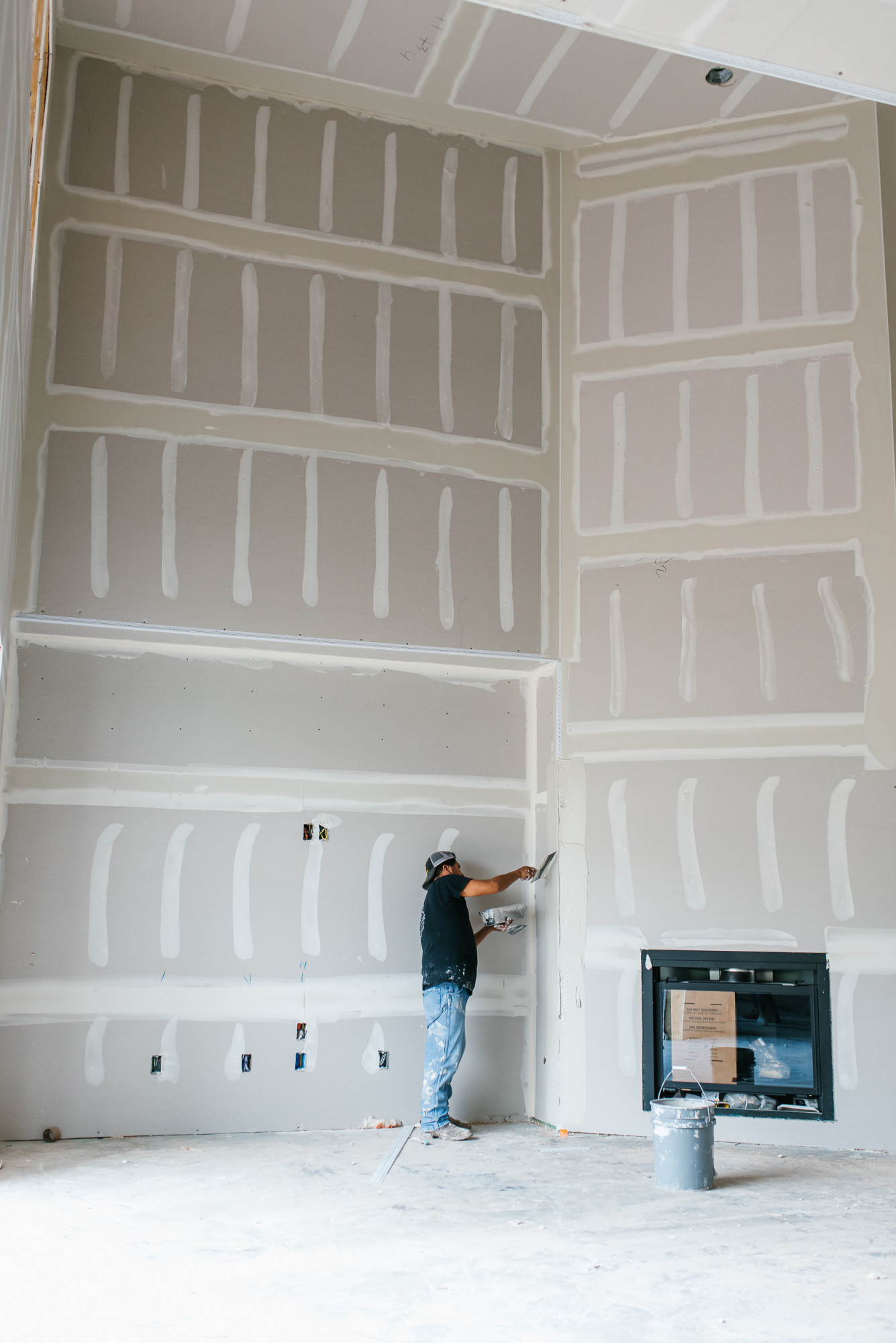 HOUSE UPDATE! During the first month of our house being built, everything felt like it was going so fast! The second and first 1/2 of the third month, not so fun, lol. The second month of the house building process is blah to me. All the boring stuff happened; wiring, plumbing and roofing. The third month is bit more fun. Our drywall went up and now we can get a true feel of the space in our house. Typically windows should be up right about now but because ours were custom made, it's taking a bit longer. I'm hoping they arrive any day now.
WHAT WE CAN EXPECT NEXT
WALLS: After the drywall went up, our wall texture was sprayed on. We have a texture called "orange peel" and are going with PPG commercial white for our wall and trim color. We want as much light bouncing as possible so that's why we chose white versus a light gray or cream.
CABINETS: Our kitchen is expected to be here this Friday! On my birthday! I might be sitting in the new house on my birthday watching this kitchen go up. Once the kitchen arrives, the countertops will be measured to get the exact size for the counter top stone. We chose a white quartz. We will have until this Friday to make any changes and we're currently debating on putting a mounted decked soap dispenser next to the faucet.
WINDOWS: Call me crazy but I've checked on the house almost every single day the past 3 weeks just to see if the windows have arrived. The reason why it's taking so long is because we chose black windows (black on the inside of the frame and outside). I drew grid lines for the windows to what I wanted it look like. Lets hope that it comes in this week!
THINGS TO CONSIDER WHEN LOOKING AT WIRING AND PLUMBING OPTIONS
I feel that plumbing and wiring tips aren't discussed often so I want to share a few things to consider when building.
OUTLETS: Map out where you plan on using an outlet.
Do you need a floor outlet on the ground in the living room? Are you going to have a recliner? If so, add an outlet on the floor.
If you have the option to move a few outlets from the kitchen backsplash, I would recommend moving it so the backsplash has a cleaner look
If you plan on mounting a TV, move the outlet higher up the wall so that the outlet will be placed right behind the TV.
Do you want any outlets in your pantry or inside your cabinet? We personally didn't choose to put any in our pantry or inside of our cabinets. We did put two outlets on our kitchen island though!
Do you have enough outlets in the garage and patio area? We added an outlet in our garage for where our water softener will be
Do you want an outlet in your roof for Christmas lights? This was an option for us but we chose to not do it since it wasn't worth it for us.
WIRING: Think about the location of your TV's, Internet Cables, etc
We bought 2 entertainment conduits for where our TVs will be placed. It's essentially a tube behind the dry wall that helps hide tv cords. It cost about $250 each and I love that we won't ever see the wires.
Choose the location of where your Internet wiring and box will go. Our entire internet cables are inside Bedroom 2's closet. We will never have to look at our internet box because it's tucked into the wall (which you'll have easy access to) of one of the closets.
If you want to add a chandelier in your dining room or bathroom, make sure the wiring is there. We upgraded and added two "stub outs"; one in the dining and one in the master bathroom.
Do you want speakers in your house. We added 2 speakers in our living room and 2 in our patio area. Our speakers are built into the house, we'll have a keypad for it, and it's compatible with our phones. Tommy is big on music so it was worth it for us.
PLUMBING: Where do you need water access? 
We added additional plumping in our laundry room and patio. We plan on putting in a sink in the laundry room and then building a kitchen out on the patio. I need to have access to water in these area's and adding the additional plumbing allows me to build a sink.