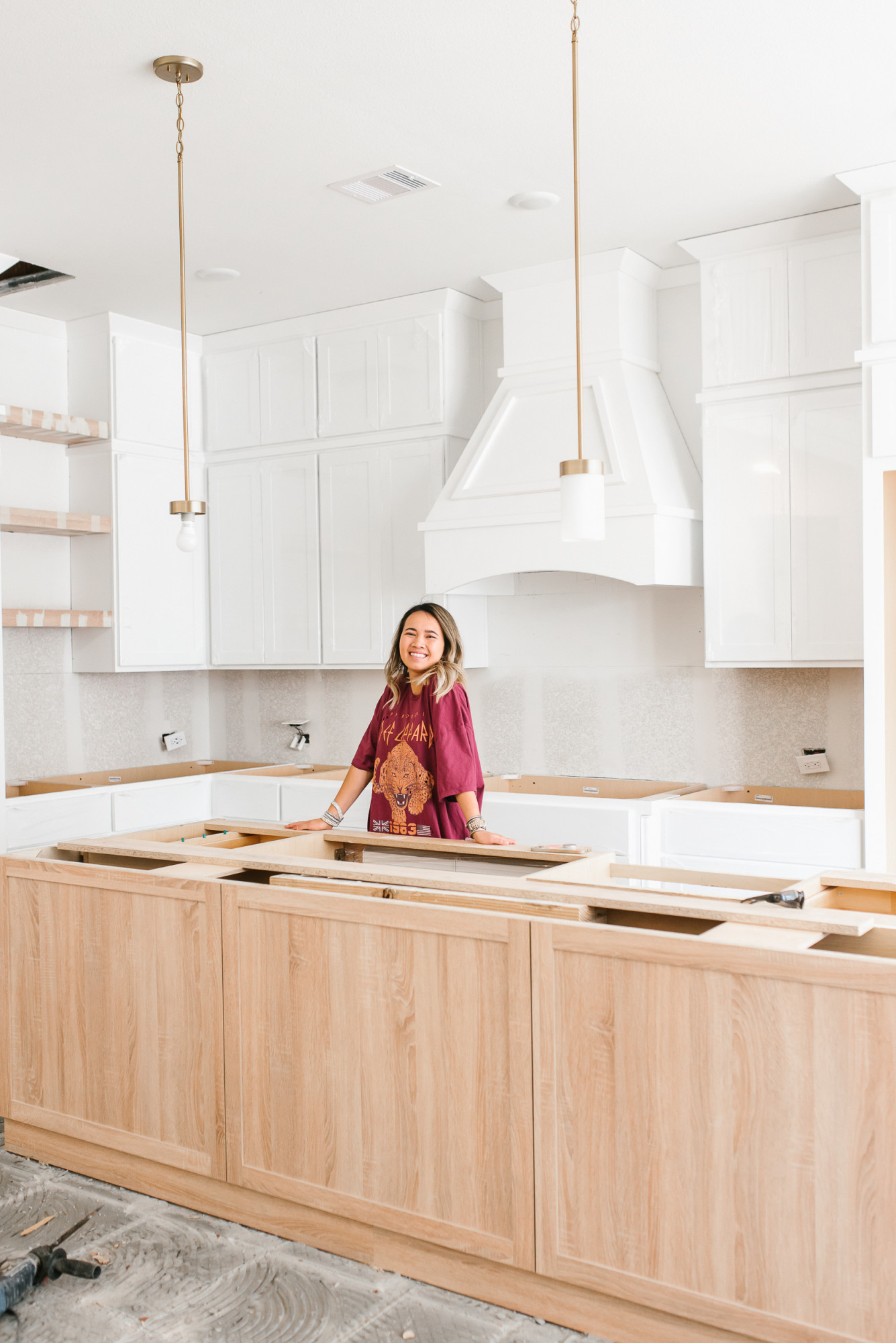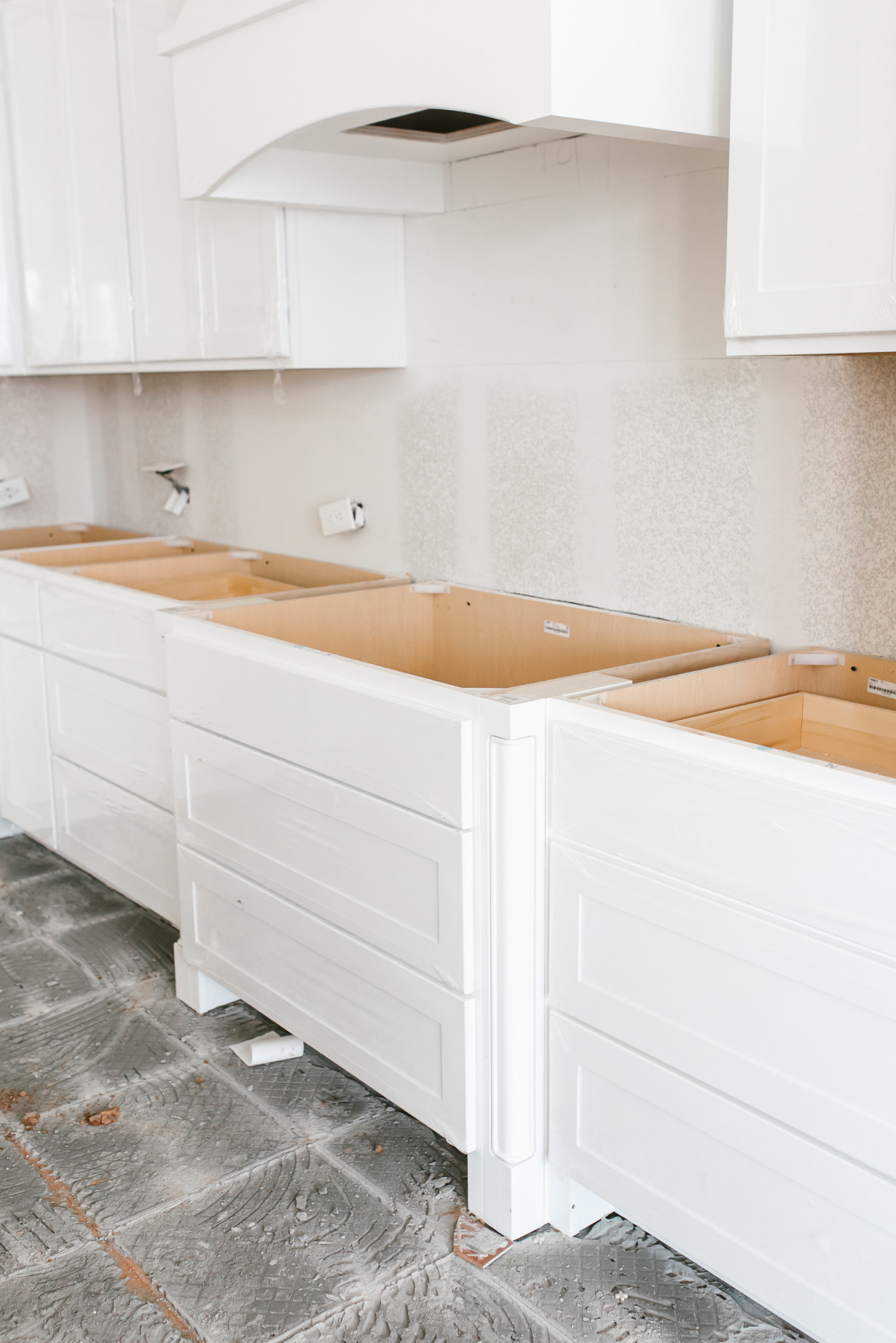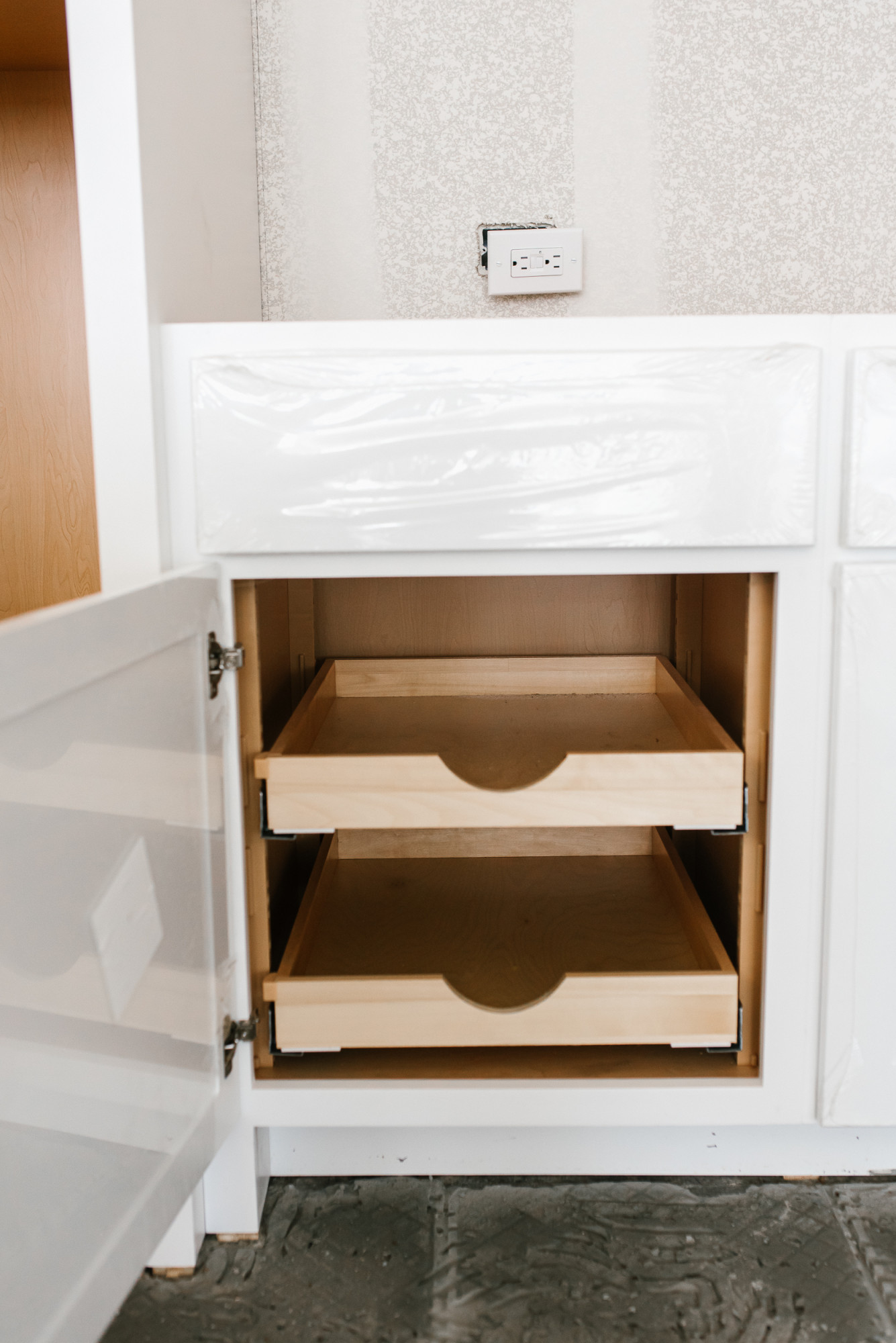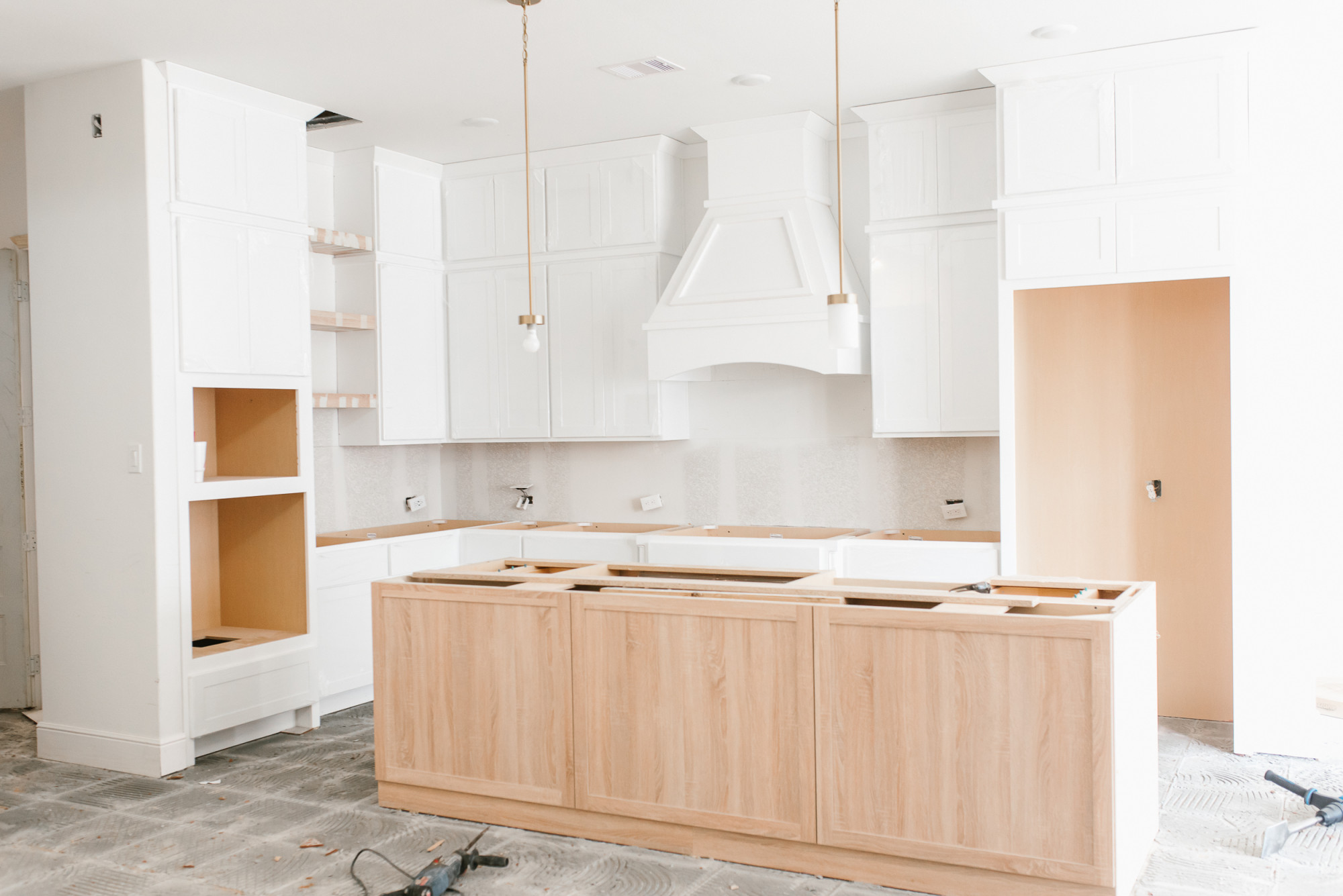 Our kitchen arrived and it was honestly one of the most exciting things to see come together. When designed our kitchen, the planning and time spent was significantly more than any other room in our home. The kitchen will be the heart of our home so we wanted to design it to be functional for our family, have great organization, and fit the design of our home. I highly recommend being there when the kitchen gets installed because you can watch out for any mistakes or error. Some questions we asked ourselves when designing this kitchen was whether or not we wanted floating shelves, was soft close worth it, did we want upper cabinets, etc. Here are some things to ask yourself and consider:
Should I get floating shelves? 
The look of floating shelves is very clean and empty. It helps open up the space and also add some different dimension. We plan on putting bowls and plates that we use everyday on the bottom two shelves and the highest shelf will act as a decoration space (maybe a nice kettle, florals, etc). You do lose cabinet space when adding floating shelves so that's something to consider. For tile again the wall of the floating shelves, I recommend adding tile to the ceiling because if you don't it'll be a plain white wall. You'll have to clean floating shelves often due to dust collecting.
Should I get upper cabinets?
Tommy and I debated on upper cabinets because I didn't see the cabinets on top to be useful. To be honest, they will act as a place to store items that we don't use often (holiday plates, glassware for parties, etc). We ended up choosing them because 1) We didn't want to have to clean the tops of the cabinets. The dust collects and it's pretty gross and 2) They made our kitchen look fuller and complete. I feel that it really makes the kitchen feel whole. We didn't choose glass at the tops because we felt that we could only put pretty decorations or dinnerware up there since everyone would be able to see right through them. Even though they aren't going to be that function, I feel that it makes a kitchen go from standard to custom instantly.
Should I add more drawers? 
My answer is yes! Drawers makes it easy to organize everything and there won't be anything that gets lost in the very back. We added 6 additional drawers and plan on using them to store pots, plates, lunch boxes, etc. We decided to keep some cabinets for larger pots because our family cooks a fair amount of pho, noodles, etc.
I highly recommend adding 3 corner drawers or a lazy susan. We personally didn't think about it and saw how much space is in the corner drawers that probably won't be utilized as much. Image reference.
Should I upgrade light fixtures and hardware? 
I personally feel that you can find a better and more cost friendly options outside of your builder. We aren't doing any hardware with your builder. For our light fixture, it only cost us $250 to upgrade the entire house to gold light fixtures. We do plan on taking the current ones down. We also asked our builders to only 2 do pendant lights versus 3. We plan on sitting at our island often (adding 3 chairs) and don't want the 3 lights hanging right in front of us.
Where should I place my outlets? 
If there was cost friendly option to hide outlets, we would have done it but it wasn't in our budget. If there are any locations where you can hide your outlets, I recommend moving them. For example, at our wet bar, the two outlets were moved to the side versus being on the wall where the backsplash is going. I would have loved to place one inside my lower cabinets where our pull out trays go. I could have hooked up a small appliance and left it on the tip out tray. On the island, we moved ours to the side where the dishwasher and sink are so our waterfall island would have a clean look.
Should I upgrade to frameless or inset cabinets? 
It took me a long time to distinguish the difference between frameless, inset, and framed traditional. This site helps clarifies the difference. Our kitchen perimiter is framed traditional shaker and our island is frameless shaker. The difference is looks. That's it! Frameless and Inset cabinets gives you that high end custom look while framed traditional is essential is the standard. The cost of inset was significantly high for us so we didn't go with inset. The only reason we did a frameless island (it did cost more but not as much as inset) was because the color we wanted "Natural Rustik" was only available in frameless.
Why should I get fridge panels? 
Ask yourself what refrigerator are you getting. If you're getting a counter depth or even a fridge that's taller than your standard Samsung fridge, make sure you let the builders know. Our fridge is 79 inches tall so our opening is 81 inches. We added 2 side panels because we didn't want to see the left and right side of our fridge. Panels allow the fridge to be flushed in and gives it a clean/sleek look.
Backsplash selections!  
If you're adding floating shelves, I highly recommend adding the tile to go all the way to the ceiling. Since there is an opening you don't want there to be a blank wall, especially if you choose a backsplash that isn't colored.
When it comes to designing your kitchen, choose what make you happy. Don't get lost in what everyone is doing. Don't be afraid to add some color in your kitchen. We knew we wanted a natural color island and it was probably the best decision ever. Don't be afraid to ask for tips and help. I've asked so many of my friends and having honest feedback help influenced a couple of our selections. The drawers for example! I was only going to add 2 drawers and after hearing everyone's feedback, I added 6 and have no regrets. If you have any other kitchen design questions, please feel free to DM me or email me!