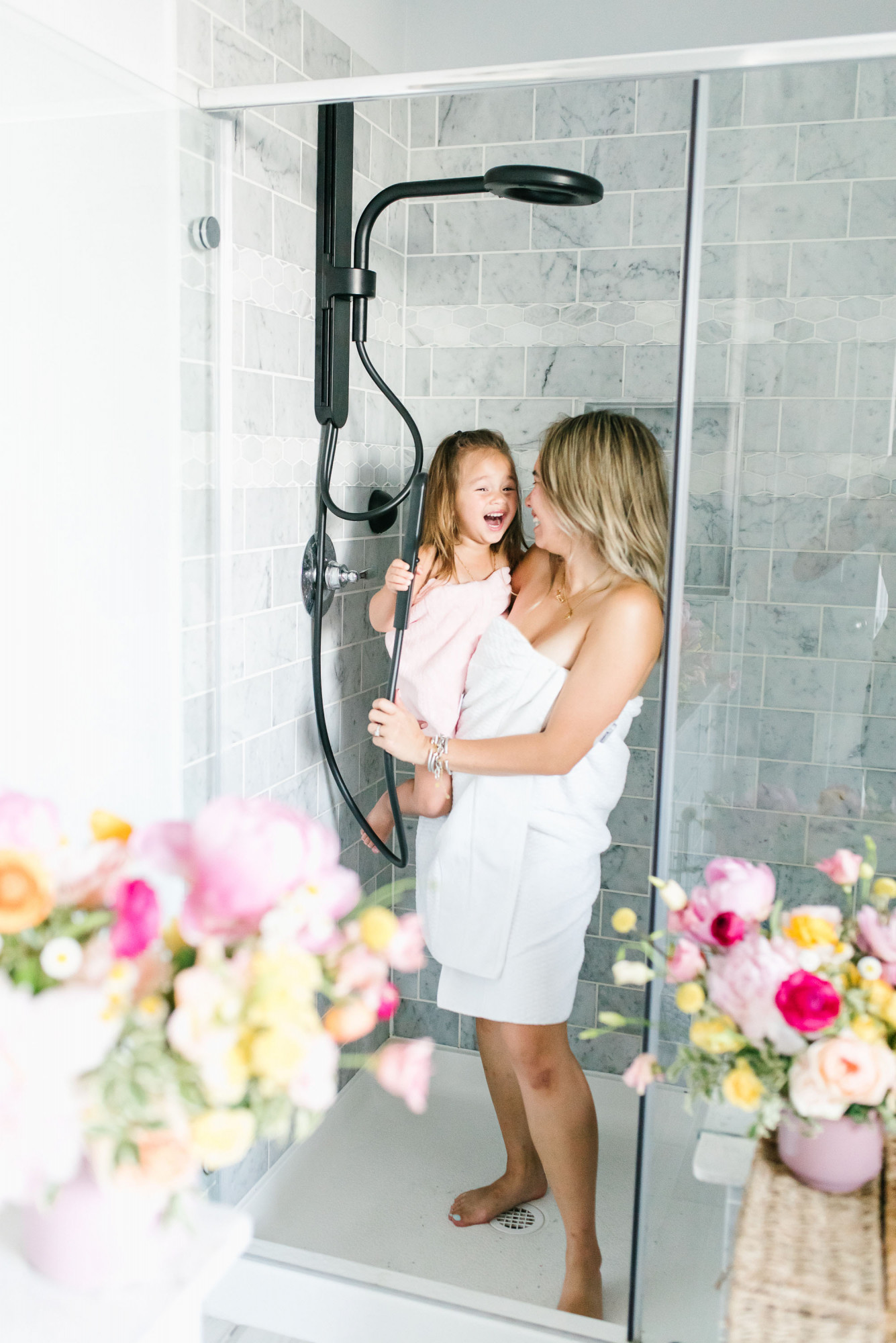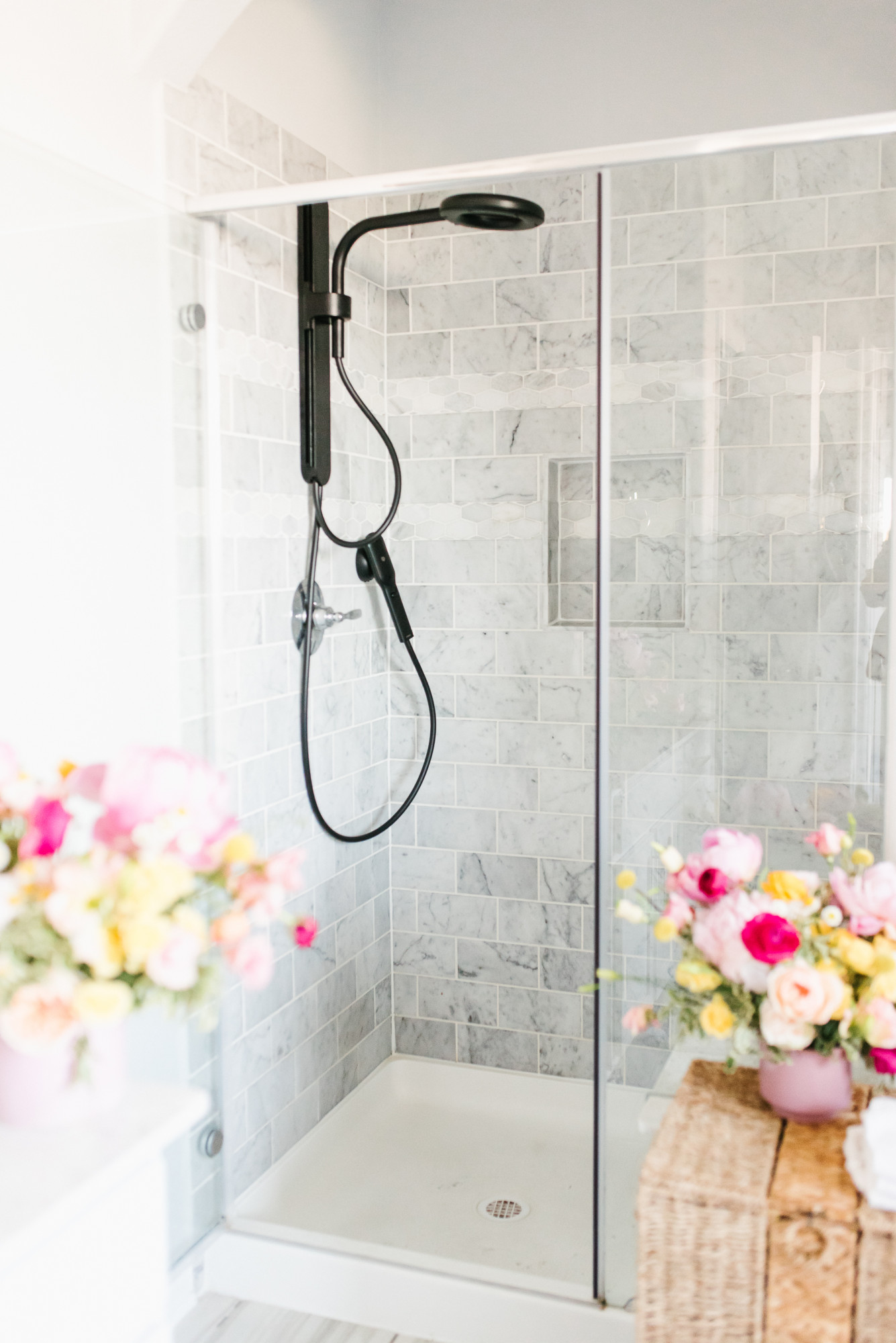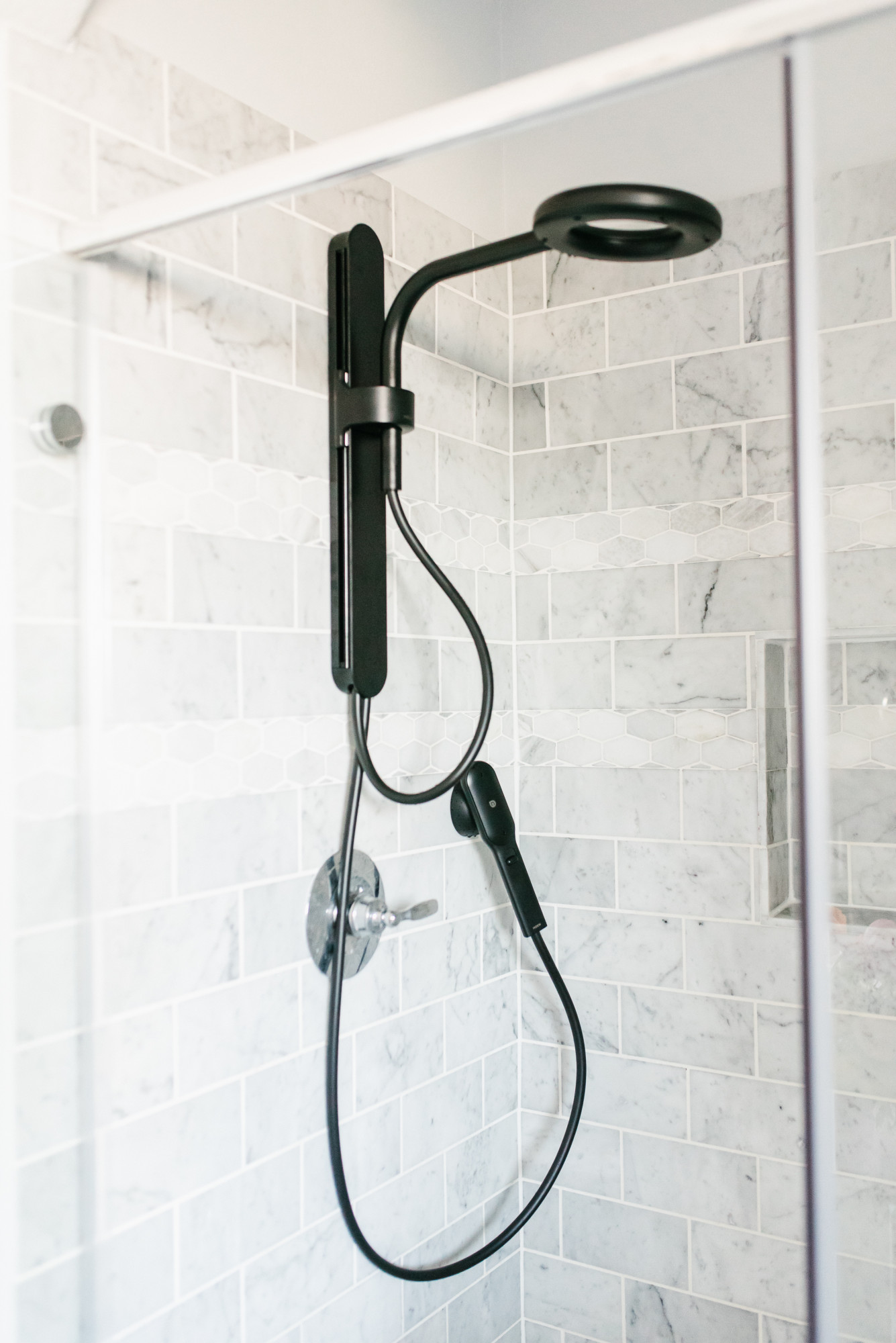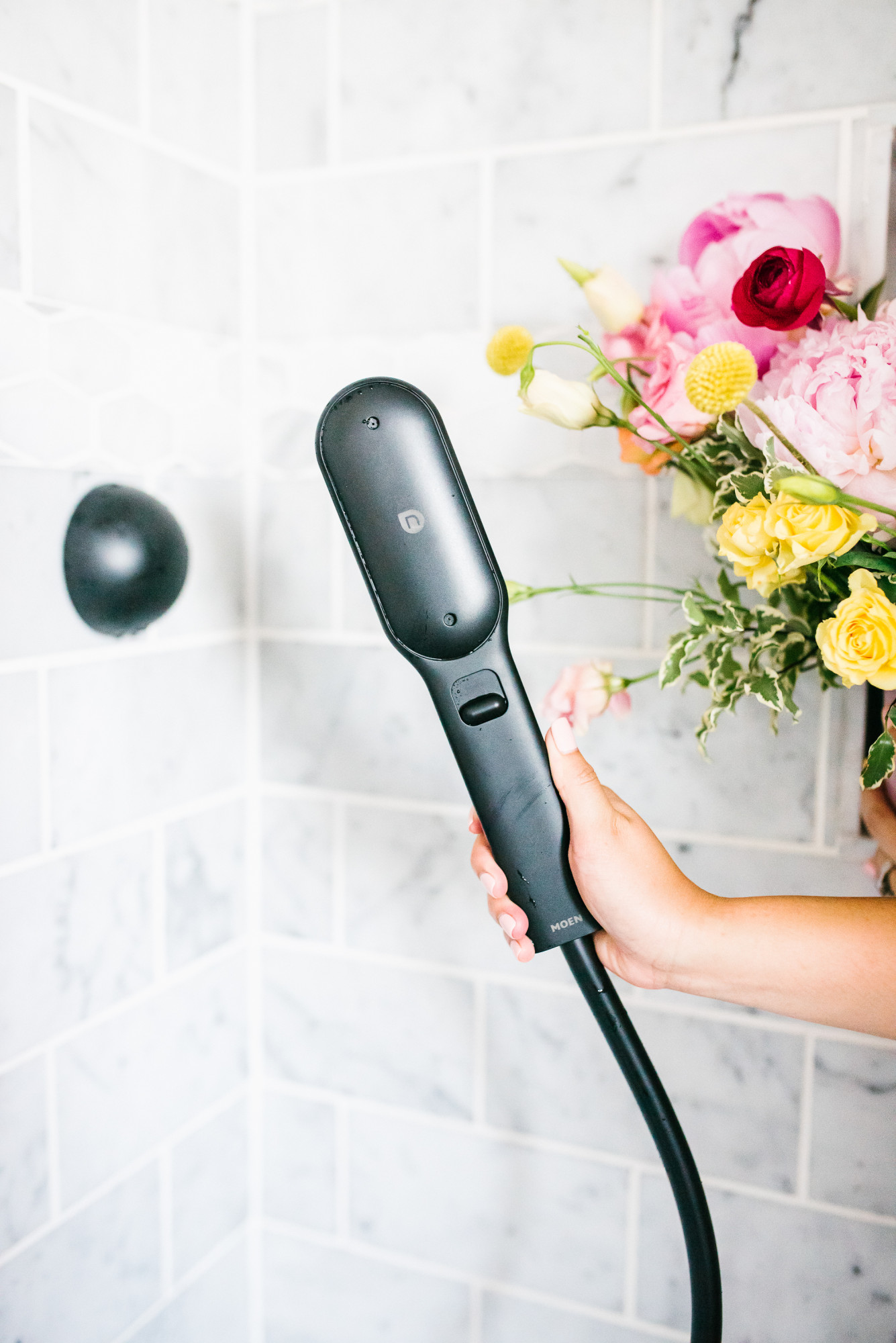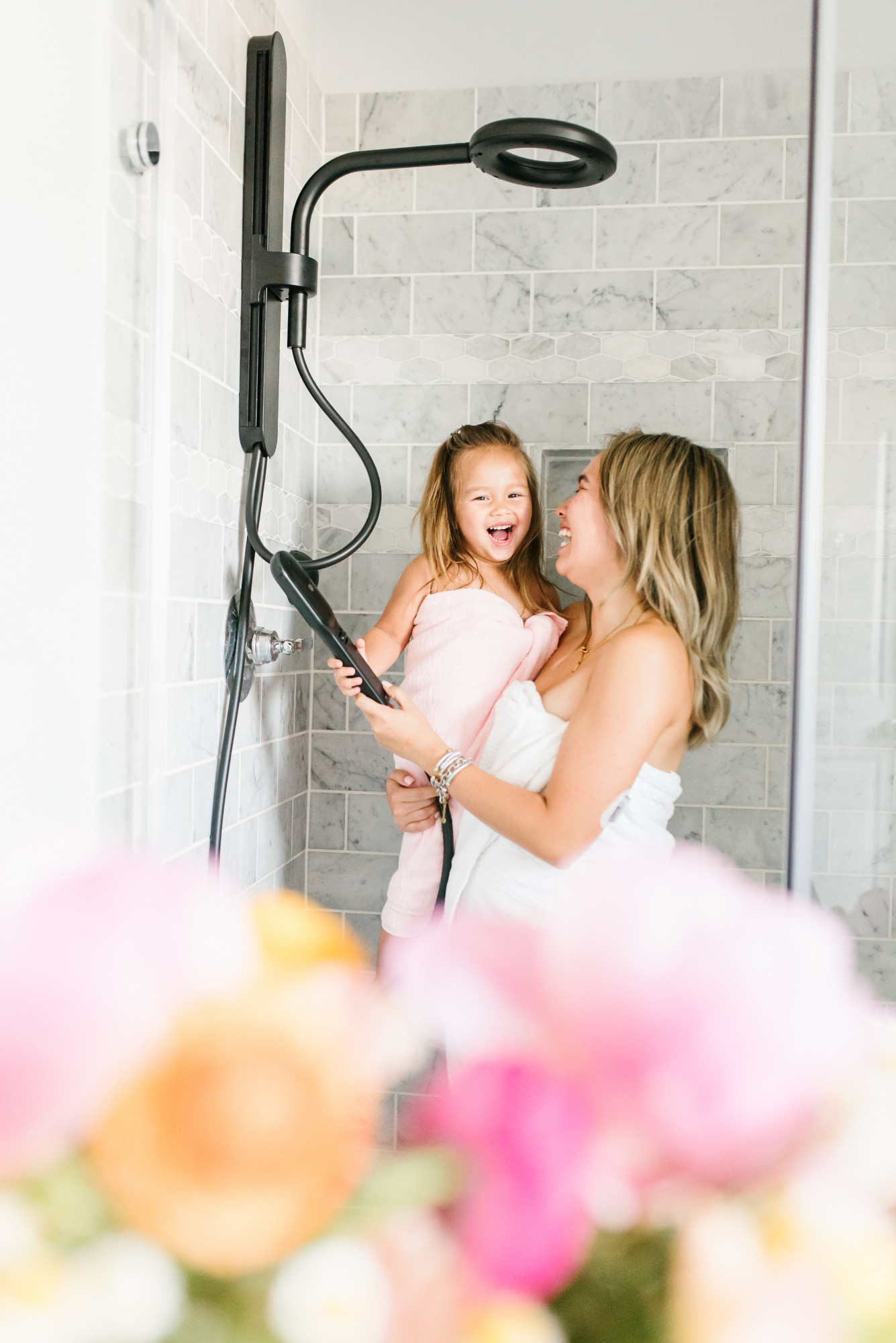 This is a sponsored post written by me on behalf of Moen. All opinions are 100% mine.
These last 8 months have flown by. Our new house is completely done and it's crazy to look back and see all of our ideas and design choices come to life. I remember standing in an empty field of grass thinking "this is where our home will be". I'm not going to lie, I'm going to miss the entire process of building a home but I'm more excited to finally eat, sleep, and shower in the new house. I'm especially excited for the children to each have their own room and bathrooms. Sharing one bathroom with 3 kiddos was not our favorite in our previous home.
Two spaces that we prioritized when we designed our home were the kitchen and master bathroom. The kitchen and bathroom are areas that you use every single day. It was important for us that the master bathroom fit all of mine and Tommy's needs; spacious, dedicated laundry space, frameless shower, and great bathroom products/accessories. We needed long lasting high quality products and that's why our entire house has Moen faucets and shower heads. Moen has been around in the plumbing industry for nearly 80 years and are continuing to create innovative products while focusing on saving the planet.
We got the Nebia by Moen Spa Shower in matte black and I feel that it was made for our family. The water pressure is strong, and a powerful water pressure doesn't always mean it's using more water. The Nebia by Moen Spa Shower has a patented spray technology that creates the feel of tons of water while actually using 45% less water. Which is amazing because this Houston heat is no joke. In the summer, I'm finding myself taking a mid-day rinse off from sweating outside.
The shower head is adjustable in every single way. It can be lifted higher for Tommy since he's an entire foot taller than me and lowered when I shower. It can also tilt and be swiveled around. There's even an attachable shower hand that sprays strong pressured water on you while the main shower head is on. It comes in 4 different
Changing out shower heads used to seem intimidating to me, but the Nebia by Moen Spa Shower is super easy. No tech needed when installing this one! I'm usually not skilled at doing these types of tasks and if I was able to install this, you can too! It took us less than 30 minutes and the kit was included.
There are so many little and simple things that I'm looking forward to doing when we are all moved in. I'm excited to finally have a bathroom that only Tommy and I will primarily use. (Of course, Chloe will still be in here regularly with us). I'm excited to eat lunch and play games with my family in our backyard. I'm excited to over fill the pantry and refrigerator with food and drinks. I'm excited to finally just use everything in the house. Now, all I need is for someone to magically unpack all 50 of our boxes and put it all up. Wish us luck!