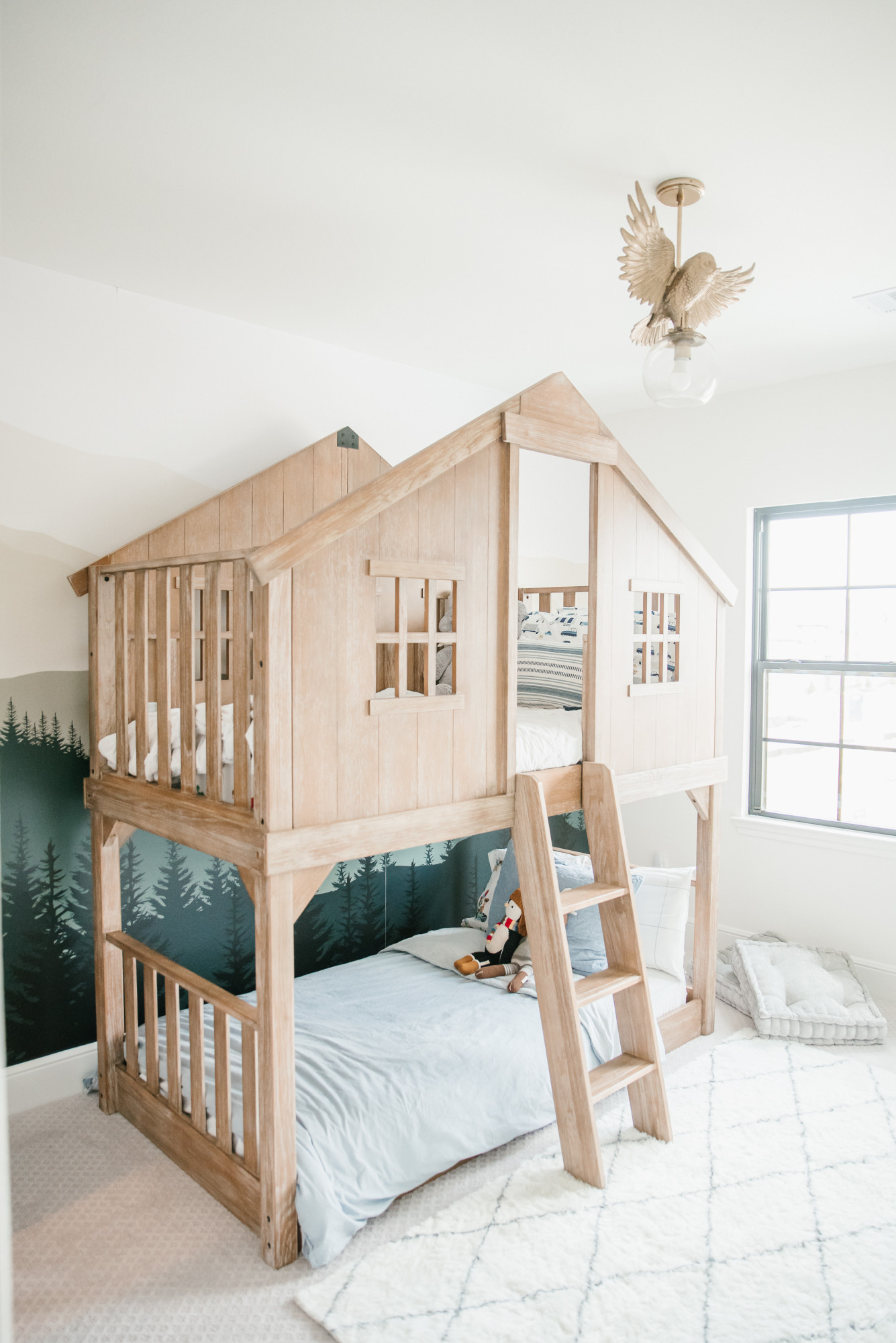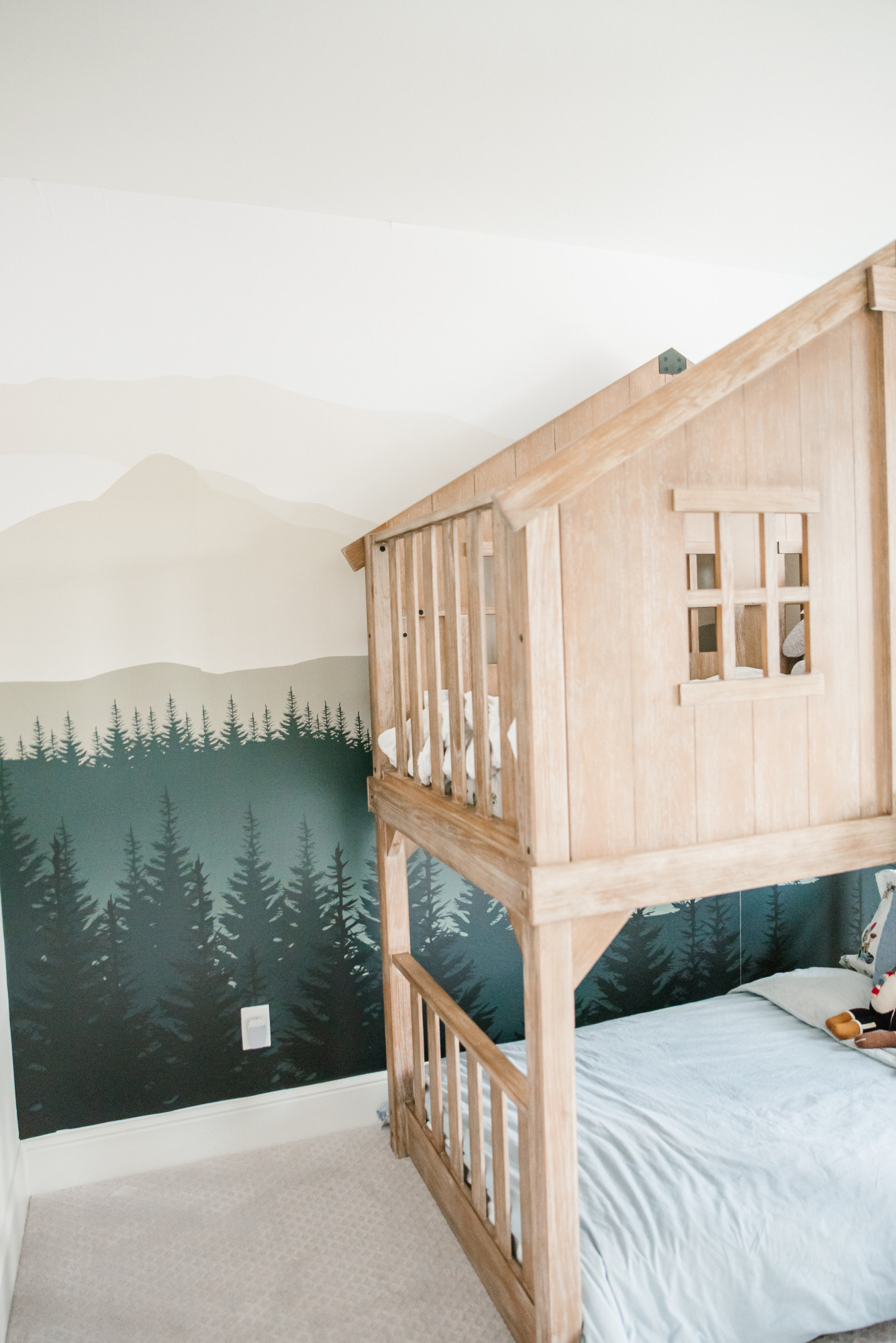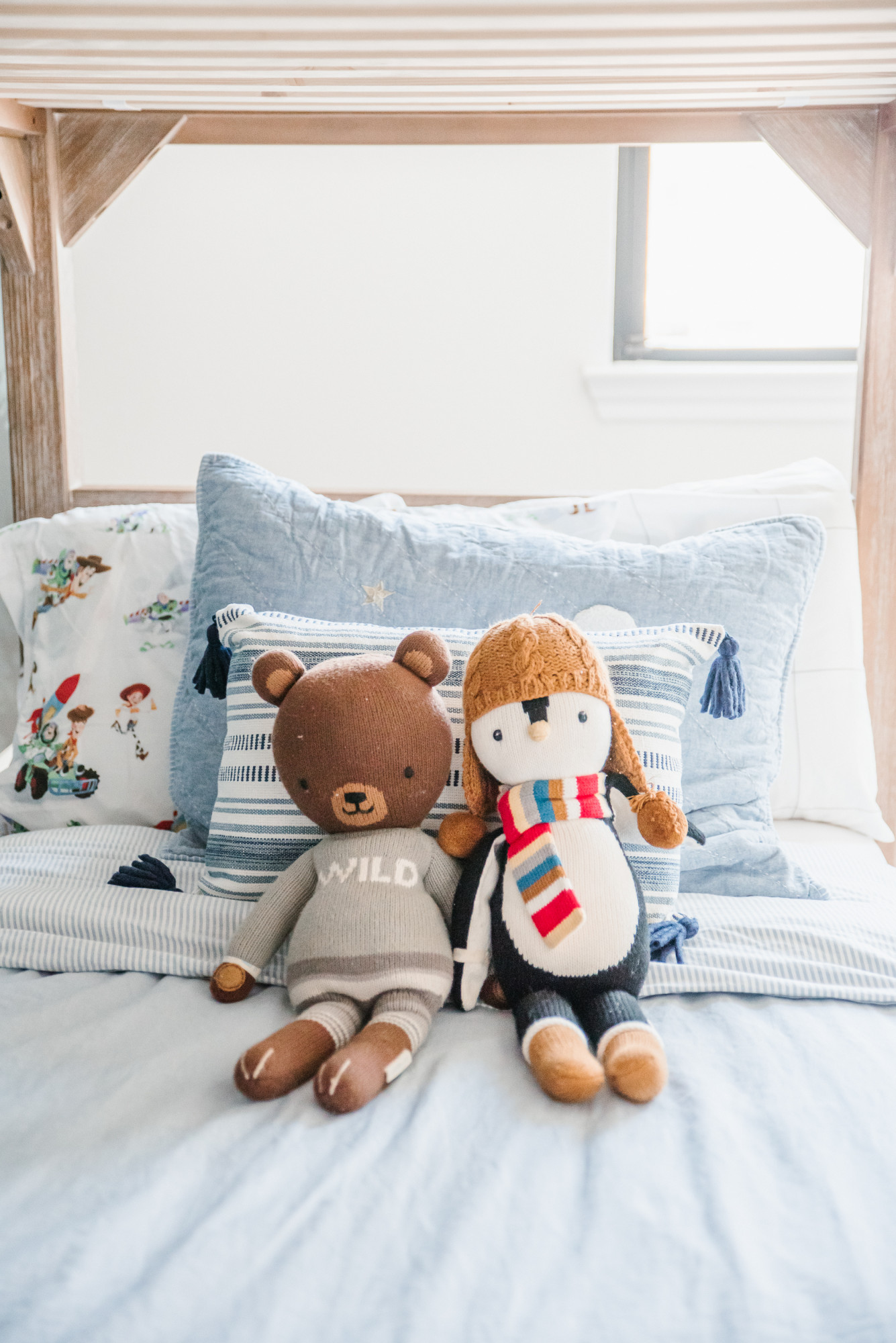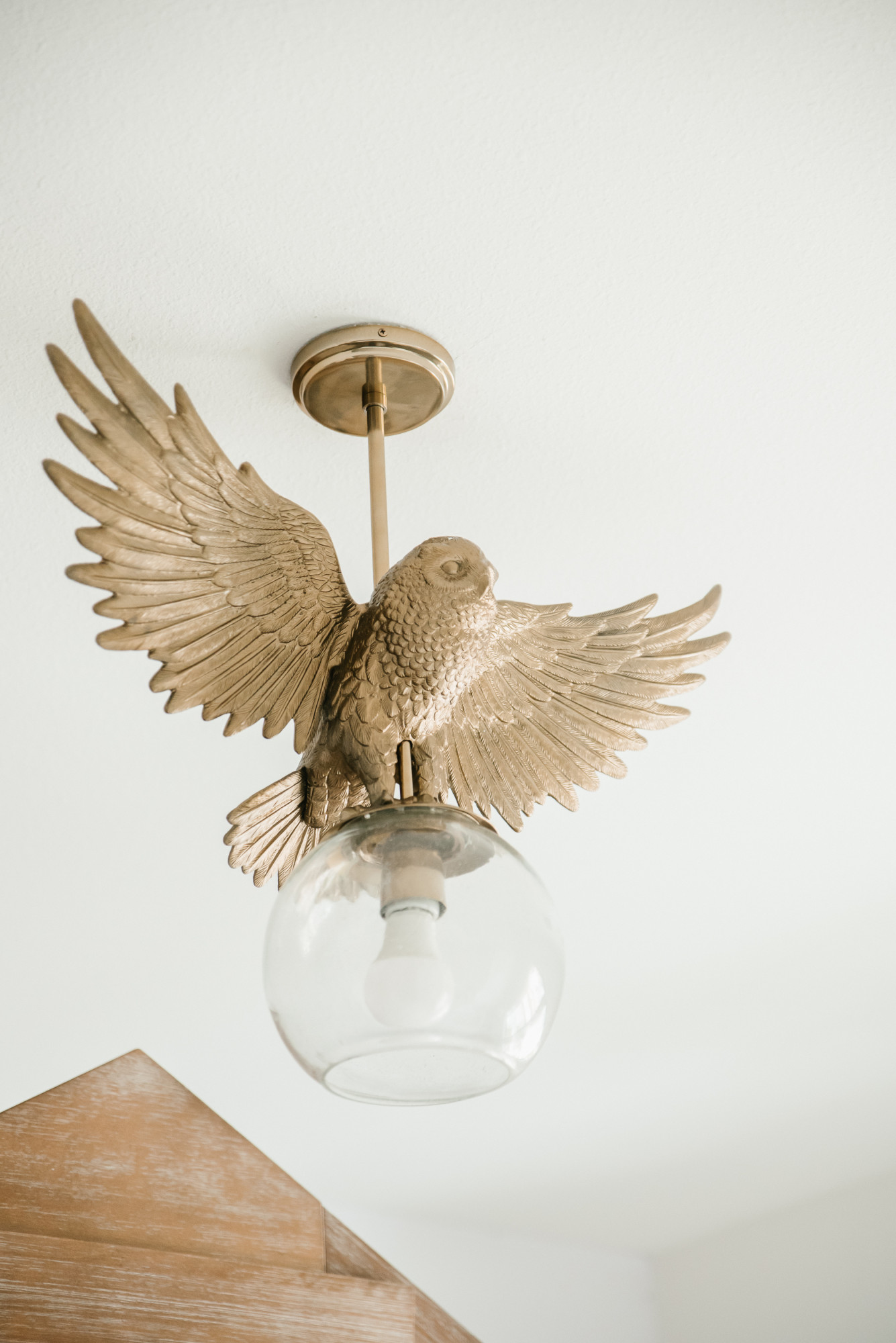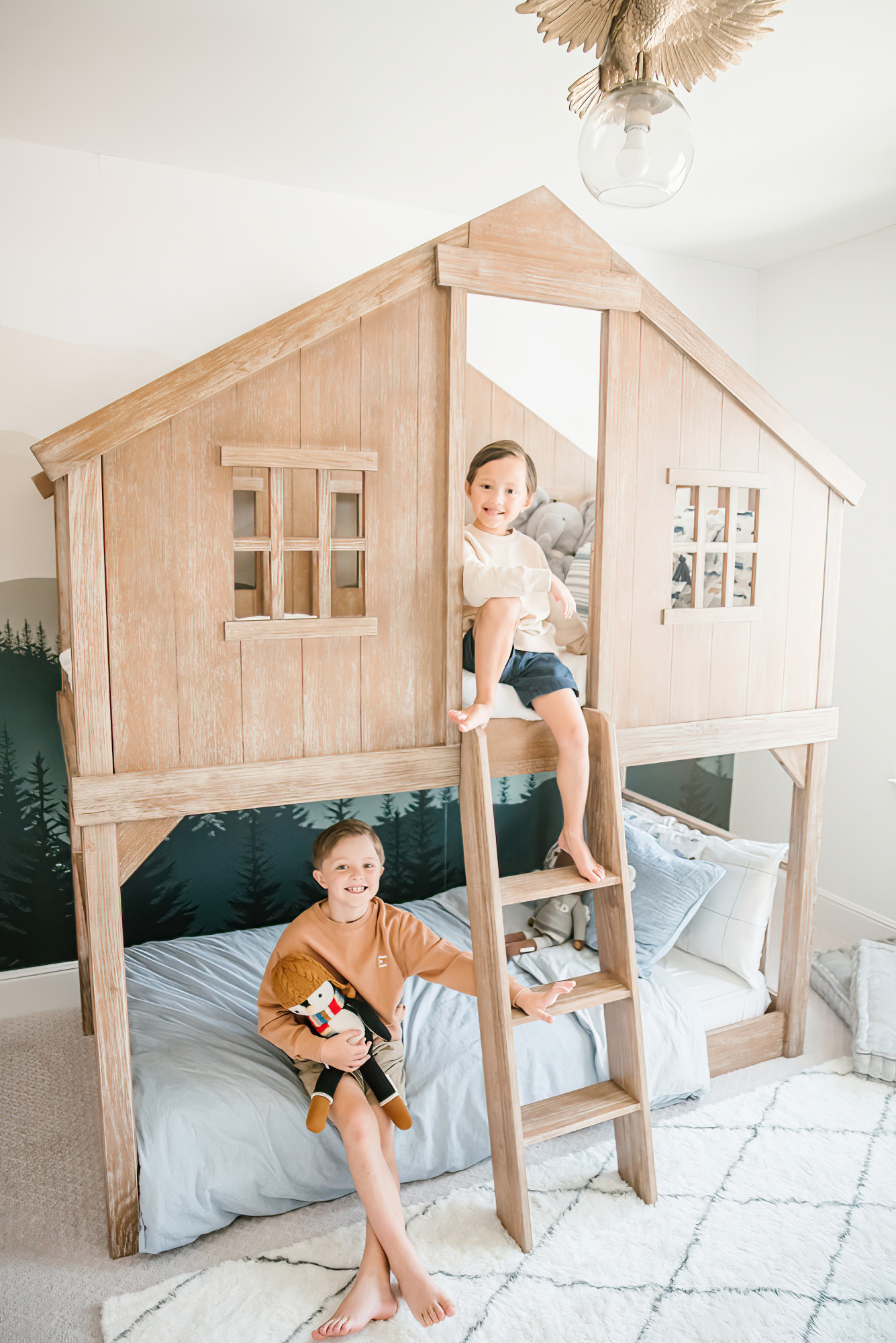 I've waited almost two month to share the boys room and that day has come! The last few things we had to wait on were the mattress and bedding and those came in late last month. Easton and Liam love their room and that's all I hope for. They are still young so I tried to design a room that they could grow with for at least the next 5 years. Some details I'm going to highlight are wallpaper, furniture, bedding, mattress, and decor.
WALLPAPER
We've had this wallpaper since April and I've been dying to put it up. We put it up the second day we moved in and WOW it really makes this room look complete. Mountains will forever be something we bring into our home. We got it from Wall Blush and applying it was easy. It's a peel and stick and there are tons of wallpaper designs to choose from. If we ever want to switch it out, it's as easy as pulling it off the wall.
TREE HOUSE BUNK BED
I walked into our local Kids Pottery Barn before Chloe was even born and immediately fell in love with this bunk bed. I loved the simple and fun design of it and that the top bunk was well bordered all around. It comes in white and can also be ordered as a single bed. It was worth every penny. It's made very well and the medium wood color brings a soothing natural element to the room.
BEDDING
The boys and I had to meet in the middle when it came to their bedding. They wanted all these colorful graphic prints that were a bit out there (like all kids love) and I preferred bedding that was more neutral. We were able to find this light blue and striped duvet cover that would go well with any printed sheet set they choose. (The duvet insert and duvet cover are sold separately). The sheet set collection at Kids Pottery Barn pleased both the boys and I. Liam choose a print based on his favorite Disney movie; Toy Story and Easton chose these fun cars! We currently have our eyes on the Harry Potter ones.
FINAL TOUCHES
The wallpaper and bunk bed already made a huge statement in their bedroom so when it come to decor, I kept it simple. We stumbled upon this Hedwig light fixture and it was the perfect size. Originally, there was a fan and it touched the tip of the bunk bed. An Hedwig owl over the tree house bed only seemed fitting.
This plush Ruggable rug was a rug I've been holding onto for almost 1/2 a year and it fits perfectly in their room. It's SUPER soft and easy to clean up. Like all of Ruggable's other rugs, it's machine washable. The rug added extra brightness to the room.