Welcome to my home office! One year of decision making, designing, waiting on furniture, wainsconing, and decorating. I would describe my home as transitional; basically a bit of modern and farmhouse vibes. For example, this cabinet is a bit more of the farmhouse style with the natural wood and shiplap details. It's something you'd see people put china or books in but pair it with a sleek black modern desk chair and modern artwork, it allows it to feel a bit more modern. Let's go through everything!
DIGITAL MOCK UP OF OFFICE
Before designing any room, I always create a digital mock up to see how the furniture pieces look all together. I use Canva which is a free app, screenshot images online, and use the background eraser tool (upgraded version $), and lay it all together. 99% of the time, it comes out exactly how it looks in the digital mock up. I switched the chairs out a couple of times because both chairs come in other colors. Seeing how the different colored chairs looked in canvas helped me decided on the black desk chair and white and black lounge chairs.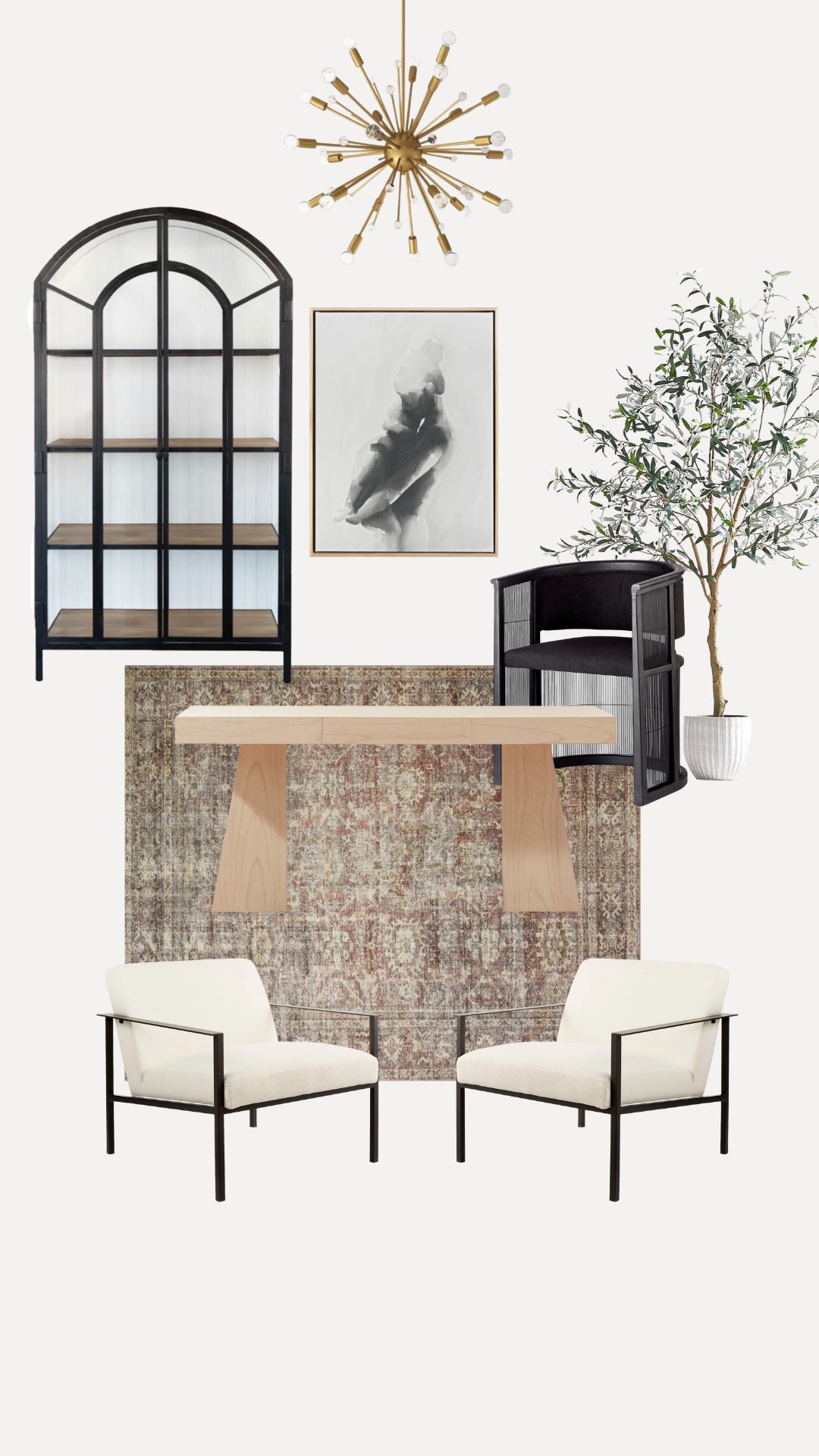 THE DESK 
This natural wood desk is popular on CB2's website. I've seen this desk on social media several times and feel in love with the color and modern shape legs. The desk is large, you can fit 3 large monitors on it or have 2-3 people work on it. My brother and sister have been working in here with me the last 3 weeks and we're able to all fit all 3 laptops and planners comfortably. As far as store, there's only the little drawer. It fits my MacBook Pro, planner, and pens. That's it, so I'd keep that in mind. The corners of the desk are sharp but I stuck little rubbers on the corner to prevent the kids from getting hurt. The desk is heavy but I can easily move it around or have one other person carry it with me around.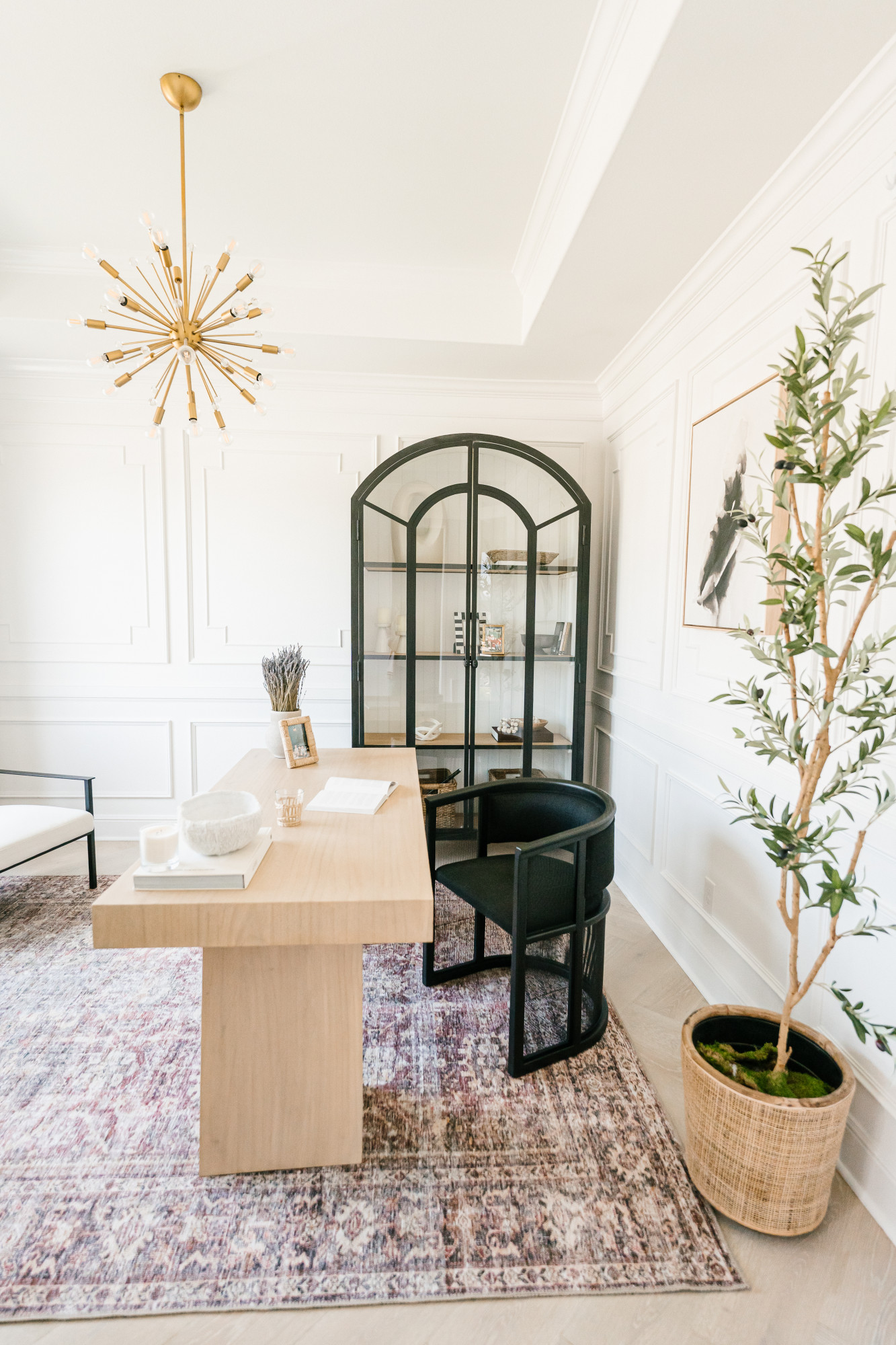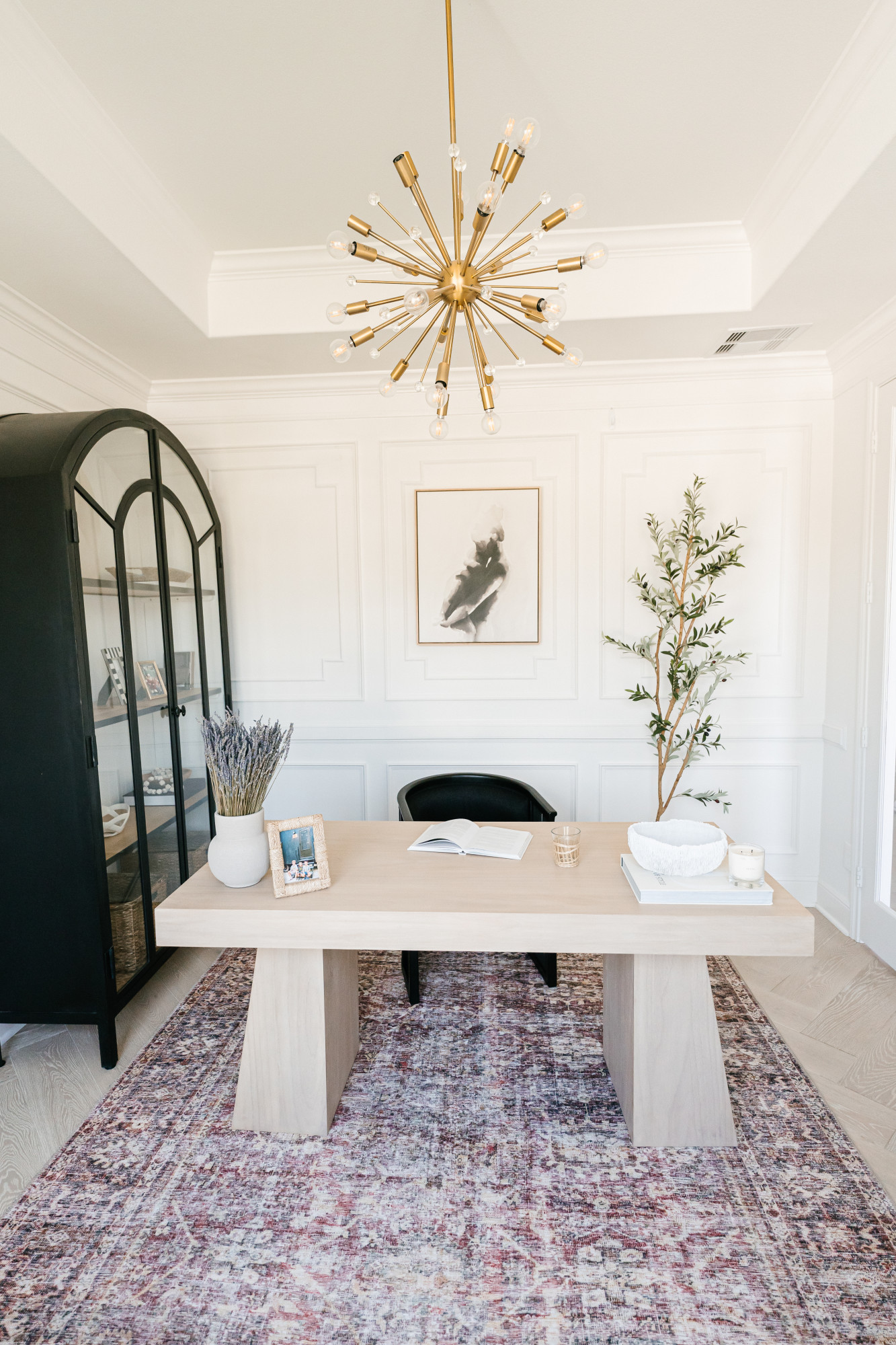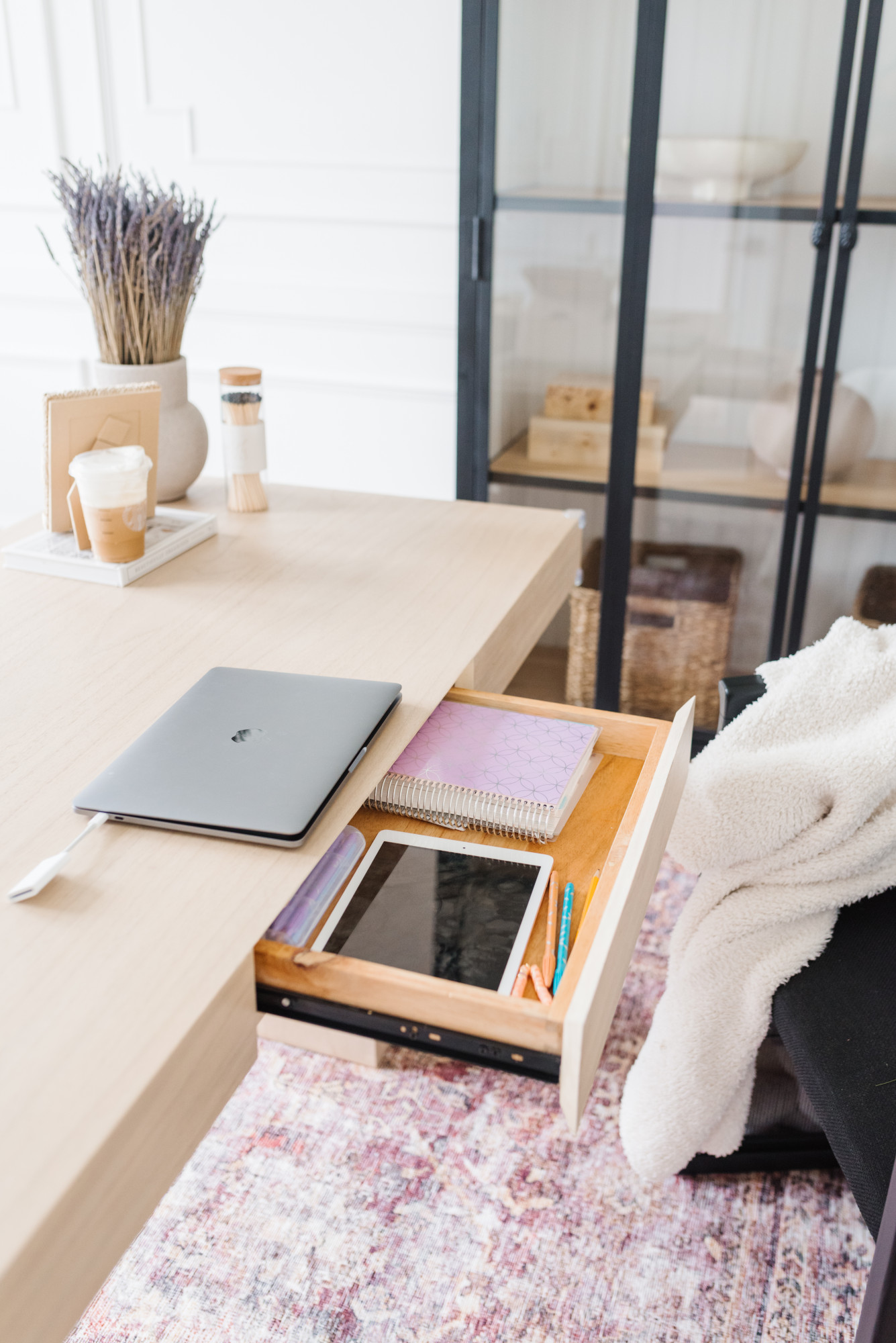 THE CHAIRS
My actual desk chair isn't an ideal desk chair, it's more of an accent or dining chair but when I saw the details of it, I knew I wanted to get my hands on it. It's doesnt' have wheels like most desk chairs have but it is comfortable to sit on, it has a good back rest and arms. The black chair doesn't fit under the desk. It comes in a cream color that I saw in stores that's also BEAUTIFUL!
The two accent chairs on the opposite side are for when I work with my family members or when the kids come in here to hang out with me. They are comfortable (mine, my sister, brother, and Tommy input), wide, and deep. The back is slightly arched so I love that you can feel rested while sitting in it. As far as the fabric, it's not a Crypton fabric so I wouldn't say it's friendly to kids. We don't eat or really with paint or anything so that's okay for this room. Arms aren't functional because they are thin and hard but it's not a big deal for us.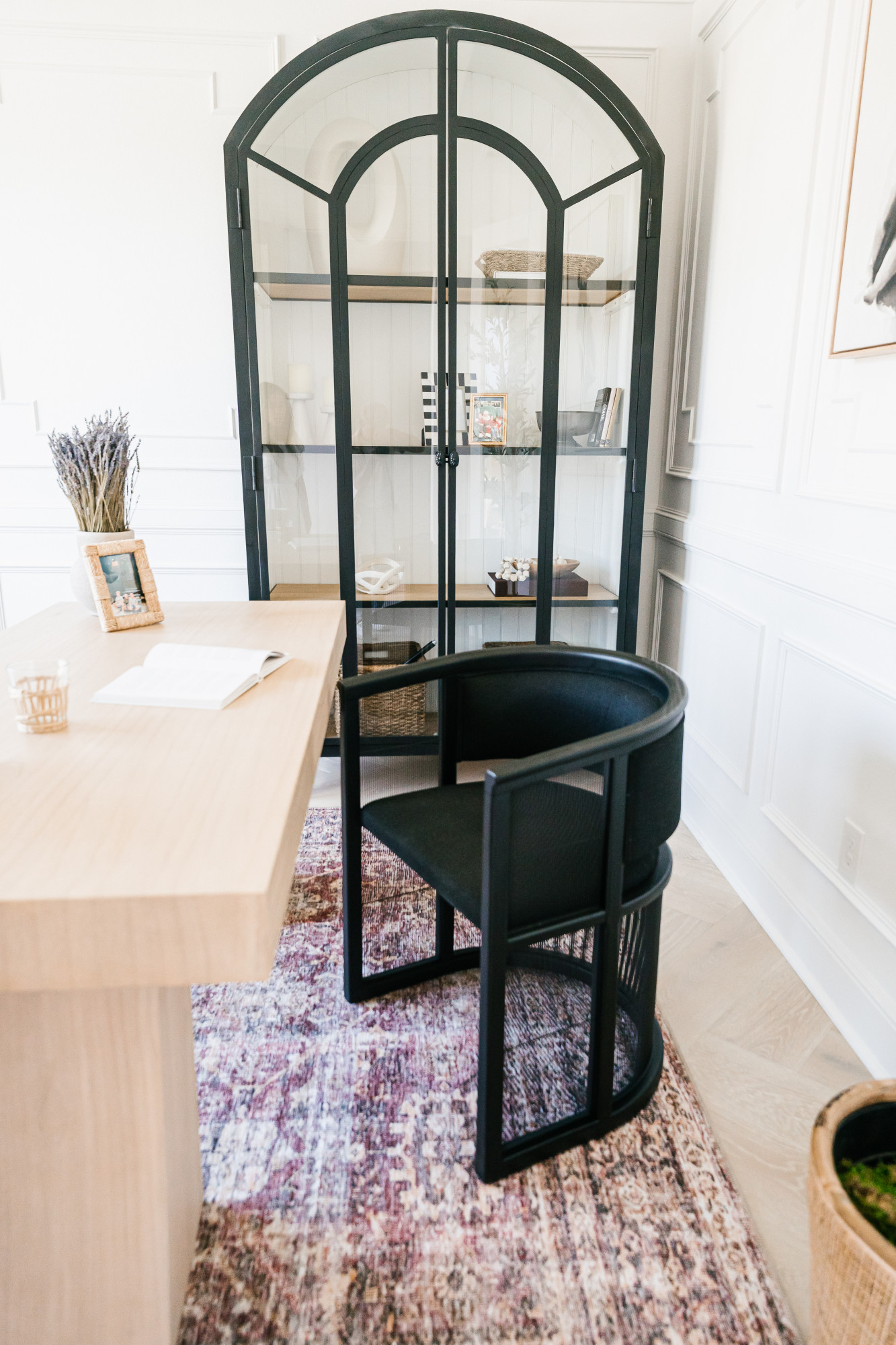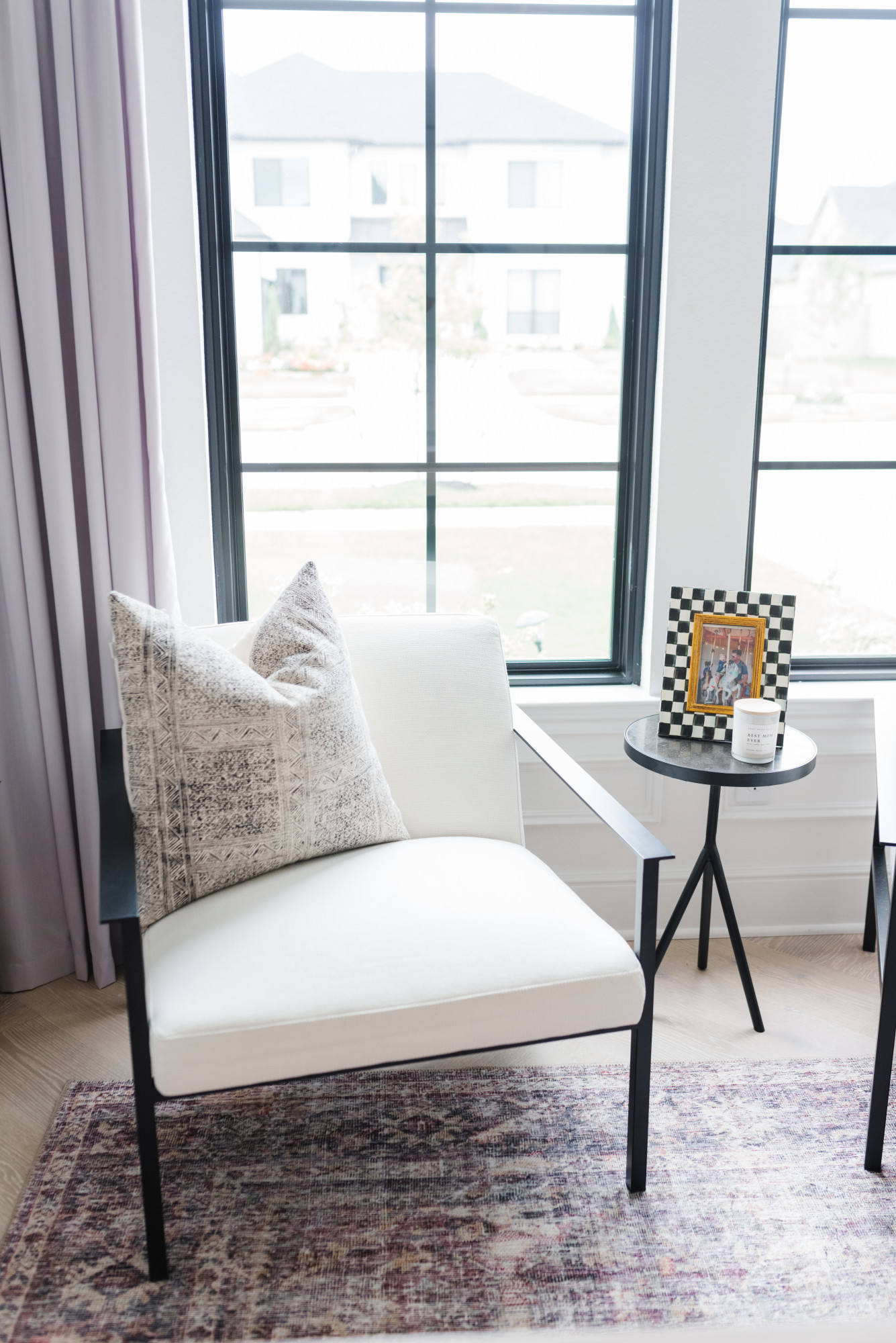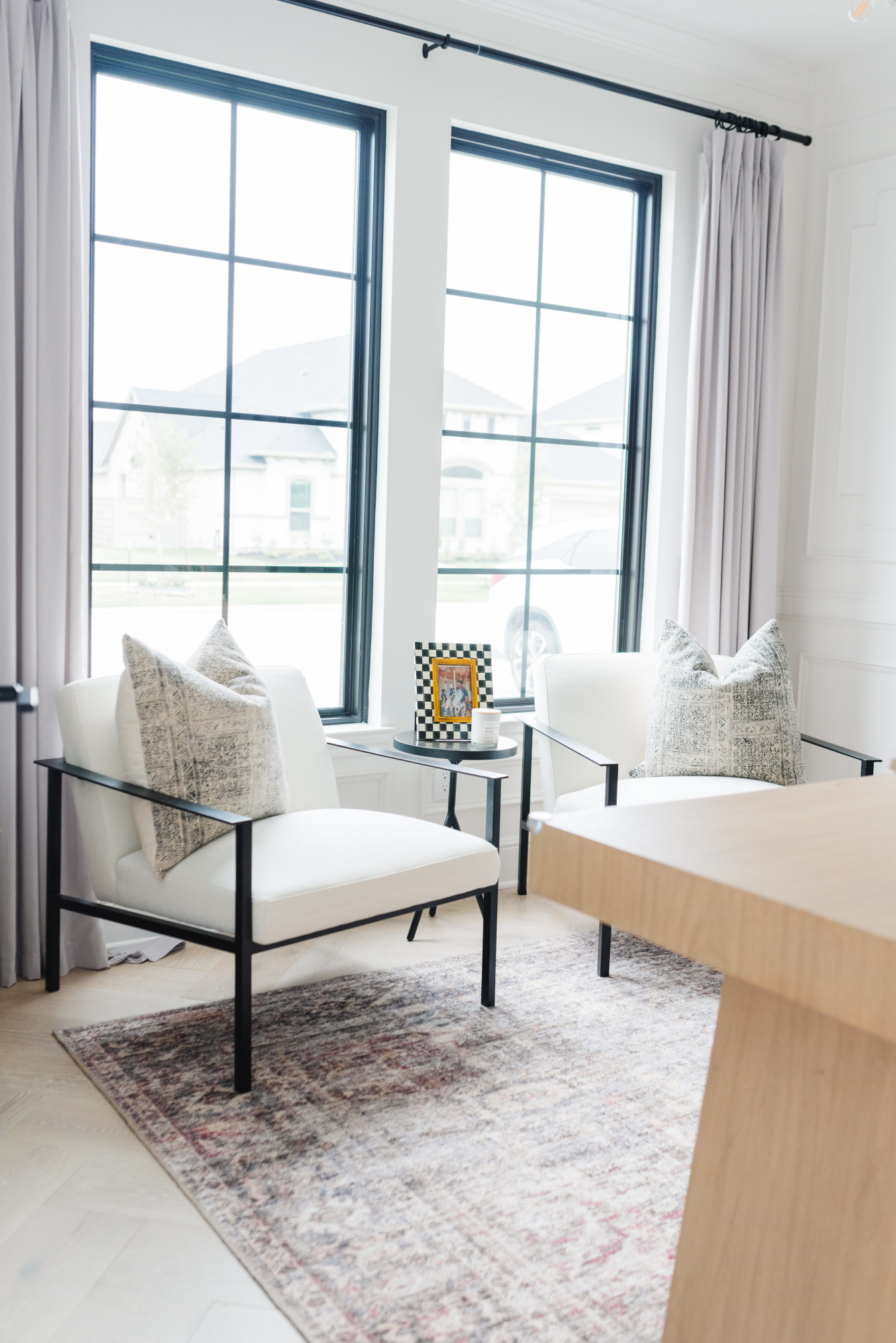 THE CABINET
This cabinet was probably the most expensive thing in this room. There's a few reason I opted in for this cabinet. 1) Storage; I love that it doubles as a storage and decorative piece in the room. I placed baskets inside to hide my office items. 2) Decor; It's truly is more of a decorative piece than a functional one. We didn't do any built ins with this room because we'd be cutting about 18 inches of the room out because of the built in. This was a way for me to have some decorations up without overwhelming the office space. This cabinet is HEAVY! It takes 2-3 strong people to move it around. The doors are heavy (my children aren't allowed to open it) and it needs to be nailed to the wall if children are going to be around it. The details of the wood and white shiplap are insanely beautiful.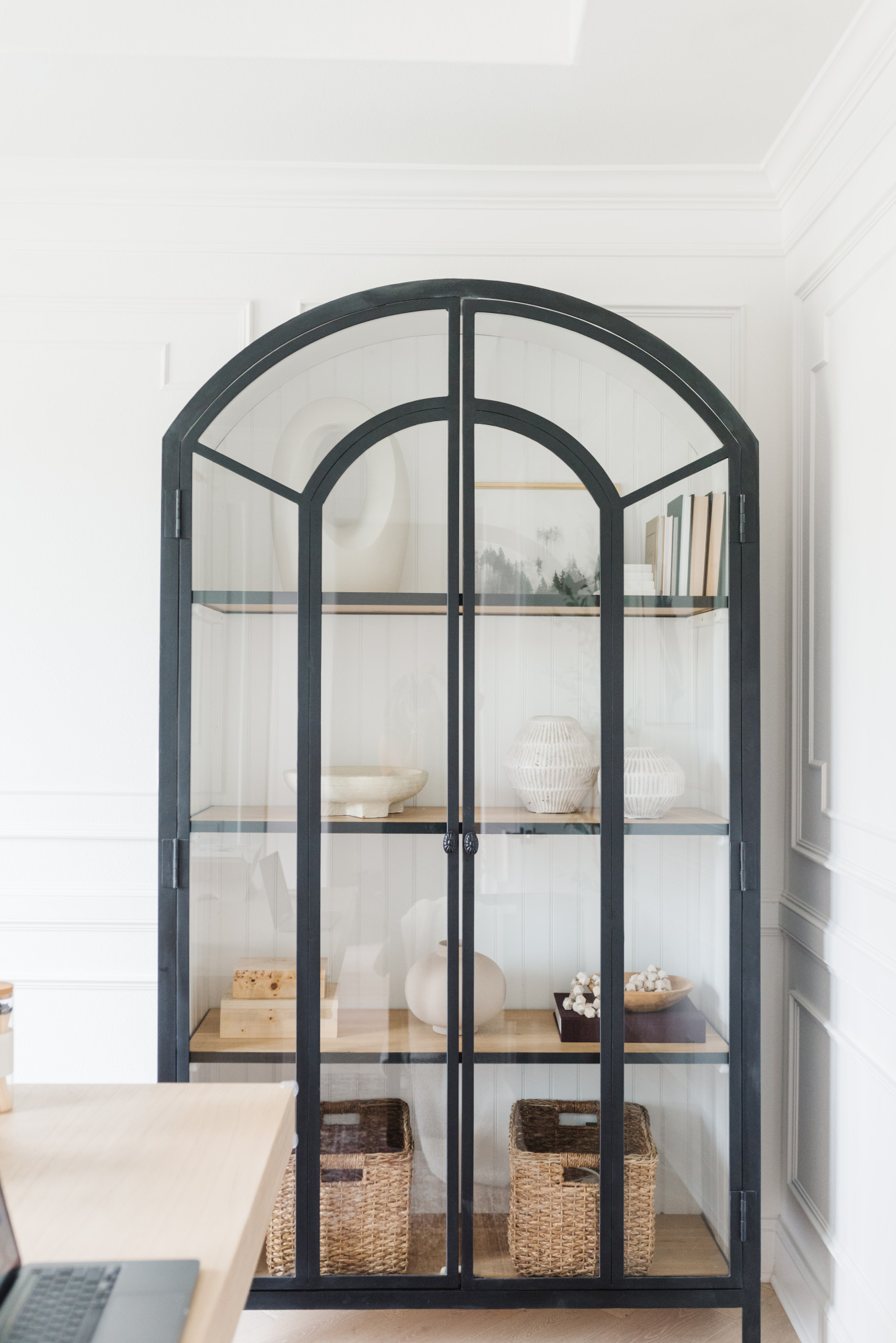 WAINSCOTING
I've shared this many times but I love the minimal look on my walls. I'll hang a few pictures here and there but I love simplicity. The wainscoting in this room is probably the most detailed one in my entire house. I did a lot of wainscoting in this room because it was a room I was going to take a lot of photos in and because wainscoting is decor on it's own. The walls look filled but at the same time, they blend with my white walls.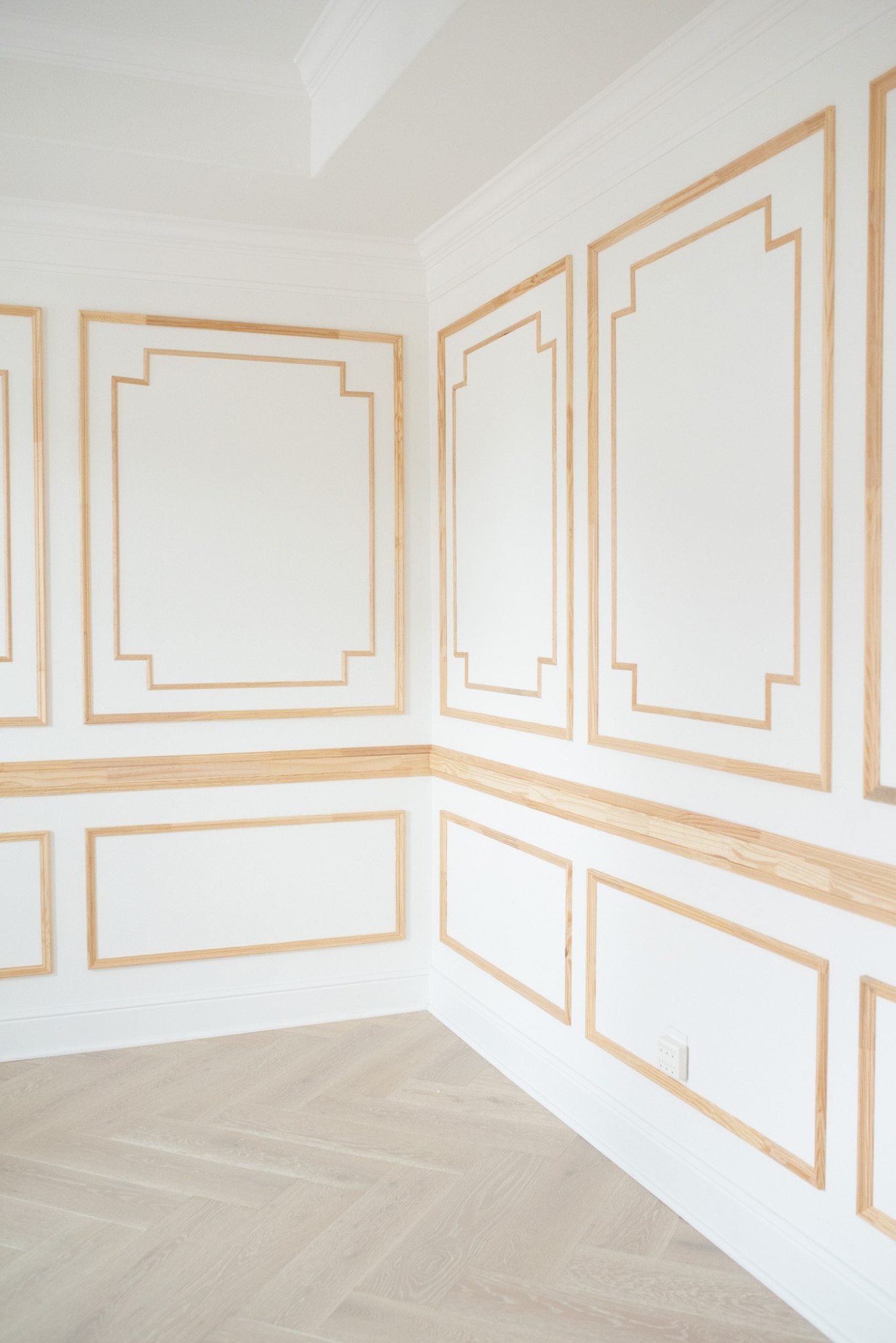 THE DECORATIONS
I chose this dark maroon rug from Loloi and it's gorgeous. As we head into the fall and winter, I want to start adding a bit more color in my home. I originally had a neutral rug but love the contrast this rug gives. We have tons of Loloi Rugs in our home and they are by far my favorite place to get rugs.
This light is from lights online. I love the modern touch it gives. It's extremely bright so if you decided to get this light fixture, you will need a have a dimmer. It comes in a couple other finishes.
I knew that a large beautiful artwork piece would be perfect above my chair. It's from Minted and it does take a moment to realize that it's a mother holding her baby. I felt that it resembled me exactly and seeing guest take a minute to figure out what it is makes it fun. I got a natural wood border and upgraded to the canvas material.
I'm not completely done with the decorations inside of the cabinet but because I don't technically have storage, I thought it would be a great idea to add some wicker baskets at the bottom to store office supplies away.